New York Fashion Week: Alice + Olivia By Stacey Bendet All Grown Up For Spring 2014 [PHOTOS]
Just over a decade since it's launch, Alice + Olivia by Stacey Bendet is growing up.
Bendet, a designer, New Yorker, mother of two daughters and yoga enthusiast, has always been known for her far-out designs full of whimsy as a retort to minimalism. Her bold, colorful collections have garnered fans from around the world looking for dresses, gowns and separates with a feminine fit, interesting decorations and a hint of a retro vibe.
But gone was Bendet's "more is more" mantra, as she pared down the hodgepodge and went for her signature whimsy spin on traditional American classics for her Spring 2014 show during New York Fashion Week on Monday.
"I wanted to take traditional contemporary American sportswear and make that feel more modern, romantic and whimsical," she told the International Business Times, pointing out one look that united traditional with preppy and sporty, a white collared shirt paired with a black, white and red color blocked ball gown skirt.
Bendet said she's often affected by the world around her, mentioning street style and "the way girls dress" as influencing factors for designers today. Bendet added this collection was an expansion upon her latest Resort collection, which also was more mature than we're used to.
"I think the feeling right now in the world is just a little more grown up," she said, "Maybe it's me maybe it's just a trend."
In a palette of "bone white," black, taupe and nude, dusty pink and a pale mint green, pops of color like aqua, yellow and red were splashed in. Silhouettes ranged from flippy skirts and short shorts, blazers and jackets, boxy tops and crop tops, dresses and gowns (perhaps why her celebrity fans like Jamie Chung, Taylor Momsen and Taryn Manning were in attendance) and, of course, pants, where she got her start.
According to folklore, which the designer confirmed, Alice + Olivia was born when the designer wanted a pair of pants during the early 2000's when we were living in a blue jeans world. She said someone spotted her in New York wearing her design that "lengthens the look of the leg, and raises the butt," and the rest is history. Soon after, she linked up with Theory's Andrew Rosen, whom Vogue editor-in-chief compared to the American version of LVMH for fashion investing, and Bendet's brand was born.
Alice + Olivia began with a reasonable $100,000 investment and launched its first collection at Barney's New York in 2002. Now a full lifestyle brand, Alice + Olivia has had great commercial success, now worth over $150 million, and is sold in 800 stores worldwide with 12 standalone stores in the U.S.
Known for being whimsical and bold, but polished and stylish, Alice + Olivia has catered to many different women for it's variety of of styles and has a giant reach thanks to its contemporary price point. "I think the whole thing about Alice + Olivia," the designer said, "is every girl takes something different from each look I style. That's what I try to do. There's one girl that might wear the whole look, but there's every girl that will want a part of the look."
And no matter what she is looking for, any girl could find part of a look now that Alice + Olivia has expanded into a signature collection, gown collection, footwear and the newly-launched handbag line. But Bendet said she's not done there.
"We are working on jewelry. It's going to happen," the designer revealed. "Not totally there yet but we started working on it. It doesn't happen in one season; it's going to take some time to do it."
But part of Alice + Olivia's grown up new look has translated into grownup business plan for Bendet, who said she wants to go global and expand her brand to the other side of the world.
"Right now, a lot of the focus is on growing the line and the business internationally," she said. "We're opening stores overseas in Hong Kong, Tokyo, Abu Dhabi and Dubai. That's really exciting for me right now."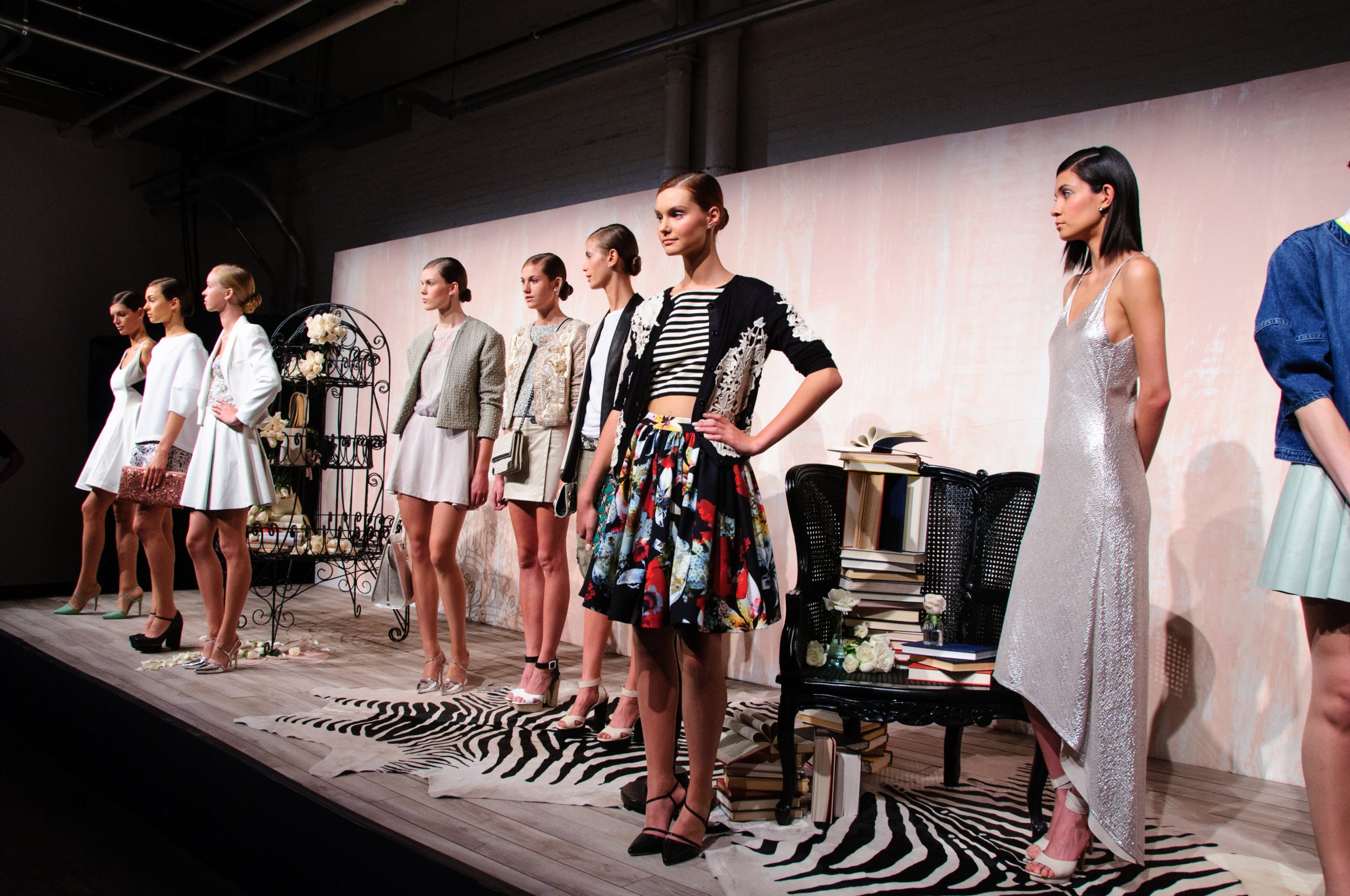 © Copyright IBTimes 2023. All rights reserved.