New York Fashion Week: Jill Stuart And Her Rocker 'Girlfriends On Holiday' For Spring 2014 [PHOTOS]
Q&A With Designer Jill Stuart
What would it be like to be the girlfriend of a major rock star, or those of us who aspire to be in a similar situation, vacationing in the south of France? More importantly, what would she be wearing while on holiday?
That's exactly the woman designer Jill Stuart channeled for her Spring 2014 collection, which was shown at Mercedes-Benz Fashion Week on Saturday at Lincoln Center in New York.
The designer described her inspiration as "rockstars' girlfriends on holiday." The theme comes from when The Rolling Stones recorded their album "Exile on Main Street" at Villa Nellcote in Villefranche-sur-Mer on the Côte d'Azur in southern France. Stuart channeled the likes of Anita Pallenberg, who lounged around and partied during the summer of 1971 while her romantic interests, Mick Jagger and his crew, recorded the album in the cellar of the 16-room mansion.
From this idea, the 20-year old Jill Stuart brand featured silhouettes like miniskirts, slim-cut jackets, swingy caftans, crop tops and -- most importantly -- party frocks that any woman, not to mention the designer's many celebrity fans, who likes a sophisticated spin on her edgy wares would don when she wants to feel a little bit fabulous. No detail went overlooked, from leather additions, to floral embroidery and eyelet lace fabrication, subtle tribal stitching, to glimpses of skin in a neutral palette of essential colors like black, white, grey, indigo and denim.
Coming from parents who were designers during the 1960s and 70s, Stuart has already passed on the fashion genetics to her daughters. One of the girls, Morgan, has been working with the designer since 2009 and already has her own lingerie line at a young age, just like her mother, who got her start selling chokers and suede fringed hobos at Bloomingdale's at 15-years-old.
The International Business Times chatted with Jill Stuart backstage Saturday morning before the show. She gushed about her collection, walking me through her designs piece-by-piece and detail-by-detail, her daughters and the outfit I chose to wear to her show (a white mini skirt, slouchy grey T-shirt and leather jacket), which just so happened to be identical to the designer's Spring 2014 color palette and theme.
IBTimes: I guess I dressed in your color palette for today!
Stuart: Yes! And your micro mini which is the look. Yeah, you're right on! And leather! [grabbing my jacket's sleeve] That's the whole thing.
IBT: Thanks! So what inspired you?
Stuart: The inspiration was rockstars' girlfriends on holiday.
IBT: I wish that was my life!
Stuart: I know, right?
IBT: Tell me a little bit more about it.
Stuart: I was really inspired and thinking back about Villa Nellcote, where The Stones recorded 'Exile on Main Street' and thinking about Anita Pallenberg in 1971 and any rockstar's girlfriend on holiday. I mean, that's really the inspiration. There's a lot of monochromatic colors with shots of indigo going through. There's a lot of beautiful embroideries with shots of leather.
IBT: What are the standout pieces for you?
Stuart: There's little leather mini dresses like this [holding up look 22]. The shoes are high wood wedges. There's some caftans that they would totally be beachy-chic with, lounging by the pool or the beach. There's some denim. There's a lot of slips, tunics, little shorty-shorts and little baby doll dresses. There's the perfect black dress. There's a lot of floral embroideries in black-and-white that you see throughout.
IBT: Do you think that's the detail that stands out the most?
Stuart: Yeah. I also like the kind of ethnic-y embroidery [points to look 24], the black and white linen jacket that's hanging there.
IBT: You're about 20 years in business now, so how do you stay inspired season after season?
Stuart: I travel a lot.
IBT: With your daughters?
Stuart: Yeah, always with my daughters.
IBT: Will they become designers some day?
Stuart: My daughter [Morgan] is a designer! She's been working with me for four years and now she just started her own lingerie line. It's called Morgan Lane.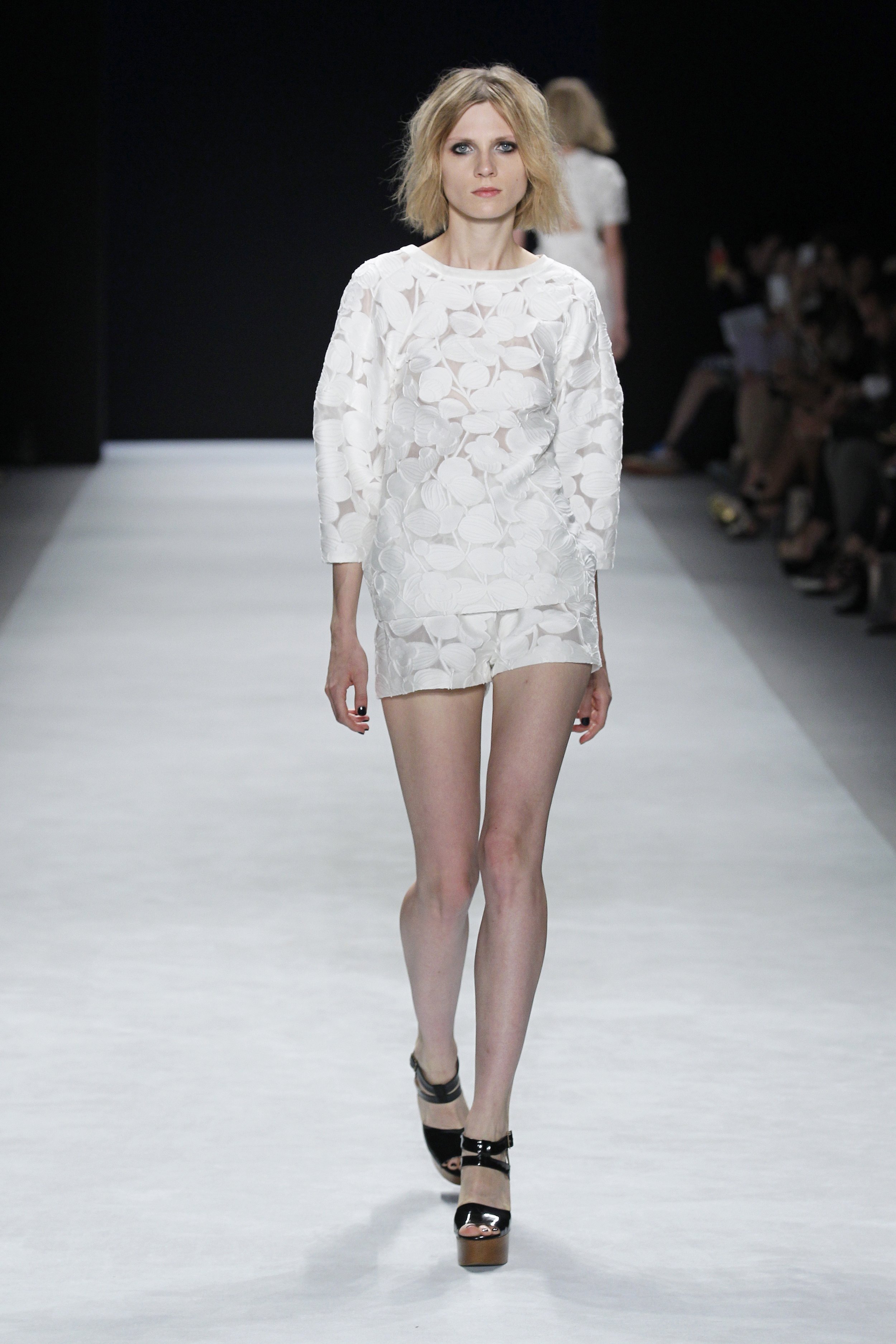 © Copyright IBTimes 2023. All rights reserved.