New York Fashion Week: KAUFMANFRANCO's 'Urban Huntress' On The Prowl In Her Concrete Jungle [PHOTOS]
In a world of gaudy, look-at-me adornments and rampant peacockery -- which fashion critics have had enough of recently -- the world truly needs a brand like Kaufmanfranco, where it's all about master construction and subtle details that make statements of their own. Consider designers Ken Kaufman and Isaac Franco the authority, perhaps even sartorial saviors, in the construction of the infrastructure known as fashion.
The pair, who showed their Spring 2014 collection Monday night in their second-ever runway show, are a refreshing addition at Mercedes-Benz Fashion Week in New York for their sensual, simple designs. But upon closer inspection, there is absolutely nothing simple about a Kaufmanfranco creation; it's actually quite intricate. Everything is masterly designed from the duo who started their line in 2004 after tenures at Anne Klein, Emanuel Ungaro and Valentino.
"We like the more complex cuts that look so simple, so you really have to be across from somebody very close," Kaufman told International Business Times backstage after the show. "It's hard on the runway to really show how things are really constructed and really what it takes. But we love when you look and you discover. The sense of discovery of how it feels. It may look one way, but how does it feel?"
Known for adding sensuality into their wares, or as the designers call it, their signature "good girl gone bad girl," Kaufmanfranco illustrated their collection in their notes as "raw refined" for the "urban huntress" who is "fearless" and "confident" and not afraid to show flashes of skin in her "concrete jungle." A true juxtaposition, as women oft are when it comes to style.
"That's us," Kaufman added. "That's our DNA. That's the brand. A little raw, a little refined. Always sensual, never sexy. I think she always rides that line."
In a palette of bone, flesh-tone, gold, onyx and a fiery red-orange, silhouettes ranged from bandage to voluminous, like the silk paratrooper jumpsuit that from first glance looked like a caftan. See, there's that sense of discovery Kaufman raved about. Or maybe he was referring to the slivers of skin expertly placed in many of the tight-fitting looks.
It's no wonder countless celebrities and socialites covet wearing their designs full of these subtle, arousing details. "30 Rock" actress Jane Krakowski, who was sitting front row, snapped away at look 25, a gold embroidered gown with slight cap sleeves and plunging V-neck, on her smartphone. I'd bet my life she'll be donning that Kaufmanfranco dress, a brand she is loyal to, come awards season.
It's gowns like the aforementioned one as well as others in the 37-look collection that define Kaufmanfranco's "artisanal" evening wear. In the first half of the show, a white contoured jersey sheath with a subtle, but sexy, leg slit and boat neck hugged curves in all the right places. Another standout gown was fifth to last in the show's run: a reddish-orange hued one-shoulder dress, aptly named "fire," made of silk serape with an all-the-way-up-to-there leg slit that didn't even ooze an ounce of tawdry. A picture wouldn't do it justice, so I'd recommend watching a video of it float down the runway, or walk the next red carpet.
A number of shorter cocktail dresses were included in the Spring 2014 collection, too, the one I want to steal being look 27, a black organza halter dress with a slight A-line skirt and articulated leather detailing.
At the homecoming of sorts for the brand, separates were aplenty, too, like the white-on-white pencil skirt and jogger top that model Alessandra Ambrosio opened the show with and beige short-shorts and crop top (Does anyone know a good gym?) topped with a long burlap sweater, as the design duo re-entered the sportswear game. Access allowed.
Now that they've diversified their collection, and come out of the celebrity red carpet rabbit hole they've fallen down, Kaufman and Franco are hoping to take their brand one step further, literally, into shoes, after great success working with Manolo Blahnik for Fall 2013.
"We really want to delve into accessories," Isaac Franco told IBTimes. "Working with Manolo Blahnik on the shoes was amazing. The fashion is really there as well."
Kaufman has even higher hopes of someday doing menswear, too. "We'd love to expand our vision," he said. "We really want to be a dual gender brand."
After all, a good girl gone bad could use a well-dressed Kaufmanfranco man once in awhile.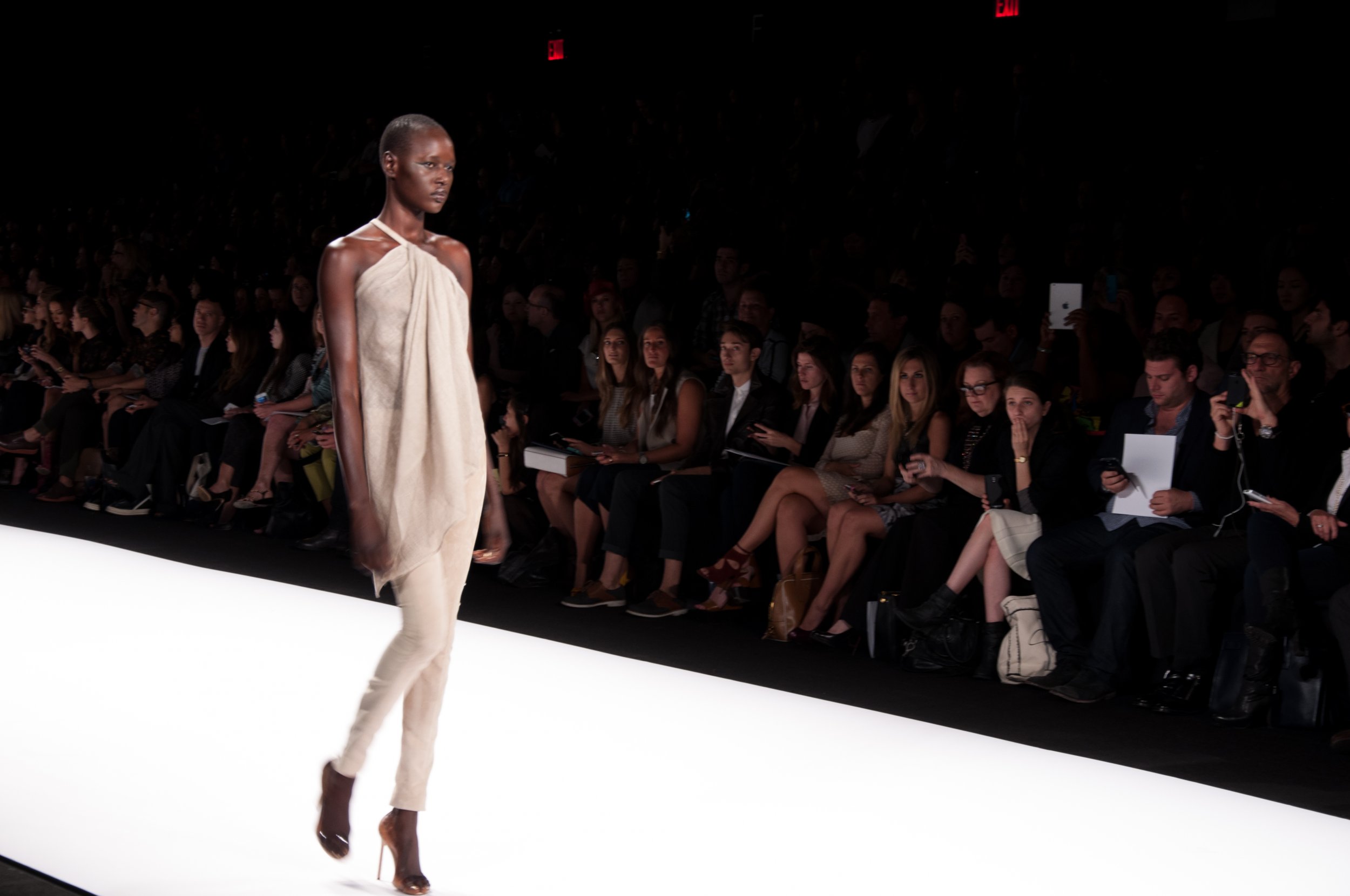 © Copyright IBTimes 2023. All rights reserved.