New York Fashion Week Review: Boudoir Couture For Naeem Khan Fall 2014
Review
If boudoir literally means the inside of a woman's dressing room, then we want a Naeem Khan dressing room of our own, stat.
The designer told International Business Times backstage on Tuesday that he was inspired by "Cabaret" and boudoir for his Fall 2014 collection. If the bedroom-style lighting installation at the top of the runway wasn't a big enough hint, the opening look—a satin coat with gold piping we'd imagine slinking sexily off a bare shoulder—was a dead giveaway.
"The idea started from 'Cabaret.' Then we started playing with angles with geometry so it's a modern collection," Khan told me backstage. "It's very boudoir chic. It's luxury. It's rich."
The Indian-born designer, best known as a red carpet darling and favorite of the first lady, always has a very couture take on his collection, despite being classified as ready-to-wear evening gowns.
The standout details were textures and layers. Khan thoughtfully cut pieces of fabric and had them resown "in certain ways." One gown with a rhinestone overlay, for example, appeared to be made of a leopard-print fabric but was actually chiffon hand-detailed with stacks of sequins to construct the spots.
His beading, which he said he's "known for," was intricate, as always, with Deco lines of black and gold, and one red dress fused beading with a 3D hand-shirred embroidery. Some gowns were even made entirely out of beads, like two flapper-esque dresses of beaded fringe in a chevron pattern, one in a mini-silhouette and another in floor length. The most exceptional moment of the show was watching these two pieces move down the runway: Photos simply cannot do justice in comparison to seeing the show live.
"It's very interesting as far as the textures," he said backstage. "The fringe ... it's not just a simple fringe of beads. It's crystals. It's got a layer of sequins underneath."
The designer also utilized animal feathers in an exceptional way, in hues of gold, chocolate brown, ivory and black ostrich. "I've actually added textures where I've taken feathers and hand dyed them to the color of the animal print," Khan explained.
Of course, there were also some classic pieces, like a metallic draped halter dress, likely an ode to the great American designer Halston, under whom Khan trained for his first job in fashion in New York.
"The past is always the present," Khan said, reflecting on his tenure at Halston and growing up in Mumbai, where his father and grandfather owned a textile workshop. "One of the most important lessons that I've learned is that you keep things clean and simple. Classic will always be in fashion."
The designer, who said he's "going to double up business this year," added he doesn't "follow trends," an approach that has obviously been fruitful for his brand.
"Whatever I do will last for a very long time," he said. "It's not about making trends. It's making classic clothes."
It's also about always making a "red carpet moment," a notion which helped his newly launched Naeem Khan bridal collection skyrocket in demand.
"It's unheard of what's happening for my bridal collection," he said. "Business this year is almost 80 percent up because the bridal thing is just going crazy. We were going to be in 20 stores. Now we're in 80 stores."
Khan says his bridal collection, which launched in October, is a "different approach" than others on the market. "It's her red carpet moment," he said. "I've been known for red carpet. I don't want frou-frou. I want you to be a rock star, a solid glamorous red carpet bride."
The designer, whose endearing confidence borders on arrogance, said his lower-priced line for HSN, Timeless, also "keeps growing." "I could sell a million dollars' worth of clothes in an hour," Khan said. "It's clothes for the masses. They want Naeem Khan, so why not?"
With bridal and contemporary both flourishing, Khan is now looking to expand his brand well beyond the red carpet, though we're sure we'll see a few of his gowns soon, since Ty Hunter, Beyonce's stylist, was seated front row.
"We just signed a deal with a company to start licensing our name to different things," Khan said. "We want to get into bags, cosmetics, fragrances. I mean imagine fragrance. Where I come from ... India is known for fragrances and I grew up with them. So, to me, my fragrance is going to be amazing."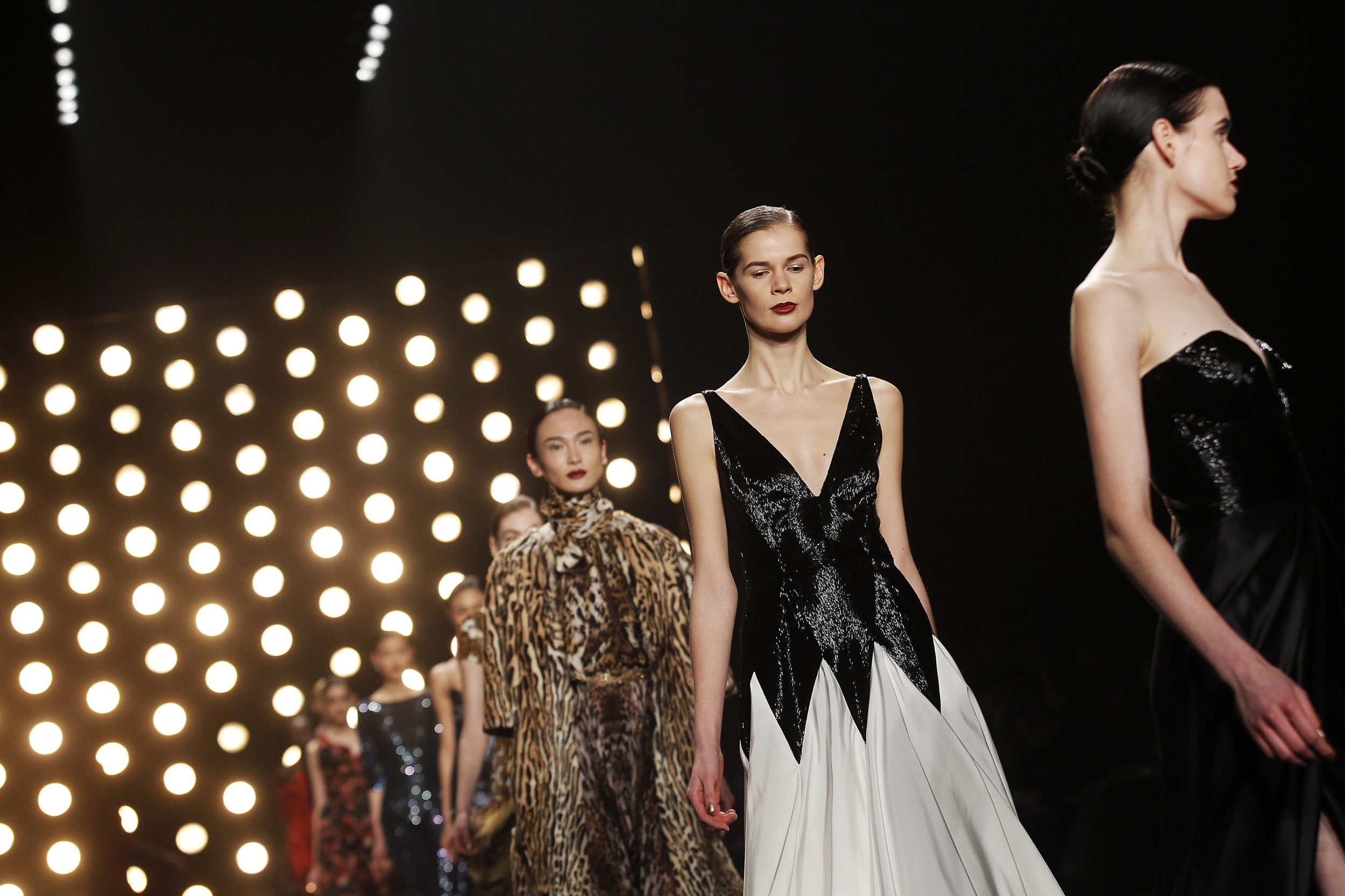 © Copyright IBTimes 2023. All rights reserved.