New York Restaurant Owners Try To Block Wage Increases For Tipped Workers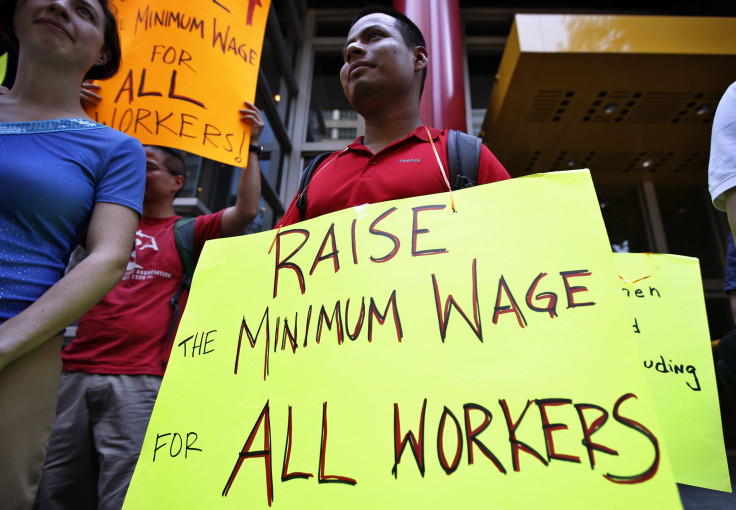 Restaurant owners have asked New York state lawmakers not to hike minimum hourly wages for tipped workers for another five years, arguing the industry is already struggling to accommodate impending wage hikes. New York is among 14 states that will raise their minimum wage either on New Year's Eve or New Year's Day. For tipped workers, the minimum wage will jump to $7.50 from $5, while the overall minimum wage will rise to $9 from $8.75.
The New York State Restaurant Association wrote a letter Tuesday to lawmakers, cautioning against further increases, the New York Daily News reported. The letter was signed by more than 100 restaurateurs in the state, who collectively employ more than 8,500 workers.
"Employers in the hospitality industry are being hit with a whopping 50 percent increase to the tipped wage this week," the letter, written by President Melissa Fleischut, read. "The industry needs time to adjust to this dramatic increase."
Largest Industries that Employ Most Near-Minimum-Wage Workers | InsideGov
The fear among the state's restaurateurs comes after Gov. Andrew Cuomo came out in support of raising the state's minimum wage to $15, becoming the first governor to do so. He argued that the logic behind such a wage hike was a matter of simple math: On earnings of $18,000 per year, workers in the state can hardly support their families. But Fleischut said such a move could eliminate tipped wages from the state entirely, heavily increasing restauranteurs' labor costs, the Albany Business Review reported.
Cuomo will review the association's letter, spokesman Rich Azzopardi told the Daily News. "The governor believes those who work full time should not be condemned to a life of poverty and is proud of the steps we've taken to ensure a fair day's pay for a fair day's work," he said.
© Copyright IBTimes 2023. All rights reserved.