New York Times' Gun Violence Editorial First On Front Page Since 1920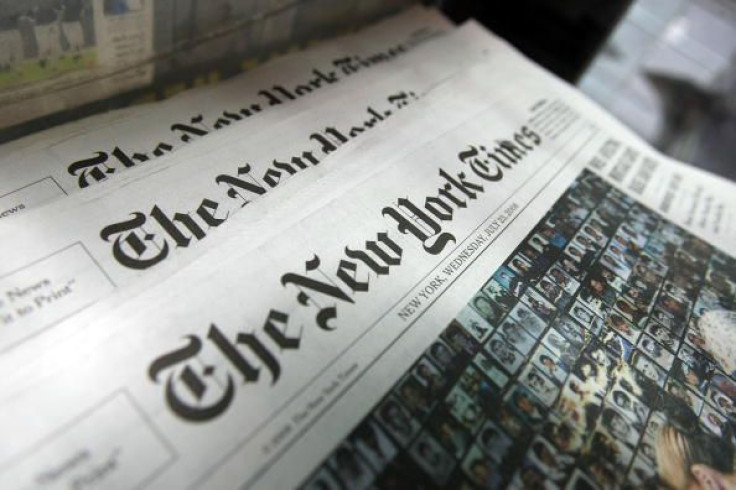 For the first time since 1920, the New York Times will give front-page real estate to an editorial when a scathing piece on gun control runs in the newspaper's Saturday edition. The last time the paper published a Page 1 editorial was to criticize the Republican Party for nominating Warren G. Harding for president.
The newspaper published an explanation Friday evening for the editorial decision. Times publisher Arthur Sulzberger Jr. said the move was intended "to deliver a strong and visible statement of frustration and anguish about our country's inability to come to terms with the scourge of guns."
"Even in this digital age, the front page remains an incredibly strong and powerful way to surface issues that demand attention," Sulzberger said in a statement. "And, what issue is more important than our nation's failure to protect its citizens?"
The editorial, titled "End the Gun Epidemic in America" in the online edition and "The Gun Epidemic" in the print edition, rails against the nation's inaction against gun violence, calling it a "a moral outrage and a national disgrace" that people can purchase weapons "designed specifically to kill people with brutal speed and efficiency." The editorial board calls for Americans to direct their frustrations at leaders "who place a higher premium on the money and political power." Certain guns should be rendered illegal across the country, the editorial argued.
"It is possible to define those guns in a clear and effective way and, yes, it would require Americans who own those kinds of weapons to give them up for the good of their fellow citizens," the editorial said.
© Copyright IBTimes 2023. All rights reserved.
FOLLOW MORE IBT NEWS ON THE BELOW CHANNELS