Newt Gingrich Unveils New Contract With America: What Has Changed Since 1994?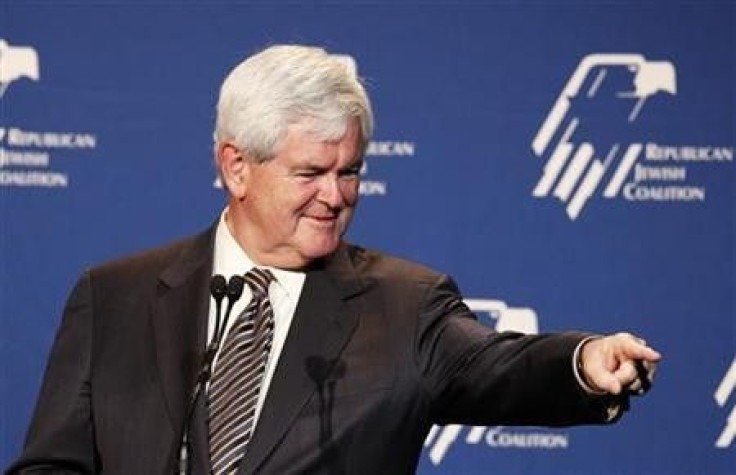 Newt Gingrich unveiled in Iowa on Thursday his new Contract With America, a hefty policy prescription that aims to propel his presidential campaign, much in the way his 1994 deal helped usher him into the speakership of the House of Representatives.
Gingrich's wonky plan discusses issues familiar among Republicans since President Barack Obama took the White House: repealing Obamacare, cutting taxes, boosting oil drilling and development, changing entitlement programs for future beneficiaries, and border control.
Already clocking in at 26-pages, the former House speaker told a crowd in Iowa that the contract will only get larger, according to the Des Moines Register.
The scale of change I am suggesting is so enormous that I couldn't possibly for every single reader show you everything that I am going to do, Gingrich said, according to the report. So this is the beginning of the conversation.
Contract With American: Then and Now:
The 1994 Contract With America was a tightly honed 10-point plan that illustrated the difference between a GOP-led House of Representatives and one the Democrats had at the time controlled for four decades.
The beefier 2011 contract has been updated to touch on the issues du jour for the Republican Party's conservative base. Gone are the 1994 Republican bugaboos like welfare reform, U.S. troops serving under United Nations command and crime.
One part of the latest contract focuses on increasing enforcement of the Tenth Amendment, which delegates power to the states, perhaps the Tea Party movement's most beloved amendment. Gingrich also calls for ways to replace or limit judges who violate the Constitution, a nod to the idea of so-called activist judges.
On regulation, Gingrich now calls for repealing major business and financial reforms such as the bipartisan Sarbanes-Oxley Act and Dodd-Frank, partial privatization of entitlement programs, border control and making English the official national language, and requiring unemployment insurance recipients to enter training programs at private companies.
While the Contract with America was radical for its time, and had a lot of good ideas, this is much more comprehensive, much more expansive, Steve Roberts, a former Republican National Committeeman and former Iowa state GOP chair, said.
Like the famous 1994 document, Gingrich's 21st century version advocates tax cuts and a balanced budget. But on key issues, Gingrich offers new policies for Social Security, Medicare and taxes different from the ones in the 1994 contract.
On Social Security and Medicare, Gingrich in 1994 wanted to repeal tax increases on benefits and provide tax incentives for private long-term care insurance. The 2011 Contract With America now aims to reform entitlement programs through partial privatization.
Gingrich says Americans should have voluntary market-oriented alternatives if they refuse to rely on the current system. The new contract calls for Medicare beneficiaries to receive support to cover their private sector premiums, if they chose a personalized system, and private Social Security accounts.
Unlike in 1994, when Gingrich called for cutting the capital gains tax rate in half, he now wants the tax cut completely. He also wants the corporate tax rate to drop to 12.5 percent and let companies completely write off all new equipment purchased in one year.
Despite the differences between 1994 and today, the document seems like classic Gingrich, said Steve Grubbs, former Iowa state GOP chair and CEO of consulting firm Victory Strategies.
I don't know that the overall flavor has changed. It's still sort of based in his vision of free markets and technology. That's a consistency for his political career, Grubbs said.
What has been the biggest change for Gingrich between 1994 and 2011 is the attention he can draw.
Newt Gingrich commanded the attention of the media and the public in 1994, Grubbs said. The challenge today is that he no longer has people waiting to see what he'll say or do next.
© Copyright IBTimes 2023. All rights reserved.