The Next Food Network Star: Why Season 8 Was An Unfair Fight
OPINION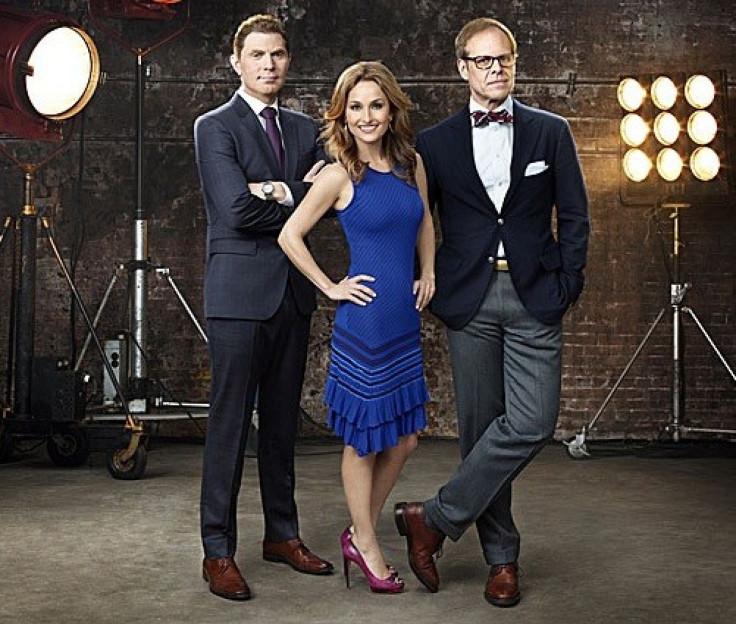 Since striking gold with Guy Fieri, the Food Network has looked to its show The Next Food Network Star to find, farm and develop its next hosts. In the show's eighth season, the producers decided to try a new system for picking the winner: Once the final contestants were chosen, fans would be able to vote for the winner online, and that alone would decide the fate of the season. It was a good idea, but the Food Network failed on the execution.
On Sunday night, the Food Network announced the four finalists for The Next Food Network Star during the show's penultimate episode: Justin Warner, Martie Duncan, Yvan Lemoine and Michele Ragussis were all selected as the four best finalists the Food Network had to offer, and they all equally deserved their places in the final episode. But after weeks of judges eliminating contestants, it was now up to the fans alone to pick the winner.
This was supposed to be the shining moment for the Food Network audience: They now had complete control of their own destiny. Choose who you want to watch on television, essentially. The Food Network offered very simple instructions: Go online and vote for who you think deserves to be The Next Food Network Star. Unfortunately, it wasn't that simple.
For starters, fans were required to have Facebook accounts in order to vote. You couldn't vote without logging into Facebook, which is a big turnoff for many viewers, especially older ones, who are the network's prime demographic.
Secondly, the Food Network let voters vote up to 10 times a day. That is simply ridiculous. Users should have only been allowed one vote, or at the very least, one vote per day. But 10 votes in a single day? It makes absolutely no sense. In our next presidential election, should we let people vote over the course of a week, or several times each day? Just because recording votes online is easier than tallying votes by hand doesn't mean voters should get to vote more; in fact, giving voters this many opportunities to vote, or vote for different Food Network contestants, makes each vote less valuable.
These are some pretty big errors to begin with, but the biggest issue by far is that the Food Network only let people vote for TWO DAYS. The show that announced the final four contestants aired this past Sunday, and the voting closed on Tuesday at 5 p.m.. That's right, you can't even vote for The Next Food Network Star anymore, even though it'll all be counted digitally.
The Food Network doesn't make mistakes often -- except for a number of the past Food Network Star winners (in my opinion) -- but this is the worst thing the network could have possibly done in trying to find its next television star. Whoever the winner ends up being, the Food Network will be paying them several millions of dollars and giving them the keys to their kitchens and their audience. If the Food Network actually wanted it all to come down to a fan vote, it needed to be more careful, which was the opposite of what it actually did.
What about the Food Network fans that missed Sunday night's episode? They would have needed wait at 24 hours for the show to come on demand on TV or online, at which point those fans would only be able to vote for two days instead of three, or 20 total times.
The number of votes each voter gets isn't really important; more to the point, Food Network viewers and fans had absolutely no time to spread this news around. If people wanted to tell their friends, or if they actually wanted to have a real campaign online to vote for each of these food network stars it would've been impossible. The Food Network's thinking about this was extremely shortsighted.
Season 8 of The Next Food Network Star was supposed to embrace the Internet. But how can it really come down to a fair fan vote if there's such a small window to vote? The Food Network wasn't helping itself during this three-day span, either. There were very few commercials, teasers, or extra commercials just to remind viewers to vote. Furthermore, the Food Network erected so many obstacles and hurdles in order for fans to actually vote.
The Food Network has fallen short on so many levels here, and it's essentially come down to a popularity contest. If you were lucky enough to watch the penultimate episode on Sunday night, or you are a total Food Network fanatic, then you would've known to vote. Otherwise, the network gave no opportunity for its own news to spread before the voting closed.
It's really a shame it had to happen this way, especially since Season 8 of The Next Food Network Star has been extremely interesting, and each of the finalists could have each won their own shows via a fan vote, if they had a fair shot. They all had unique perspectives: Justin Warner's the food rebel with a cause, Martie Duncan knows how to throw parties, Michele Ragussis wants to let viewers in on New England cuisine, and Yvan Lemoine has one of the saddest, most incredible backgrounds one has ever heard. He was homeless for a short time in his life, and he and his families used to go dumpster diving for food. Now, he wants to show viewers how to make family-style meals on a budget. Could you think of four vastly different contestants you'd want to see more?
There were a lot of great personalities in Season 8 of The Next Food Network Star, and any of these four contestants could win the whole shebang, assuming they were evenly matched. But they weren't evenly matched.
Alton Brown is clearly front-running for Justin Warner, even though the Good Eats host would also be responsible for producing Martie Duncan's show, should she win on Sunday. Brown will certainly cheer for her, but he definitely wants Justin to win. Make no doubt about it: Warner and Brown are soulmates. Bobby Flay may have almost 250,000 more Twitter followers than Alton Brown, but Brown is extremely likeable star on The Food Network, and most fans have probably already sided with him and his pick.
But producers aside, the contestants themselves had no chance against Justin Warner in an online environment. On Twitter alone, Martie Duncan has a little more than 2,000 followers, Yvan Lemoine has about 1,300 followers, and Michele Ragussis has almost 1,200 followers. Justin Warner, on the other hand, has nearly 8,000 followers on Twitter, and he's much younger than his fellow finalists.
Whether they knew it or not, the Food Network set up an extremely unfair fight. Justin Warner may win this Sunday, and may have won regardless of the final voting structure of this season, but we will never know. None of the other contestants had a real shot to sell themselves to the online audience, which the Food Network promised would make this a different season. The Food Network has failed itself, its viewers, and most of all, the other contestants in this season of The Next Food Network Star. If the network decides to try this system again, hopefully it gives its contestants more time to actually campaign for themselves; this is a life-changing event, after all, and it deserves more attention.
The Food Network will announce the Season 8 winner of The Next Food Network Star on Sunday, July 22 at 9 p.m. ET.
FOR FREE to continue reading
✔️ Unlock the full content of International Business Times UK for free
offer available for a limited time only
✔️ Easily manage your Newsletters subscriptions and save your favourite articles
✔️ No payment method required
Already have an account? Log in
© Copyright IBTimes 2023. All rights reserved.