Neymar Injury World Cup 2014: Can Brazil Beat Germany Without Their Best Player?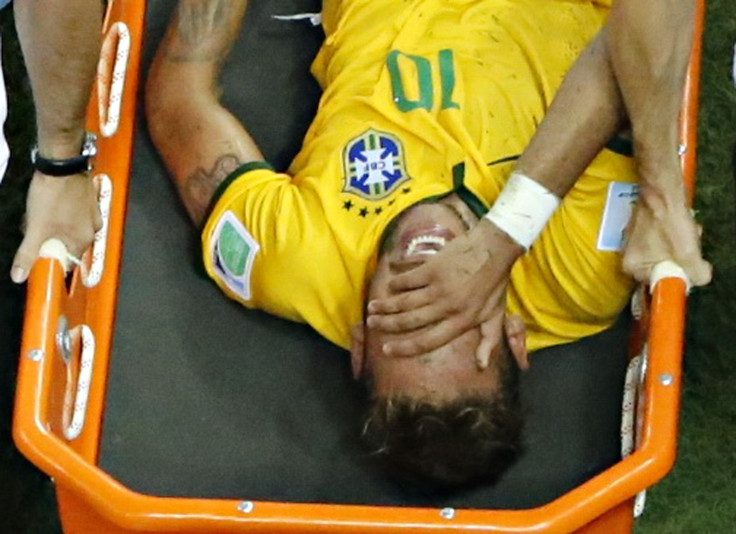 Carried off on a stretcher with tears pouring down his face, Neymar ended his first World Cup prematurely and Brazil's chances of a sixth title appear to be in doubt.
The 22-year-old forward, with 35 career international goals including a team-best four goals in this year's Cup, fractured a vertebra in his spine during Brazil's 2-1 victory over Colombia in the quarterfinals Friday and has been ruled out for the rest of the tournament.
Colombia defender Juan Zuniga, who committed several rough fouls throughout the match, kneed Neymar in the back in the 86th minute, but was never issued a yellow card. Initially, there was some hope that Neymar would be able to return until the severity of the injury was revealed. Later on Friday it was revealed that the injury was more serious.
The Barcelona striker will need at least six weeks for his back to heal, and then must go through rehabilitation before he approaches the training ground.
With Neymar leading the attack and Brazil acting as host, Selecao were huge favorites heading into the tournament, but the next matchup against formidable Germany in the semifinals could signal the end of Brazil's run.
The Germans eliminated France with a 1-0 victory earlier Friday, and have posted several impressive performances throughout the Cup with a 4-0 smashing of Portugal and overwhelming the United States in group play before silencing a plucky Algeria squad in the Round of 16.
Germany is especially loaded in midfield, and even before Neymar's injury had enough depth to worry Brazil manager Luiz Scolari. Thomas Muller is in contention for the Golden Ball, and Mario Gotze and Bastian Schweinsteiger orchestrate the attack with precision passing while forward Miroslav Klose lurks on the bench waiting to pad his record of 15 World Cup goals.
Neymar's elusiveness and speed, coupled with his smarts and passing abilities could have been enough for Brazil to squeak past Germany in to the final, but Scolari must now tinker with his lineup to make up for his star's absence.
Neymar was carrying the Brazilian attack and making up for Fred and Hulk's lack of production, but now the task could fall on Jo or Willian.
Though neither has Neymar's talents, they have excellent track records with their respective clubs. Jo has netted 37 goals in 100 appearances as a striker for Atletico Mineiro over the last two years. Willian made the switch to Chelsea last year and netted only four goals with two assists, but he might better serve Brazil by dropping back in midfield and containing Muller or Schweinsteiger.
Brazil and Germany will play Tuesday, July 8 at Estadio Mineirao in Belo Horizonte, Brazil
© Copyright IBTimes 2023. All rights reserved.