NHL Predictions, Betting Odds 2015-2016: Will The Blackhawks Repeat As Stanley Cup Champions?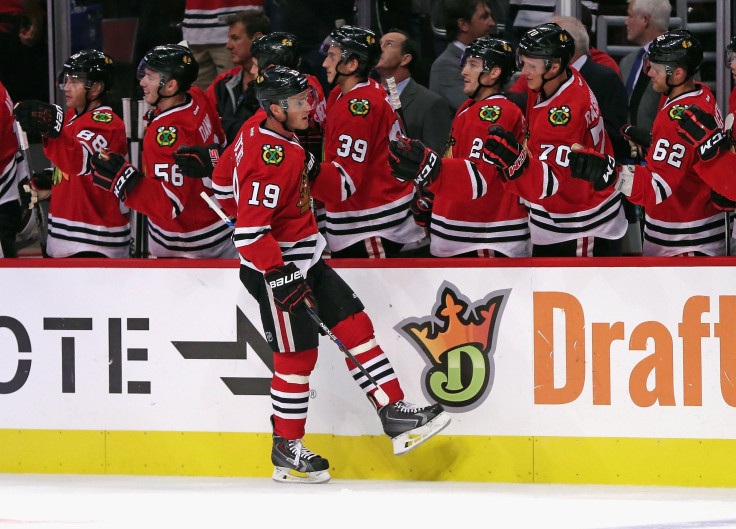 The Chicago Blackhawks have been the NHL's best team over the last decade, winning last year's Stanley Cup to claim their third championship in six years. Chicago has a good chance to continue their dominance in the 2015-2016 season, as they have been named the favorites to win the title.
Chicago has been given 13/2 betting odds to repeat as champions, via Bovada.lv, ahead of their season opener on Wednesday. The Detroit Red Wings were the last team to do so, winning the Stanley Cup Finals in 1997 and 1998. The Blackhawks were eliminated in the first round in the season following their 2010 championship. They made it all the way to the conference finals in 2014, one year after they defeated the Boston Bruins in the Stanley Cup Finals.
The Tampa Bay Lightning have been pegged as the most likely challengers to the Blackhawks. Tampa Bay lost to Chicago in last season's finals in six games. The Anaheim Ducks also have 9/1 odds.
The Boston Bruins and Columbus Blue Jackets have the best championship odds of any team that didn't reach last year's playoffs. Last season marked the first time since 2007 that Boston didn't make the playoffs. Columbus has just one postseason appearance in six years.
Eight teams have championship odds ranging between 11/1 and 18/1. The Arizona Coyotes have the worst odds at 250/1.
The Edmonton Oilers were the NHL's third-worst team last year, and they have 33/1 championship odds after drafting top prospect Connor McDavid. The Buffalo Sabres finished last in the standings with 54 points, and they have 100/1 title odds.
Below are championship betting odds for every NHL team, as well as predictions for the upcoming hockey season.
Chicago Blackhawks 13/2
Anaheim Ducks 9/1
Tampa Bay Lightning 9/1
Los Angeles Kings 11/1
New York Rangers 12/1
Pittsburgh Penguins 12/1
St. Louis Blues 14/1
Minnesota Wild 16/1
Montreal Canadiens 18/1
Nashville Predators 18/1
Washington Capitals 18/1
New York Islanders 22/1
Boston Bruins 25/1
Columbus Blue Jackets 25/1
Detroit Red Wings 25/1
Calgary Flames 28/1
Winnipeg Jets 28/1
Dallas Stars 33/1
Edmonton Oilers 33/1
San Jose Sharks 33/1
Ottawa Senators 40/1
Colorado Avalanche 66/1
Florida Panthers 66/1
Vancouver Canucks 66/1
New Jersey Devils 75/1
Philadelphia Flyers 75/1
Buffalo Sabres 100/1
Toronto Maple Leafs 100/1
Carolina Hurricanes 150/1
Arizona Coyotes 250/1
Regular Season Predictions
Atlantic: Montreal Canadiens
Metropolitan: New York Rangers
Central: Chicago Blackhawks
Pacific: Anaheim Ducks
Stanley Cup Predictions
New York Rangers over Anaheim Ducks
© Copyright IBTimes 2023. All rights reserved.
FOLLOW MORE IBT NEWS ON THE BELOW CHANNELS