Nick Young Calls Iggy Azalea 'Becky' And Then Claims Twitter Was 'Hacked'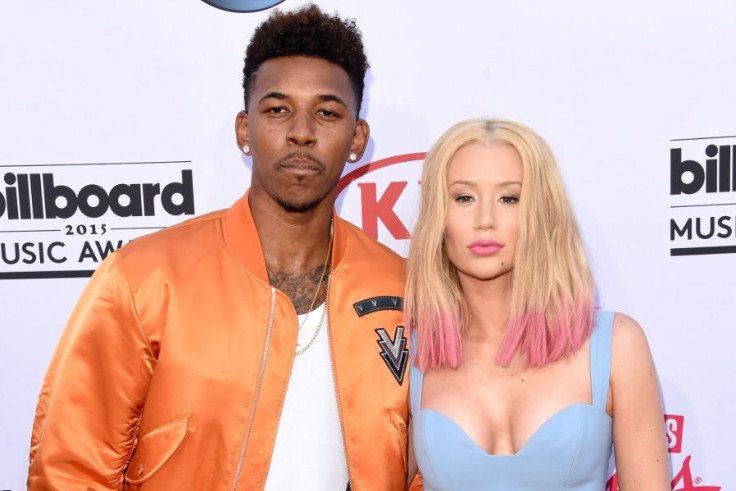 Did he, or did he not? As rapper Iggy Azalea battled Beyoncé's fans about the term "Becky" and its negative connotations, her fiancé, Los Angeles Lakers star Nick Young, allegedly called her the name she admonished netizens for using. But then he claimed his account was hacked and added he would "never" use that term.
For the past two days, the Australian rapper battled Beyoncé's fans, better known as the #BeyHive, after she insinuated the "Lemonade" singer was racist. Azalea went into a tirade about it, denied the racism accusation, and said she's a fan of Beyoncé's work.
Shortly after, Young supposedly dropped the new B-word. "I love my Becky but she be tripping lol," he wrote. "She got the time to erase my last tweet," Young added, seemingly about Azalea.
The rapper apparently took the high road, and helped her fiancé avoid a spelling error in his tattoo. "Guys, I wanna let you know. Nick can't spell and if it wasn't for the LOVE I have for him. He would have "BORN REBLE" tatted across his back," she wrote. "I came in half way thru his tattoo and noticed 'BORN REBEL' looked different to the way I remember it."
She added: "I will tweet the picture of his tattoo when I land. He really is lucky I mentioned it to him, I was gonna be petty and not say."
After Azalea schooled him, Young tried to brush off his Becky tweet, claiming his account was hacked. "Ok you won ... Wasn't fault my Twitter been hack I would never call you the Becky word lol," he wrote.
She then retweeted a message from a fan who said Young should get into "formation," which is a reference to Beyoncé's single from "Lemonade."
Follow me on Twitter @mariamzzarella
© Copyright IBTimes 2023. All rights reserved.