Nicki Minaj, Keith Urban Join 'American Idol' Judge Panel With Mariah Carey And Randy Jackson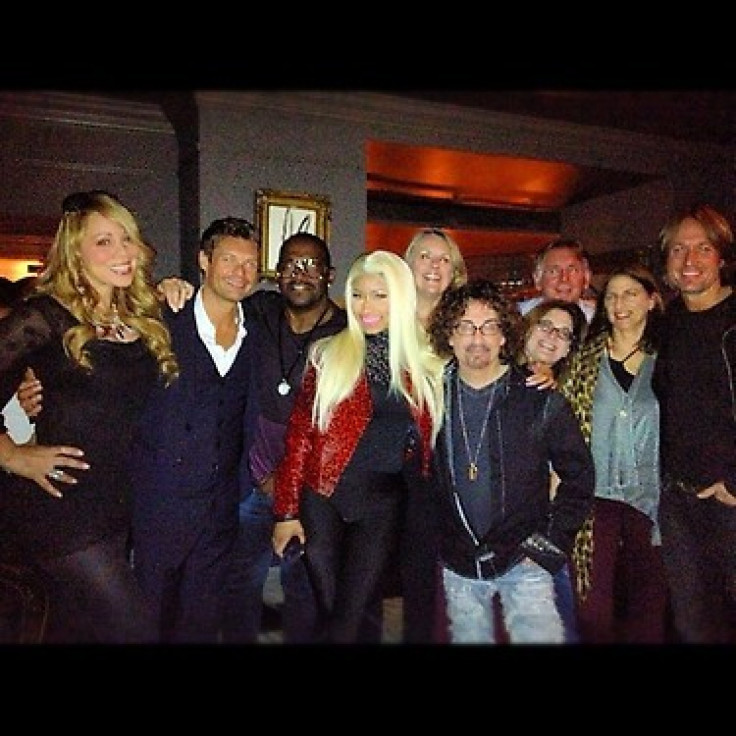 The final roster of "American Idol" judges has been announced, with Nicki Minaj and Keith Urban officially joining Mariah Carey as the replacements for the departed Jennifer Lopez and Steven Tyler. Randy Jackson, who has been a host on the show since its inception, will return after rumors surfaced that he would be leaving, according to E! Online.
Minaj, Urban, Carey and Jackson will start working together Sunday in New York, where the audition process for season 12 of "Idol" is set to begin. After New York, the foursome will travel to Los Anglees; Chicago; Charlotte, N.C.; San Antonio; Baton Rouge, La., and Oklahoma City.
Financial terms were unavailable, but Minaj was rumored to have been demanding a bigger paycheck than Mariah Carey, something the pop diva was none too pleased with.
"SO excited to be joining the team on @AmericanIdol!!!!! - KU #idoljudges," Urban tweeted Sunday morning.
Minaj retweeted a message from host Ryan Seacrest, who called it official.
Carey was confirmed as a judge in July when she got in touch with the TV Critics Association on the phone, reported E! Online.
"I am so excited to be joining 'Idol.' I wish I could be there myself to tell you," Carey told reporters. "It all kind of just happened real quickly. I can't wait to get started in a couple months...I will see you in January!"
At the time, rumors were swirling that Jackson would finally take a bow from the judges table after biding adieu to Simon Cowell, Paula Abdul, Tyler, Lopez, and a slew of guest judges during his time on the Fox reality show. Latin pop sensation Enrique Iglesias was thought be entertaining an offer to step in for Jackson, but executives ended up keeping Jackson.
It will be the first four-judge panel in the show's history and one that arguably brings the most star power to the singing competition. Jennifer Lopez and Steven Tyler are superstars, but both careers had seen better days, a stark contrast from Minaj and Urban, who are regularly at the top of the music charts.
Fox News reported that Minaj is a multi-platinum singer and rapper while Urban has sold more than 15 million albums throughout his career, winning four Grammy awards along the way.
Fox executives hope the new faces will reenergize the "Idol" brand, which has seen ratings struggles in recent season because of competition from "The Voice" and "X Factor." The latter brags a judge panel with Britney Spears and ex-"Idol" face Simon Cowell.
© Copyright IBTimes 2023. All rights reserved.