Nikki Bella Admits John Cena Is Turned On By 'DWTS' Competition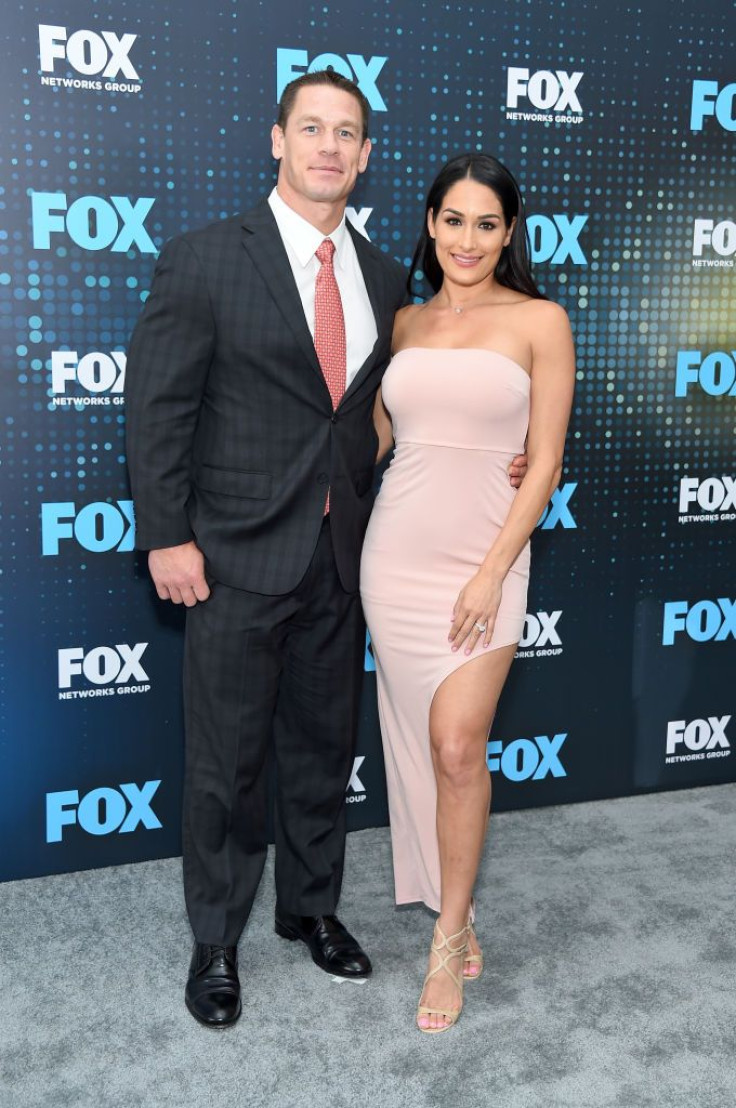 Nikki Bella may have just started out on "Dancing With the Stars" but it seems like her fiancé John Cena is already waiting for her encore.
The "Total Bellas" star told E! News that her fiancé was very supportive of her participation in the dance competition. Bella also revealed that her new dance moves are having a positive effect on their relationship.
"He likes when I challenge myself and I think that's a turn-on for him so just coming and doing this and giving it my all, he loves that," she said.
"And plus I already got all these text messages from him, he was like, 'Wow! Wow! Wow! Wow! Wow!' That was like the first one," Bella confessed.
Appearing on the ABC dancing competition has also whipped the WWE star into shape. "I've already lost five pounds!" the star told the media outlet.
"I'm like, 'I need to keep this off!' I kinda wanna lose five more but actually keep the butt really big," she explained.
Bella also admitted that her diet has changed and she eats "more carbs than ever, which is crazy!"
"Not only are we training a lot but you're like flexing the whole time I feel like when you're dancing," the star added.
This is not the first time Cena has had a positive reaction to Bella's work ethic. During an appearance on the "TODAY" show, the wrestler gushed over Nikki and Brie Bella's accomplishments because of all of their hard work.
"The reason why the audiences have flocked to the E! Network is because these women are so open and so honest with their lives and that encompasses everything. They run hard. They are just as good as anyone," he said.
"They have an apparel line, they have a wine coming out, they're filming this show, they're filming another show, a successful YouTube Channel. They are as entrepreneur as you can get but they still have so much time and they make time for family," Cena added.
Speaking of family, with both Bella and Cena's work obligations, the duo revealed that kids will most likely not be in their future, especially after witnessing her sister's life change following the birth of her daughter, Birdie.
"How much I absolutely love Birdie and have unconditional love, seeing how much my sister has had to not only sacrifice her body but her life and career has really made me be like, 'You know what? I'm really content being an aunt the rest of my life,'" she explained.
In the past, Bella and Cena had different opinions about having children. "I used to not understand. You used to see this on 'Total Divas' and 'Total Bellas,' I didn't understand where John was coming from when he would say he wouldn't want to be a father," she said.
"It wasn't that he didn't like kids…It was just he works a lot and he would want to home for those kids. I feel the same way, " she continued.
Going forward, the couple will just have to settle for Bella's sultry moves on the dance floor.
© Copyright IBTimes 2023. All rights reserved.