Nikki Haley Backtracks On Marco Rubio, Jeb Bush Criticism Over Amnesty, Common Core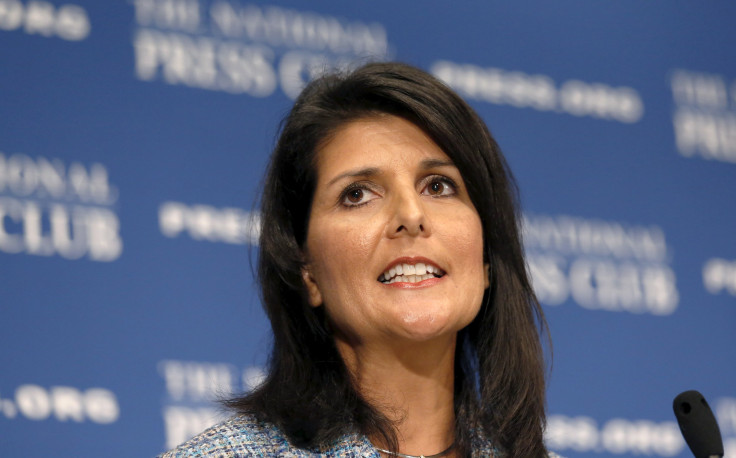 South Carolina Gov. Nikki Haley received widespread praise for her rebuttal to President Barack Obama's State of the Union address Tuesday night, but things haven't been quite so smooth sailing in her media splurge afterward. After she seemed to criticize two presidential hopefuls who could plausibly tap her for a vice presidential bid, Haley felt the need to walk back a bit Wednesday night.
Haley was forced to clarify a bit after an interview earlier in the day when she said she had issues with more candidates in the 2016 Republican field than just Donald Trump, whom she had criticized during her State of the Union rebuttal. Among those issues were Florida Sen. Marco Rubio's previous push for comprehensive immigration reforms he's now abandoned (buzzword: "amnesty") and former Florida Gov. Jeb Bush's support for Common Core education standards.
"I talked about Marco Rubio — you know, I'm against his Gang of Eight bill. He is not for amnesty, but I was against his Gang of Eight bill," Haley told Fox News. As for Bush, she clarified that he didn't enact as legislation the education standards she had said he did. "Gov. Bush, he supported Common Core, certainly didn't pass it, but supported it."
She said she simply misspoke.
Haley's assertion that Rubio was a supporter of amnesty is probably the more politically volatile of her words Wednesday, as he is performing better in polls. Rubio has been the target of some derision in the Republican field for his efforts early in his senate career to pass an immigration reform bill, known as the "Gang of Eight" bill, that would have provided a pathway to citizenship for undocumented immigrants. In a presidential race where the front-runner, Trump, has called Mexicans criminals and rapists who come to the U.S. , compassion can be a liability.
RCP Poll Average for Republican Presidential Candidates | InsideGov
Rubio finds himself in third place in averages of national polls collecting 11.3 percent of support, behind Trump (35 percent) and second-place Texas Sen. Ted Cruz (19 percent). Bush, who once enjoyed a healthy first-place showing in the polls, comes in fifth place with just 4.7 percent.
© Copyright IBTimes 2023. All rights reserved.