Nintendo Switch In Stock Struggles: Apple, Other Tech Companies To Blame?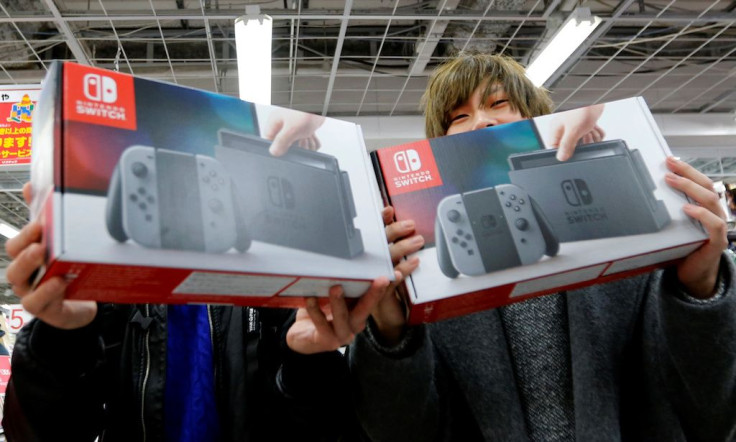 The Nintendo Switch has been difficult to find since its March launch, but the console's supply chain problems might be due to an unlikely culprit: Apple. High demand for individual components for hardware and devices have made it difficult for Nintendo to get the supplies it needs for Switch manufacturing, the Wall Street Journal reported.
As the Journal noted, companies in product sectors ranging from smartphones to servers are requesting an increasing number of components used in these devices and manufacturers are struggling to keep up with demand. These components include NAND flash memory and the motors used for vibration feedback in devices like the Switch's controllers.
Read: Nintendo Wants To Sell 10 Million Switch Consoles This Year
A Toshiba spokesperson told the Journal that flash memory demand has been "overwhelmingly greater than supply" and the situation is expected to continue through the end of the year.
The problem for Nintendo has come down to its competitiveness versus increased demand. Generally, other companies have been able to offer larger orders or better agreements with manufacturers than what Nintendo can offer. Data server manufacturers also require newer and more profitable parts for companies than Nintendo's Switch.
In particular, Apple has also been a major contributor to this increased demand. With the current production of the iPhone 7 and the upcoming rumored iPhone 8, Apple has taken up a substantial amount of manufacturers' available schedules. As MacRumors previously noted, Apple also reportedly has looked into buying a major share of Toshiba's flash memory business.
For Nintendo, the continued supply chain difficulties are the company's biggest hurdles in maintaining the Switch's current hot streak. Since its launch, the Switch has been a major factor in improving the company's fortunes, especially after the sputtering launch of its predecessor, the Wii U.
The console sold 2.74 million units during its March launch, buoyed by equally strong sales of flagship titles like The Legend of Zelda: Breath of the Wild. Nintendo saw similar sales successes in April, as the console was the highest selling hardware device for the month in North America.
Read: New Pokémon Nintendo Switch Game Hinted At Via Job Postings
With the Switch's steady numbers, Nintendo wants to remain aggressive with the new console's sales. The company said the console can have a Wii-like lifespan for the market and wants to sell an additional 10 million units this fiscal year. This goal is fueled, in part, by the console's portability and Nintendo considering it a Game Boy-like option where families buy multiple units for family members. The Switch also is to see high-profile titles like a new Monster Hunter title and Splatoon 2 later this year.
However, the console's continued success will come down Nintendo solving its supply chain problems. As the Journal noted, Nintendo is cautious about ramping up its manufacturing orders, because it potentially could cause the Switch to be sold above its retail price. At the same time, Switch remains hard to find in retail stores months after launch
© Copyright IBTimes 2023. All rights reserved.
FOLLOW MORE IBT NEWS ON THE BELOW CHANNELS