NJ Powerball Winner, Pedro Quezada, Owes $29,000 In Child Support, Could Face Arrest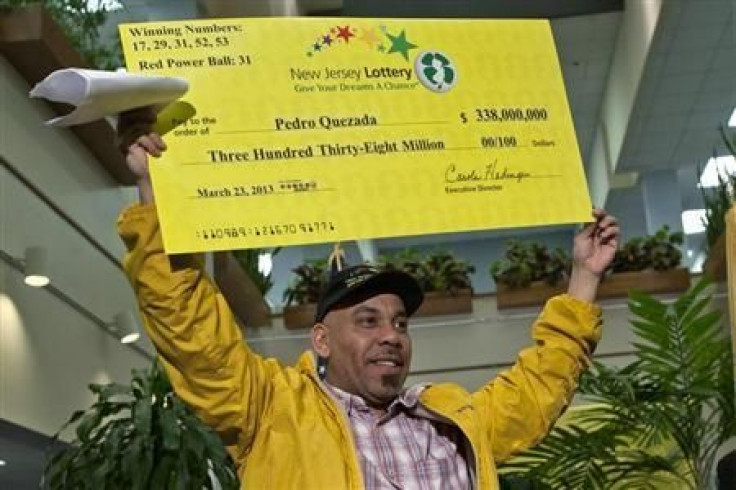 Pedro Quezada has some dues to pay.
The 44-year-old New Jersey shopkeeper, who just won the $338 million Powerball jackpot, owes $29,000 in child support, AP reports.
Quezada, who has five children, has unpaid child support payments dating back to 2009, according to NorthJersey.com. It's unclear which children the payments support.
The grocery store owner chose to receive a $211 million lump sum, which lottery officials said he would receive on Thursday, Reuters reports. Until the child support issue is resolved, Quezada could still face arrest, Passaic County Sheriff Richard H. Berdnik told NorthJersey.com.
The unpaid child support isn't the only financial problem Quezada has.
Public records show a two-family home Quezada purchased in Passaic was foreclosed in 2009. That same year, a bodega he owned was damaged by a fire that gutted the store, the Star-Ledger reports.
Quezada won the fourth-largest Powerball jackpot in the game's history. In a press conference on Tuesday, he said he would be closing his Apple Deli Grocery and probably buy a car, AP reports.
When asked what kind of car he drives now he answered, "My feet."
Quezada, who immigrated from the Dominican Republic 26 years ago, purchased the winning ticket at a liquor store. The winning numbers were 17, 29, 31, 52, 53 and Powerball 31.
"Imagine ... so much money," he said at the news conference about his winnings. "But it will not change my heart."
© Copyright IBTimes 2023. All rights reserved.