No Texas Mask Mandate, But You'll Still Need One If You Go Here
While Texas Gov. Greg Abbott struck down the state's mask mandate on Tuesday, several businesses will continue to require a face mask for those frequenting their establishments.
Texas' mask mandate will end on March 10, Abbott's executive order stated. He also announced that businesses can now operate at 100% capacity in Tuesday 's controversial announcement about the easing of COVID restrictions.
"With the medical advancements of vaccines and antibody therapeutic drugs, Texas now has the tools to protect Texans from the virus. We must now do more to restore livelihoods and normalcy for Texans by opening Texas 100 percent," Abbott said.
"Make no mistake, COVID-19 has not disappeared, but it is clear from the recoveries, vaccinations, reduced hospitalizations, and safe practices that Texans are using that state mandates are no longer needed," he added.
Despite Abbott's elimination of a statewide mask mandate, several companies have come out and said they will still require people to wear face coverings when they enter their businesses. Among the exceptions are the following venues:
Airports and Public Transportation
Airports such as Texas' Austin-Bergstrom International will still require masks as it follows federal regulations. Those who fail to wear a face mask may be denied entry, boarding, or continued transport, as well as being subject to civil penalties, an airport spokesperson told KXAN News, an NBC affiliate in Austin.
Face masks will also be required at all other Texas airports due to federal guidelines.
Travelers will also need to wear a face covering if they are looking to board a Capital Metro bus, in accordance with federal guidelines, the news outlet said.
The Centers for Disease Control and Prevention announced at the end of January that face masks would be required by travelers on all public transportation and at transportation hubs.
Hospitals and Clinics
Healthcare systems such as Ascension Seton, St. David's, and Baylor Scott and White will also keep a mask requirement at their hospitals and clinics, according to KXAN.
"As far as physicians go, we do think we should be following the CDC guidelines at this point," said Dr. Diana Fite, president of the Texas Medical Association.
Grocery Stores
Under the executive order from Abbott, businesses do have the right to enforce a mask requirement if they choose to do so.
One such company is Texas-based grocery chain H-E-B, which said it will still require employees and vendors to wear face masks in its stores but will only encourage its customers to do so, the news outlet said.
KXAN reported that H-E-B said: "We ask that all our customers please wear masks in our stores. To protect the safety of our Partners, we will not engage in confrontation."
The company continued by saying, "Although there is no longer a statewide mask order, H-E-B believes it is important that masks be worn in public spaces until more Texans and our Partners have access to the COVID-19 vaccine. As an essential service provider during the pandemic, H-E-B is focused on the health and safety of our Partners and customers."
Like H-E-B, grocer Randall's is implementing a similar measure at its stores as a company spokesperson told KXAN that all employees and vendors will need to wear a face covering while customers are encouraged to wear one.
"We will continue to monitor the situation and will work quickly to inform customers, associates, and vendors when/if there are changes to the health and safety policies currently in place," the company told the news outlet.
Restaurants and Bars
Other businesses in Texas, such as the Alamo Drafthouse and Paramount Theatre, will also require masks at their venues, while Mohawk will stay closed until it feels it is safe to reopen, KXAN reported.
Other restaurants still requiring face masks in Texas, include Pat Green's The Rustic, Guy Fieri's Guy's Taco Joint, and Pudge Rodriguez's Pudge's Pizza , TMZ reported.
KISS' Rock & Brews will give customers the option to wear a mask, and Buddy Valastro's bakeries have yet to make a decision on a mask policy, TMZ said. But the news outlet said that Randy Rogers ChopShop Live will stop requiring face masks as well as other COVID safety protocols
Other Businesses
General Motors, Toyota Motor, Target Corp. and Macy's have all said that they will continue to require their employees to wear a face mask, Reuters reported.
Target and Macy's will also continue to require customers to wear face masks in order to enter it stores, Rueters said.
"Relaxing common-sense safety protocols like wearing masks is a mistake," Jason Brewer, vice president of Communications and State Affairs at the Retail Industry Leaders Association, told the news outlet.
Brewer continued by saying that rolling back the safety measures "unfairly put retail employees back in the role of enforcing guidelines still recommended by the CDC and other public health advocates."
Gwyneth Paltrow's Blo Blow Dry Bar will also require face coverings, according to TMZ.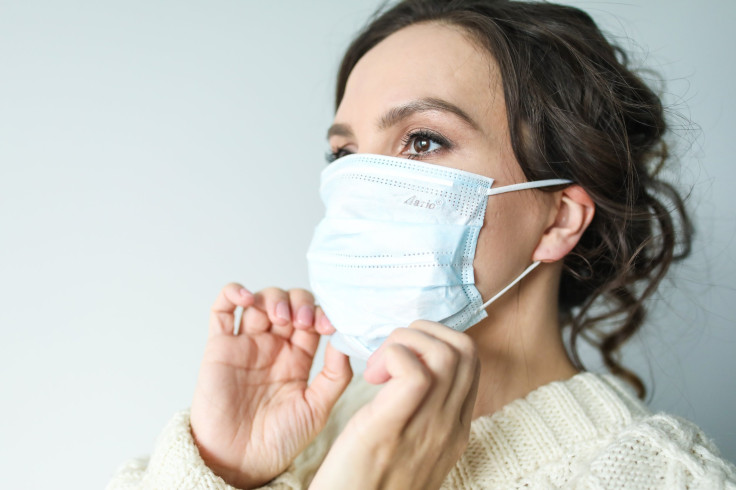 © Copyright IBTimes 2023. All rights reserved.