Not My NYPD: What Happened With The Failed Twitter Campaign That Unsuspectingly Encouraged Police Brutality Photos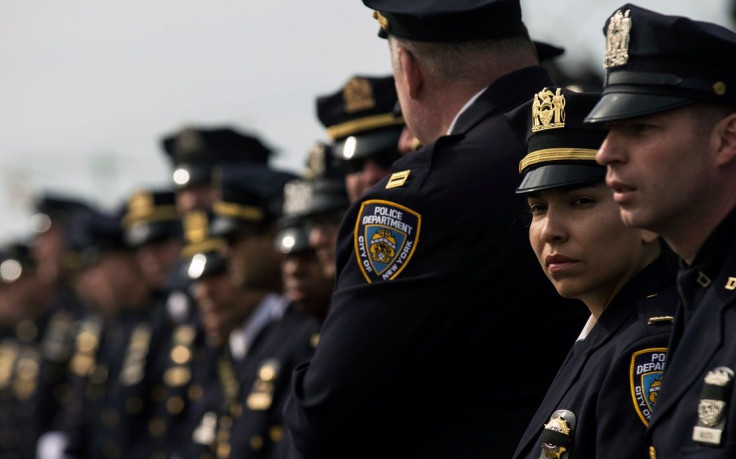 Twitter was abuzz Tuesday evening after the New York City Police Department made an innocuous request to their followers to share pictures with NYPD officers, but what happened was a backlash of unprecedented proportions. Sure, Twitter helped the #MyNYPD hashtag become a national trend but only because people were sharing hundreds of photos of police brutality. The NYPD has chosen not to respond to the backlash directly and instead has carried on as if people didn't ransack their friendly cop campaign.
A member of the NYPD, who didn't want to be identified, told the International Business Times in a phone interview, "I can't believe that they didn't expect that," but didn't provide further comment.
Dan Hill, president of integrated communications and public affairs firm Ervin-Hill Strategy and a former New Mexico police spokesperson and seasoned crisis-management expert, tweeted that the New York City Police Department should have used humor to handle the situation instead of ignoring it.
Hill explained to IBTimes in a phone interview that Twitter is a great tool to help bring awareness to an organization's brand but that it clearly did not work well for the NYPD. "Law enforcement is not a brand," he said. "So for them to do that is not the right approach." That doesn't mean they have to put their social media account to rest, however.
There are things the NYPD can use Twitter for like using it to gather information from the community about a potential suspect. "That's what they really need to focus on and do it as well as they can do it," Hill said.
"It could be good for finding a suspect or for telling communities to be careful or give public safety information," he said. "If you do those things well you're passively branding yourself." He referred to the #MyNYPD hashtag as a "distraction" which the NYPD probably doesn't "want or need." The crisis management expert described law enforcement as a "thankless job."
"Your job is to protect and serve the community," Hill pointed out. "They don't ever get the accolades they deserve and there are certain parts of the population that aren't supportive." But that's not what being an officer is about. "Their job isn't to get people to like them. That's not why you sign up for law enforcement."
As for the New York City Police Department's lackadaisical response, which was pretty much no response at all, Hill thinks the NYPD should have used humor: "I think the only thing they can do at this point is make fun of themselves. I think it's the best way to end this."
Though it seemed apparent to many that the campaign had indeed backfired, Dinah Alobeid of Brandwatch, a leading social data analytics company, explained to IBTimes in an email that despite the media attention, only 15 percent of the mentions that used #MyNYPD were negative, according to Brandwatch data. Further, 70 percent of the Twitter users who used the #MyNYPD hashtag were from the U.S. Others who used the hashtag were from the U.K., Canada and Ecuador. Even though males apparently are seen as the gender who use social media less frequently, the data revealed 64 percent of the users who tweeted #MyNYPD were male.
Follow me on Twitter @mariamzzarella
© Copyright IBTimes 2022. All rights reserved.
FOLLOW MORE IBT NEWS ON THE BELOW CHANNELS