Not Off The Rack: One Of The World's Most Expensive Suits Sold In Hong Kong For $1 Million HKD
Some of the world's most prestigious fashion brands, like Gucci or Prada, design suits that can cost ups of $3,000. While many may think that is already a hefty price to pay in the name of fashion, one company in Hong Kong dares to challenge that. Arshad Mahmood and his team of tailors made what he claims could be one the world's most expensive suits -- priced at a cool million Hong Kong dollars (about US$129,000).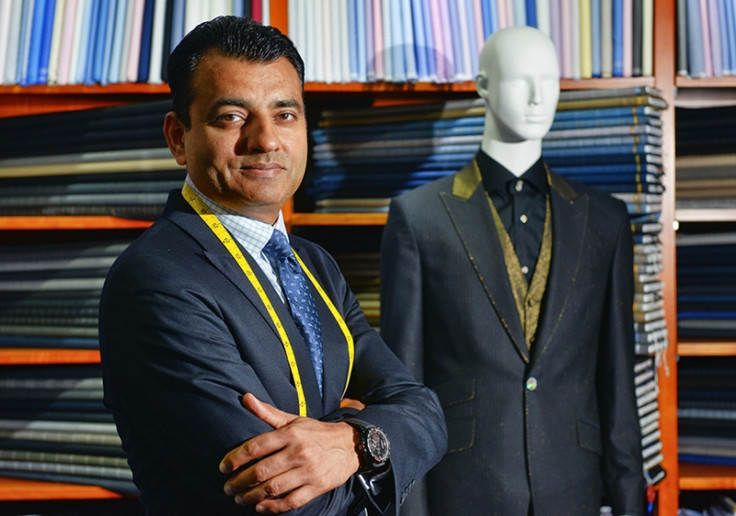 According to the South China Morning Post, the suit, which includes 22-carat gold stitching, a gold waistcoat and diamond encrusted gold buttons, was sold on May 29.
Mahmood is the director of Apsley Tailors -- otherwise known locally as Punjab House in Hong Kong -- a company known for their bespoke garments. The suit reportedly took Mahmood's tailors about 200 hours to make, using the highest quality wool that had gold strands intertwined in the fabric.
"It is very special," Mahmood said in an interview. "It's a great achievement for us," he added with pride, saying the million-dollar gold suit is the only one of its kind. Such a special suit also means it will only be worn on special occasions. "People are not going to wear it everyday," he said, adding that he speculates the well-dressed mystery owner of the suit will probably only wear it twice a year for very special occasions.
However, it seems that the Apsley suit is in fact the world's second-most expensive suit, beaten out by a silk and diamond suit by Stuart Hughes and Richard Jewls of Manchester, England. That suit is made from a blend of cashmere wool and silk and contains over 480 diamonds measuring up to over 240 carats of suit sparkle. The suit was sold for $7.3 million Hong Kong dollars, or $943,000 US.
© Copyright IBTimes 2023. All rights reserved.