Notorious B.I.G. Quotes And Lyrics: 18 Sayings To Remember Biggie Smalls On March 9 Anniversary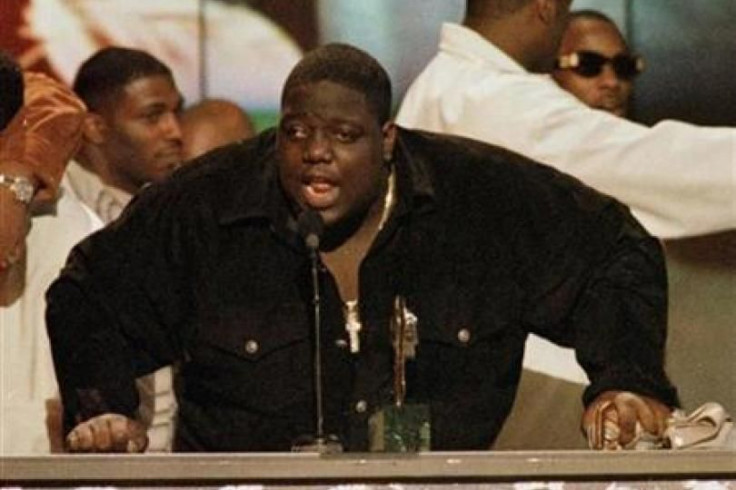 It's been nearly 20 years since the Notorious B.I.G. was tragically shot and killed March 9, 1997, when he left a party hosted by Vibe magazine in Los Angeles. He was 24. His killer has still not been identified.
The rapper, whose real name was Christopher Wallace, was one of the best in the game at the time he was slain. Biggie Smalls, as he was also known, put himself on the map with his debut album, "Ready to Die." Nineteen years after his untimely death, his masterful lyrics still resonate with fans. To celebrate his life, some of his best quotes and song lines are listed below:
1."Excellence is my presence. Never tense, never hesitant."
2. "Biggie Smalls is the illest. Your style is played out, like Arnold wondered, 'What you talkin' bout Willis?'"
3. "It was all a dream. I used to read Word Up magazine. Salt-N-Pepa and Heavy D up in the limousine. Hangin' pictures on my wall. Every Saturday Rap Attack, Mr. Magic, Marley Marl, I let my tape rock till my tape popped."
4. "We can't change the world unless we change ourselves."
5. "If you don't know, now you now."
6. "I'm living every day like a hustle. Another drug to juggle, another day another struggle."
7. "While we out here, say the hustlas' prayer. If the game shakes me or breaks me, I hope it makes me a better man."
8. "Yes it's me, the B.I.G / Competition ripper ever since 13 / Used to steal clothes was considered a thief / Until I started hustlin' on Fulton Street / Makin' loot, knockin' boots on the regular / Pass the microphone; I'm the perfect competitor."
9. "If you don't love yourself, I'll make you see your own heart."
10. "I never wish death on nobody, cause there ain't coming back from that."
11. "Poppa been smooth since days of Underoos / Never lose, never choose to, bruise crews who / Do something to us, talk go through us / Girls walk to us, wanna do us, screw us / Who us? Yeah, Poppa and Puff"
12. "Take a better stand. Put money in my mom's hand. Get my daughter this college plan, so she don't need no man."
13. "Catch me if you can like the gingerbread man."
14. "Forgive me for my disrespect; forgive me for my lies."
15. "I'm seeing body after body and our Mayor Giuliani / Ain't tryna see no black man turn to John Gotti / My daughter use a potty, so she's older now / Educated street knowledge, I'ma mold her now"
16. "If Faith had twins, she'd probably have two Pacs, Get it, Tupac's?"
17. "And everything you get, ya gotta work hard for it."
18. "We used to fuss when the landlord dissed us / No heat, wonder why Christmas missed us / Birthdays was the worst days / Now we sip champagne when we thirsty."
Follow me on Twitter @mariamzzarella
© Copyright IBTimes 2023. All rights reserved.
FOLLOW MORE IBT NEWS ON THE BELOW CHANNELS