Novak Djokovic: Will Wimbledon Champion Catch Rafael Nadal, Roger Federer In Race For Most Grand Slam Titles?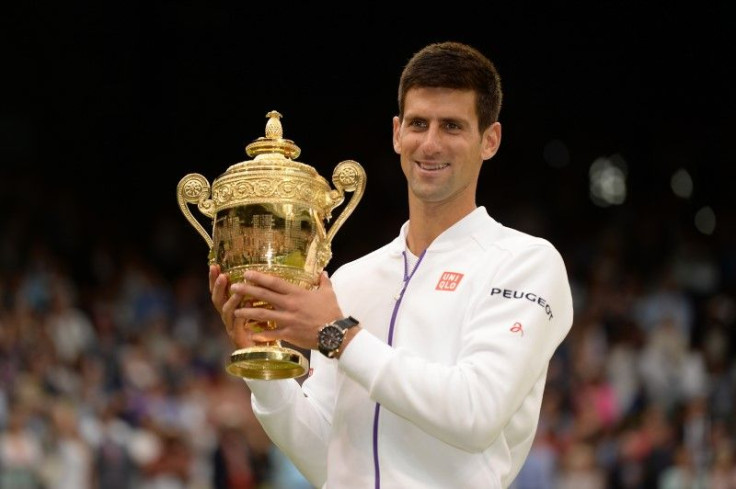 On the most famous tennis court in the world on Sunday, Novak Djokovic made a powerful statement of his credentials to be considered among the best players to ever grace the sport. The world No. 1 faced a stern challenge in going up against a man who has made Centre Court his home away from home like no other. But despite Roger Federer's age-defying majesty in the semifinals, Djokovic was unwavering, even overcoming the loss of a tiebreak for the ages, to prevail, eventually comfortably, in four sets and further cement his legacy.
For so long seen as the third wheel in a generation-defining rivalry between Federer and Rafael Nadal, there is no longer any doubt that the man from Belgrade has emerged from that largest of shadows. With victory, Djokovic sealed his ninth Grand Slam title, moving clear of legends Andre Agassi, Jimmy Connors, Ken Rosewall, Ivan Lendl and Fred Perry into eighth place on the all-time list. It would be a surprise were he not to climb significantly higher.
Djokovic's performance in claiming his third Wimbledon title only reinforced that he is by some distance the best player in the world right now. The Serbian has sat atop the world rankings since his victory over Federer in last year's Wimbledon final, and now has a massive 4,000 point lead over the second-place Swiss. This year he has already racked up six titles, having lost just three matches. If it weren't for a surprise defeat in the final of the French Open to Stan Wawrinka, he would be in the same position as Serena Williams of heading to next month's U.S. Open with a Calendar Grand Slam in his sight, something done just once in the history of the men's game.
There is every reason to think that his current dominance will continue. At the age of 28, Djokovic is still very much in his prime, while the same cannot be said of his two greatest rivals. Federer's longevity that means he is still competing for major titles is remarkable, but he will be 34 next month and his stamina, to allow him to go the distance in Grand Slams over the course of two weeks, isn't going to get any better. Meanwhile, questions remain about Nadal and whether he can once more battle back from the toll his physical style has taken on his body since breaking through as a teenager.
There is reason to think Andy Murray, ranked three in the world and rejuvenated this year, will continue to be there or thereabouts in the major tournaments. And yet Djokovic has beaten the Scot on eight straight occasions, and appears to have a clear mental edge. The same is not true of Wawrinka, but the Swiss is now 30 and, while capable of brilliant stretches of play, lacks the consistency of the man he beat in Paris. Of the next generation there is still little to cause Djokovic sleepless nights.
Djokovic has had the better of Kei Nishikori (4-2), Milos Raonic (5-0) and Grigor Dimitrov (5-1) and the slightly older U.S. Open champion Marin Cilic (13-0). Beyond that, the next wave like Australian Nick Kyrgios and Croatian Borna Coric are still seemingly some way from developing into Grand Slam winners.
Djokovic has for some time been the best hardcourt player in the world, and it is difficult to think he won't continue to be the man to beat at the Australian Open for at least the next couple of years, while also improving on a perplexing 1-4 losing record in U.S. Open finals. At Wimbledon he has now beaten the greatest grass-court player ever to claim the last two titles. It was this year that Djokovic also dethroned the greatest clay-court player in history at Roland Garros. Having finally overcome the hurdle of Nadal, it was particularly painful for Djokovic not to go on and win the one Grand Slam remaining from his resume. Yet the remarkable manner in which he bounced back from his post-defeat tears at the French Open to win Wimbledon just a few weeks later suggests Djokovic won't be unduly burdened by defeat when returning to Paris for another assault on the title next year.
Suddenly Nadal's, and perhaps even Federer's, haul of Grand Slam titles are potentially within reach. Nadal sits joint second on the all-time list, alongside Pete Sampras, with 14. Federer has three more than that, and remains some way in the distance. But, while the best of Federer and Nadal are almost certainly behind them, Djokovic currently looks unstoppable at his best, and with no signs of slowing down or having his desire for trophies satiated.
"I'm 28, I feel good, I don't feel old," he said after Sunday's triumph. "I have hopefully many more years in front of me. I'm going to try to push my own limits and see how far I can go really with titles and with myself playing on this high level."
The presence of Federer and Nadal, with their perfectly contrasting styles and crossover appeal, has meant that Djokovic has often struggled for recognition. Yet, having already achieved so much in tennis' greatest era, now it is Djokovic's time to shine.
© Copyright IBTimes 2023. All rights reserved.