NYC Police Union Denies Chokehold Use During Eric Garner Arrest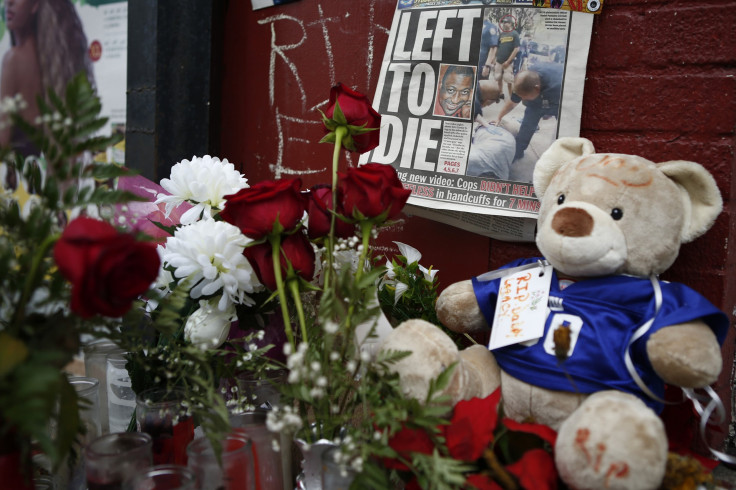 The Patrolmen's Benevolent Association is questioning a report released from the New York City Medical Examiner's Office on Friday that ruled Eric Garner's death a homicide. Pat Lynch, president of the Patrolmen's Benevolent Association, challenged the ruling that the Staten Island man died from compression of the neck while being arrested last month, an incident that was recorded by a witnesses on the scene.
"It is not a chokehold," Lynch insisted during a press conference on Tuesday. "It was bringing a person to the ground the way we're trained to do to place him under arrest."
Lynch added that the medical examiner's conclusions about Garner's death are "absolutely wrong" and that the office was "mistaken" for ruling the death a homicide. "I've never seen a document that was more political than that press release by the ME. Chokehold. That's not a medical term," said Lynch.
Lynch went on to denounce the "politicians, race baiters, pundits and even our elected officials" he says are presenting NYPD officers in an "insulting and unjustified manner." He said that Garner had been stopped for selling unlicensed cigarettes on the street a week before the deadly July 17 arrest. He was arrested that day, but officers warned him to cease selling the loose cigarettes. The next week when he was again approached by cops for the same offense, Lynch says Garner was aware he was facing an arrest.
The New York City Medical Examiner's Office ruled Garner's death a homicide on Friday. The office also cited Garner's acute and chronic bronchial asthma, obesity and hypertension as contributing factors.
In the footage recorded by 22-year-old Ramsey Orta, NYPD Officer Daniel Pantaleo can be seen putting Garner in a chokehold as the Staten Island man was being arrested. Garner asked the officer to stop because he couldn't breathe. He was later pronounced dead at Richmond University Medical Center.
Pantaleo and Officer Justin Damico were placed on desk duty for their roles in the arrest. Pantaleo was also stripped of his gun and badge.
Orta pleaded not guilty to unrelated weapons charges Monday after being arrested Saturday for allegedly passing a stolen firearm to a teenager, police said. Speaking to the Daily News after his arraignment on Monday, Orta said officers have been harassing him since he was identified as the person who captured video of Garner's arrest. "They lying on me. They doing me wrong. I've been harassed by the police since this whole video emerged," he said.
© Copyright IBTimes 2022. All rights reserved.
FOLLOW MORE IBT NEWS ON THE BELOW CHANNELS