NYC St. Patrick's Day Parade Sees Historic Gay Celebration Amid Religious Freedom Protests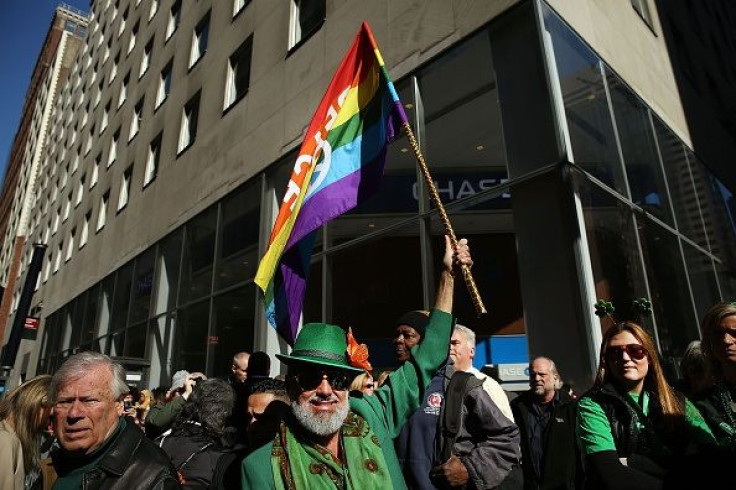 David Murphy put off becoming an ordained minister for nearly 20 years because by the time he'd finished divinity school he was an openly gay Irish Catholic. But he had no regrets Thursday when he proudly marched with more than 50 LGBT-identified people adorned with lavender and green sashes in New York City's 255th St. Patrick's Day Parade.
"This parade is about Irish identity as much as it is about Catholic morals," said Murphy, who now runs St. John the Evangelist, a pastoral center in Brooklyn, as he and other members of the Lavender and Green Alliance, a group for lesbian, gay, bisexual and transgender New Yorkers, marched under their own banner in the parade for the first time. "Just because a person is LGBT doesn't mean they are immoral."
New York City's St. Patrick's Day Parade allowed LGBT groups to march Thursday for the first time after years of contentious debate about whether LGBT culture aligns with a celebration that has origins in the Roman Catholic faith. But even as the LGBT community celebrated the historic moment, their inclusion in the world's largest and oldest St. Patrick's Day parade drew religious protesters who fretted that the nation was being overtaken by a pro-gay agenda. The showdown came amid a larger national effort to advance gay rights after the Supreme Court last year made same-sex marriage the law of the land, drawing rebuke from conservative leaders who have since advanced religious freedom bills that would protect religious objectors from recognizing gay marriage and other rights in nearly two dozen states.
"It's very exciting to be part of history and to be included finally," said Clover Welsh, a member of the Lavender and Green Alliance who identifies as a transgender woman. Dressed in a green blouse and leprechaun's hat for the parade, Welsh said St. Patrick's Day long ago evolved from its origins as a Catholic celebration to one that is more representative of the diversity of Irish-American identity.
"This is supposed to be a separation between church and state," Welsh said. "You can't just go by what the church says."
Thursday's parade featured all the traditional sights and sounds — marching bands in kilts, bleating bagpipes and brigades of police and firefighters. They moved past thousands of revelers dressed in green along Fifth Avenue in Manhattan. At least three LGBT groups officially participated. Among them was the Irish Queers, a New York City-based LGBT group that grew out of the now-defunct Irish Lesbian & Gay Organization (ILGO) in 1996, and had been a key organizer of protests over the exclusion of LGBT organizations from the New York parade. The Irish Queers marched with the Lavender and Green Alliance, another Irish LGBT group that has produced the "St. Pat's for All" parade in the borough of Queens.
Mayor Bill de Blasio, who had skipped the St. Patrick's Day Parade for the last two years because of the LGBT discrimination issue, walked in the parade after the groups were welcomed. Also for the first time, the parade was broadcast live in Ireland and the United Kingdom, via the Irish TV television channel, the Associated Press reported.
But not everyone was accepting of the change. A small group of objectors gathered on the edge of the parade to protest the event, complaining that allowing LGBT groups to march infringed on the religious liberty of devout Catholics who object to homosexuality.
"I think the parade was hijacked," said Arthur Gallagher, a 52-year-old former New York City police officer who has attended and marched in the parade his entire life. He stood with three other people Thursday afternoon near Fifth Avenue and 66th Street to pray the rosary as a peaceful protest against LGBT inclusion.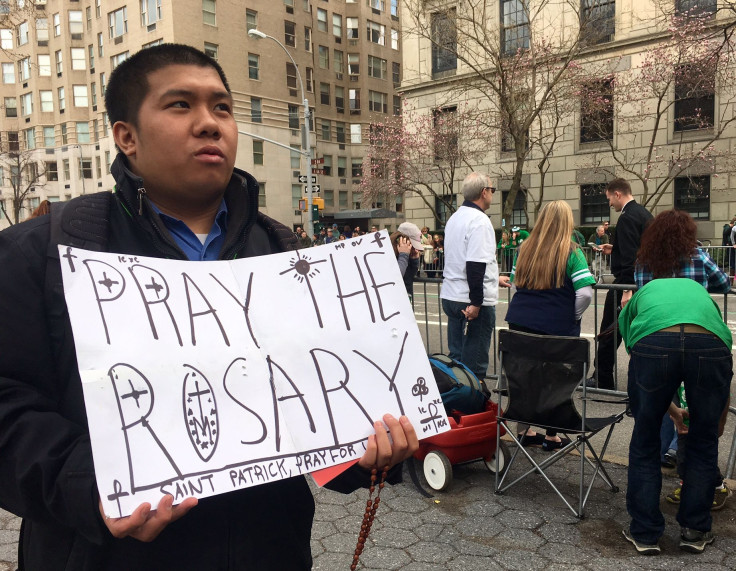 "If you look around here, you're not going to see a single political issue or point of view on display," Gallagher said. "That's because it's not an anti-gay parade in any way. They strong-armed their way in with devious tactics."
Joe Pacillo, who is of Italian-American heritage, attended the rosary protest because be saw LGBT inclusion as an attack on parade organizers' religious freedom. "I'm here to stand up for liberty, but I'm going to do it with love and respect," he said. "Just because the world, consensus and culture says something is right, doesn't mean I have to accept it."
The protest reflects a growing uneasiness among conservatives as the nation over the last decade has moved in a more progressive direction on gay rights. Most recently, Republican lawmakers in Georgia passed a contentious "religious liberty" bill Wednesday that pro-gay rights critics said would make the LGBT community vulnerable to discrimination from faith-based organization, businesses and employers. Georgia's bill is similar to 22 pieces of so-called religious freedom legislation being considered this year in state legislatures across the U.S.
The proposed laws are a response to the validation of same-sex marriage rights nationwide by the Supreme Court last summer. The ruling has been a lightning rod for Catholic and Protestant groups who have opposed laws that protect LGBT people from discrimination on the grounds that the measures could open the door to lawsuits against people citing their religious objection to homosexuality, transgender identity and marriage equality.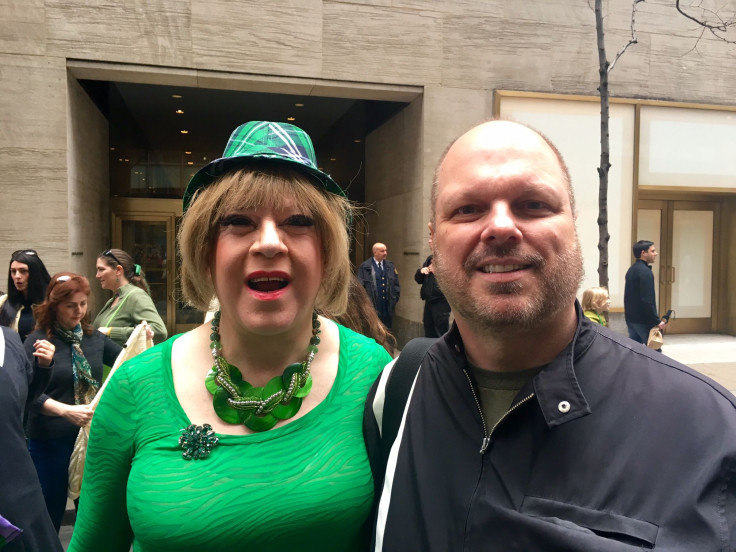 Views on same-sex marriage in the U.S. have shifted dramatically in the last dozen years, particularly as states acted on their own to legalize gay and lesbian unions. In 2001, Americans were opposed to gay marriage by a 57 percent to 35 percent margin, according to polling by the Pew Research Center. A 2015 Pew survey found that a majority of Americans now support marriage equality, 55 percent to 39 percent.
In New York, some who participated in the parade Thursday said their excitement was tempered by the acknowledgment that the LGBT community nationwide still had work to do to win more acceptance. "Marching is fine, but this has always been about confronting homophobia," said Bill Dobbs, an LGBT parade participant who works in communications.
The parade, which traces its history to 1762, features about 200,000 marchers. For years, organizers of the parade said LGBT people could participate as long as they didn't carry signs or buttons that celebrated their sexual orientation.
"Today, we are gay. We are Irish," Brendan Fay, founder of the Lavender and Green Alliance, said in a statement released Thursday before the parade. "As sons and daughters, brothers and sisters, parents, aunts, uncles, cousins with our hearts and lives rooted in the soil and story of Ireland, the welcome of our Irish LGBT contingent transforms the St. Patrick's Day parade as together we cross a historic threshold," he said.
Sarah Kate Ellis, president and CEO of GLAAD, a gay media advocacy group, who is Irish-American, saluted the work of "fearless advocates" who made Thursday possible. "Finally, fairness has reached Fifth Avenue," she said in a statement. "At long last, LGBT Irish people will get to know what it feels like to proudly celebrate their heritage on the streets of New York."
Paul O'Dwyer, an attorney and former member of the ILGO, was dressed in green as he walked Thursday afternoon up Fifth Avenue. "This is what we've been working for," he said. "But it's bittersweet because it should never have come to this. It's here and I'm glad we're here."
© Copyright IBTimes 2023. All rights reserved.