NYPD Shootings: Commissioner William Bratton Praises Slain Officers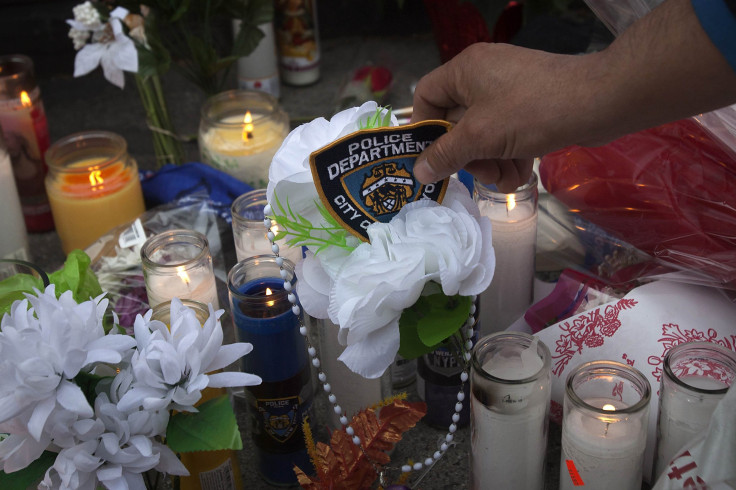 New York Police Commissioner William Bratton Sunday praised the two officers shot to death in their squad car, saying they will not be forgotten. The officers -- Rafael Ramos and Wenjian Liu -- were parked in the Bedford-Stuyvesant neighborhood of Brooklyn when a gunman identified as Ismaaiyl Abdullah Brinsley killed them Saturday. Brinsley then killed himself in a nearby subway station.
In a statement, Bratton said he was deeply saddened by the killings and ordered flags flown at half-staff on Sunday.
"Two of our officers were shot and killed, with no warning, no provocation. … They were assassinated -- targeted for their univorm and for the responsibility they embraced to keep people of this city safe," Bratton said in a statement, adding that they would not be forgotten.
Rep. Peter King, R-N.Y., blamed cop-bashing by the media and government officials, including President Obama and Attorney General Eric Holder, for the killings.
"This is an absolute tragedy, what occurred in New York, and it's really time for our national leaders, the president, it's time for the mayor of New York, and really for many in the media to stop the cop bashing, to stop this anti-police rhetoric," he told Fox News, according to the Hill.
"I mean, for the last four months, we've basically heard nothing other than the cops are guilty, presumed cops are guilty, then the grand jury says they're not going to be indicted. People demonstrate, march in the streets, and it's so slanted."
Sen. Lindsey Graham, R-S.C., told CBS's "Face the Nation" that Holder and New York Mayor Bill de Blasio had set a tone that "incites crazy people."
"I think the mayor of New York has probably undercut his cops and the attorney general is trying to walk a fine line," Graham said. "What happened in Missouri, I understand why the cop had to defend himself. When you see the video in New York - did that man really have to die? But the tone they're setting around the rhetoric regarding the cops incites crazy people. But I blame the shooter."
Brinsley, 28, who came to New York from Baltimore, allegedly shot his girlfriend early Saturday before traveling to Brooklyn. He allegedly snuck up behind a police car, shooting the two officers "execution" style in the head, then walked to a subway station and shot himself.
Shortly after the Baltimore shooting, he posted a number of messages.
"I'm Putting Wings On Pigs Today," Brinsley posted on Instagram as user DontRunUp. "They Take 1 Of Ours... Let's Take 2 of Theirs #ShootThePolice #RIPErivGardner #RIPMikeBrown… This May Be My Final Post. I'm Putting Pigs In A Blanket."
© Copyright IBTimes 2023. All rights reserved.
FOLLOW MORE IBT NEWS ON THE BELOW CHANNELS