Oath Keepers Attorney Kelleye SoRelle Arrested, Charged With Conspiracy
KEY POINTS
Kelleye SoRelle identifies as general counsel for Oath Keepers
She was arrested in connection with Jan. 6 Capitol attack Thursday
The FBI seized an iPhone from her last year as part of a "seditious conspiracy" investigation
A lawyer with close ties to far-right organization Oath Keepers was arrested in Junction, Texas, on a four-count indictment Thursday, in connection with the attack on the U.S. Capitol.
Attorney Kelleye SoRelle volunteered for Lawyers for Trump during the election fraud claims in 2020. The self-confessed general counsel for the Oath Keepers joked about her arrest on Twitter, writing, "Jails need better accommodations... 1star from this gal. 😂 cold and sterile."
The four charges against her include conspiracy to obstruct an official proceeding, obstruction of an official proceeding and aiding and abetting, entering and remaining in a restricted building or grounds, and obstruction of justice - tampering with documents.
SoRelle appeared in a federal courtroom in Austin, Texas, Thursday afternoon before Magistrate Judge Dustin Howell of the Western District of Texas. She was released from detention later in the day, with conditions, reported CNN.
Her indictment in part alleged she corruptly attempted and persuaded others to withhold records, documents and other objects to obstruct the grand jury's investigation into the Capitol attack.
The indictment alleged SoRelle between December 2020 and January 2021, "did knowingly combine, conspire, confederate, and agree with other persons known and unknown to the Grand Jury, to corruptly obstruct, influence, and impede an official proceeding, that is, Congress's certification of the Electoral College vote."
In a short speech on Jan 6. SoRelle had called for a countrywide reelection for all positions, claiming election fraud.
"No one can be deemed legitimate at this point. Any action taken by any elected official at this point is illegitimate, is theft... We have no duty to comply going forward."
SoRelle sent out tweets after her release Thursday, one of which read, "Lesson learned. Lie, never tell the truth and comply with the lockdowns and bow to the oligarchs."
"There is a distinction between wanting lawful election and being and insurrectionist. Just saying- the right and the left should both care about that," read another tweet by the attorney.
SoRelle was photographed with the leader of Oath Keepers, Stewart Rhodes, outside the Capitol building on Jan. 6, reported Washington Post.
In previous court filings, she has been projected as a close associate of Rhodes, who is set to go to trial for seditious conspiracy along with several other members of the militia group. The trial will begin Sept. 27.
SoRelle has emerged as Rhode's point of contact with Donald Trump's supporters, who were seeking to overturn the 2020 presidential election results, Washington Post reported.
Court filings also mention her as the point of contact between Rhodes and Proud Boys leader Henry "Enrique" Tarrio on the eve of the Capitol's breach. Tarrio is facing seditious conspiracy charges.
She was first charged in August 2021 and the FBI seized an iPhone from her. A search warrant indicated the seizure was part of an investigation into "seditious conspiracy."
"I have so much stuff in there," she told Huffington Post, referring to her phone. "They either think i am the mastermind or they wanted a free dig through everything ― either way it is unethical."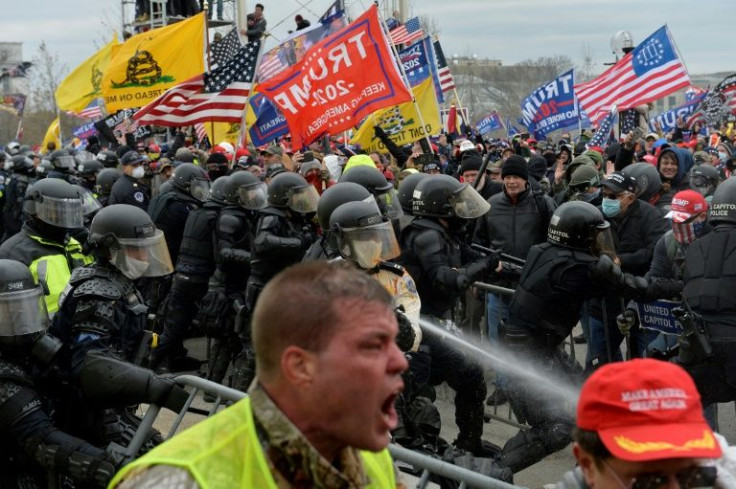 © Copyright IBTimes 2022. All rights reserved.
FOLLOW MORE IBT NEWS ON THE BELOW CHANNELS