Obama Discusses Ferguson, Selma, Keystone Pipeline, Gun Control At Town Hall Event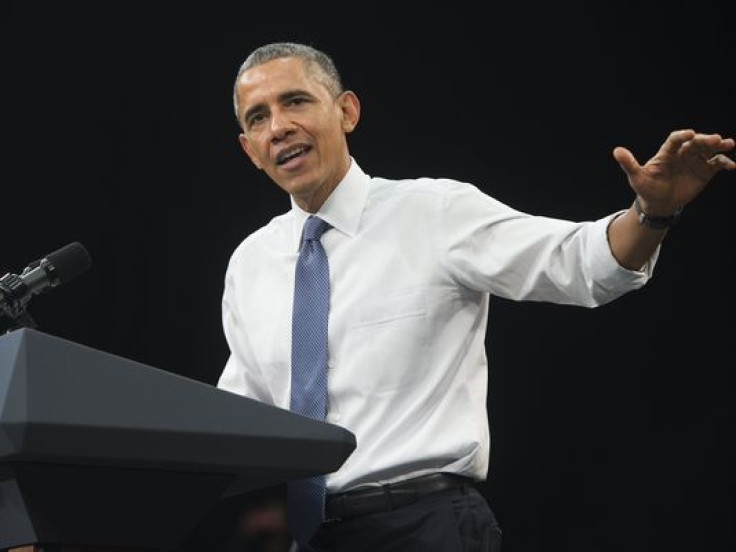 U.S. President Barack Obama said during a town hall event Friday at South Carolina's Benedict College he "strongly" believes the pattern of racial bias unearthed in the Justice Department's review of the Ferguson Police Department in Missouri is not common.
"I don't think that what happens in Ferguson is typical," Obama told the audience. "An overwhelming number of law enforcement members have a really hard, dangerous job and they do it well and they do it fairly and they do it heroically."
Obama's remarks come two days after Attorney General Eric Holder released what he called a "searing report" into Ferguson's police department. The Justice Department found a cache of bigoted emails and evidence of countless rights violations in the jurisdiction where Officer Darren Wilson fatally shot Michael Brown, an unarmed black teenager, last summer.
The president made similar comments about the report during a radio interview broadcast earlier Friday. "I don't think that is typical of what happens across the country, but it's not an isolated incident," Obama told Sirius XM.
Obama spoke at the historically black college in South Carolina ahead of this weekend's 50th anniversary of Bloody Sunday in Selma. The president will lead Saturday's tribute in the Alabama city, where police attacked a peaceful civil rights march led by Martin Luther King Jr. in 1965. This is Obama's first trip to Selma since taking office in 2009.
"Selma is not just about commemorating the past, it's about honoring the legends who helped change this country through your actions today, in the here and now," he said at Benedict College. "Selma is now."
Obama appeared animated and spoke colloquially during the event in Columbia, South Carolina. It was his first trip to the state since winning South Carolina's Democratic primary in 2008. The youthful audience asked Obama questions about hot-button issues like the economy, education, gun control and the Keystone XL pipeline.
Obama defended his veto of legislation approving the pipeline, which the GOP-controlled Senate failed to override Wednesday. The president has said he rejected the bill not based on the pipeline itself, but because the legislation would have removed his authority to make the final decision on the project.
Supporters of the project said the pipeline will create more than 42,000 American jobs. But Obama said Friday the project would create a couple thousand temporary construction jobs and only a couple hundred permanent ones. He also said the pipeline would have a serious impact on carbon pollution and climate change. The proposed 1,179-mile pipeline would pump nearly 1 million barrels of carbon-heavy petroleum per day from the oil sands of Canada to ports and refineries on the Gulf Coast of Texas and Oklahoma.
But Obama said the debate over gun control will be one of the toughest issues for the nation to settle. He said America is divided over towering homicide rates and a longstanding tradition of gun rights. But after the 2012 shooting at Sandy Hook Elementary School in Connecticut, Obama said he was shocked Congress didn't pass "common-sense" laws -- like required background checks – to tighten gun control legislation.
"I've had some hard days, but nothing compares to being with the parents of 20 6-year-old kids ... after they were just gunned down in their classroom," he said at the event Friday.
© Copyright IBTimes 2023. All rights reserved.