Obama Energy Speech: It's Possible To Be 'Too Late When It Comes To Climate Change'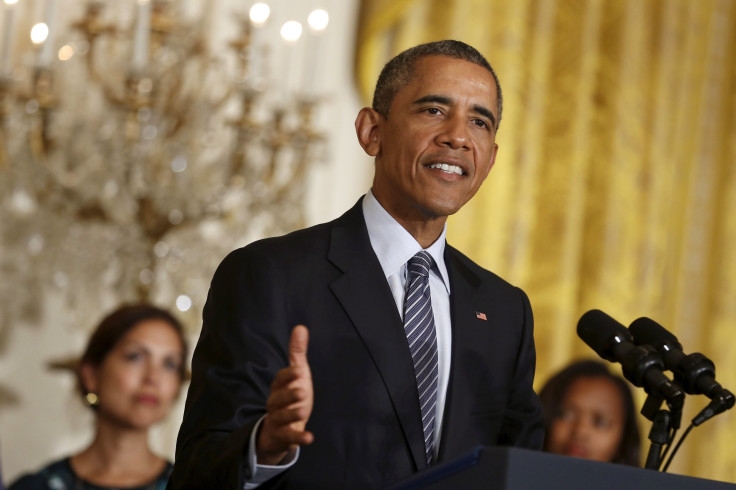 President Barack Obama unveiled a plan to tackle the country's greenhouse gas emissions at a White House event Monday, declaring that the matter required immediate action. Obama hailed the Clean Power Plan as the "single most important step" for the country in reducing its carbon footprint.
In his speech, Obama warned that the world can no longer bide its time with climate control, and that there is a such thing as "being too late" to stop carbon emissions from destroying the planet. "We're the last generation that can do something about it," Obama said. "We only get one home...There is no plan B."
The final version of his plan will enforce stricter limitations on states' carbon dioxide emissions than past versions, mandating a 32 percent cut from 2005 levels by 2030, the White House said. Last year's version called for only a 30 percent cut. Under the rules, states will be encouraged to use solar, wind and other renewable power sources and become less reliant on coal and fuel oil.
Obama acknowledged the critics who raise concerns about what the cuts would mean for employment rates, calling the arguments unfounded scare tactics. He said they have brought up such arguments in the past when regulations were created to combat smog, acid rain and fuel standards.
Some have heralded the Environmental Protection Agency regulations as the "biggest step that any single president has made to curb the carbon pollution that is fueling climate change" by White House adviser Brian Deese. The U.S. is the world's second biggest carbon emitter after China, reported the Guardian.
For his second term, Obama made combating carbon emissions a major focus and pledged to cut overall greenhouse gas emissions by 28 percent below 2005 levels by 2025. The Clean Power Plan will play a major role in this goal, the White House said.
In his speech, Obama also called to action other countries, saying that the Earth is everyone's obligation. The U.S. and nearly 200 nations agreed to release individual plans to curb carbon emissions during United Nations-led talks, which will be addressed at the annual conference in Paris in December.
In a tweet Monday, former Vice President Al Gore, who is a climate control activist, called the plan the right move toward working to a global agreement to fight climate change.
"Today's release of the #CleanPowerPlan demonstrates @POTUS' dedication to solving the climate crisis and is a crucial step on the road to a strong emissions reduction plan in Paris," he tweeted.
The president has said that he wants to be a leader at this year's conference.
"This is our moment to get this right and do something better for our kids," Obama said. "Let's make the most of that opportunity."
© Copyright IBTimes 2023. All rights reserved.