Obama And First Lady Michelle List Assets Worth Between $2M And $7M In 2013, Records Show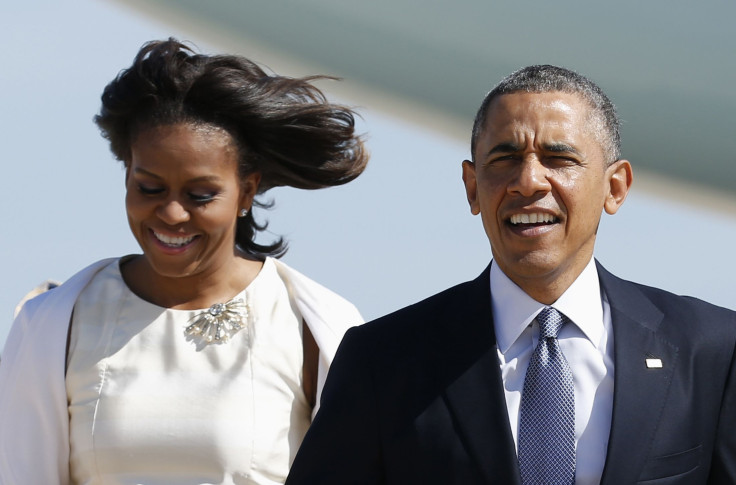 President Barack Obama and first lady Michelle Obama listed assets worth between $2 million and $7 million for 2013, of which $1 million to $5 million were in Treasury notes, according to financial disclosure forms released Thursday.
The Obamas reported an income of $503,183 in April last year as the president is entitled to a salary of $400,000. In the financial disclosure form, which permits public officials to list their assets in broad ranges, the president reported outside income from book royalties, including "Dreams from My Father," "The Audacity of Hope" and "Of Thee I Sing: A Letter to My Daughters," and investments worth between $180,000 and $482,000. Their assets also include Vanguard retirement funds and college savings plans.
"The Ethics in Government Act of 1978 requires high-level federal officials to publicly disclose their personal financial interests," according to The White House blog. "The public filing system serves to prevent financial conflicts of interest by providing for a systematic review of the finances of government officials."
The president also reported a 30-year mortgage of between $500,000 and $1 million on his Chicago residence at a 5.625 percent interest rate, while Vice President Joe Biden's liabilities included a mortgage of about $500,000 to $1 million at a 3.375 percent interest rate.
"Neither the president nor the vice president have any conflicts of interest, and their reports have been reviewed and certified by the independent Office of Government Ethics," according to the official blog post. "We are continuing this administration's practice of posting these forms online here in the interests of transparency."
Biden also filed his annual financial disclosure statement, listing assets valued at about $230,000 to $850,000, which includes a rental property owned jointly with his wife, Jill, in Wilmington, Dela. Biden is entitled to a salary of $230,700.
© Copyright IBTimes 2022. All rights reserved.
FOLLOW MORE IBT NEWS ON THE BELOW CHANNELS