Obama Immigration Orders Could Drive Latino Vote In Battleground States For 2016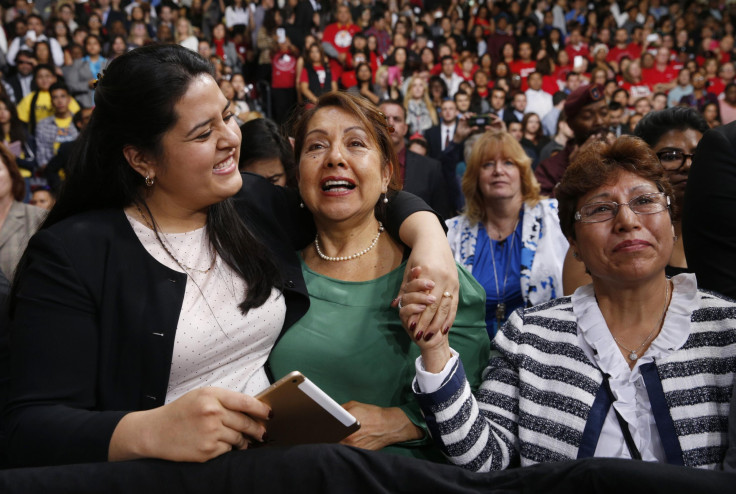 WASHINGTON – Nevada welcomed President Barack Obama on Friday as he came to rally support for his executive orders on immigration. It's no coincidence that he headed to the Silver State, where 27 percent of the state's population is Latino and helped propel him to victory there in both presidential elections.
Democrats are hoping that nationwide, the decision by Obama to make sweeping changes to immigration policy will help secure the party's standing with Latino voters. No one who is receiving legal status will be able to vote in 2016 (or ever, unless the rules change further), but the logic goes that U.S. citizens among their family members, friends and fellow nationals and will reward Democrats for the new policy.
Immigration is the wedge issue for this demographic. They are, in general, middle class and Roman Catholic, which has led to a perception that they may be more conservative on social issues than the Democratic party, but in fact they support abortion rights, for example, at the same rate as Americans in general.
Democrats have done well so far with Hispanic voters. Obama took 71 percent in 2012, compared with Mitt Romney's 27 percent. The largest share a Republican has taken of the Latino vote in the past several decades is former President George W. Bush, who won 40 percent in 2004 -- and he still didn't do better than Democrat John Kerry, who took 58 percent.
But elections aren't about national numbers; they're about states. From control of the Senate to the presidential campaign, 2016 will be decided by states. Most of the nation's Latino population lives in two states: deep red Texas and deep blue California. Neither one of those states is close to being competitive.
There are, though, a handful of states that are competitive for both parties with sizable Hispanic populations that could help decide the 2016 election.
Nevada falls squarely in the purple state column. The state is represented by a Democrat and a Republican in the U.S. Senate. Republican Gov. Brian Sandoval easily won re-election. Obama won the state twice. And Bush won it twice before that.
Obama's victory was largely pushed by Hispanic voters. Romney won white voters by 13 points. But Latino voters -- who accounted for 19 percent of the electorate -- favored Obama by 47 points.
In 2016, Nevada Sen. Harry Reid will be up for re-election. It's no coincidence that Obama appeared with the senate minority leader at the Friday immigration rally. There is already speculation about whether Reid will seek re-election and who could oppose him. A name that has been floated frequently is Sandoval, who remains very popular.
Colorado seemed to be trending Republican when President Bill Clinton lost the state in 1996. But voters have gone back and forth, electing Republicans and Democrats, sometimes splitting their ballots, as happened this year.
The state's large Latino population is credited with helping Obama carry the state in 2008 and 2012. As in Nevada, Obama lost the white vote, but 75 percent of Latinos -- 14 percent of the electorate --voted for Obama.
Those voters didn't turn out in 2014 to help Sen. Mark Udall, who lost re-election in a surprise defeat by Cory Gardner. Colorado will be in play again in 2016. Sen. Michael Bennet, who won in a surprise in 2010, will be on the ballot for the second time.
Florida has a large Latino population, ranking third behind Texas and California. But unlike those two states, it might actually be in play politically. As of October 2104, 1,737,000 Latinos were registered to vote in Florida. That's 14.6 percent of the electorate, according to the Pew Research Center. And in 2012, they turned out in larger proportions than white or black Floridians, accounting for 17 percent of the electorate.
Unlike many other states, Florida tracks party registration by race. In 2006, more Latinos were registered as Republicans than as Democrats. That number has since swung the other way, with a plurality of Latinos registered as Democrats.
Part of the reason Florida Republican politicians have done well with the Latino voting population is the large number of Cubans, who historically favor Republicans. But they are seeing a shift, with younger generations, who don't remember the Bay of Pigs, leaning Democratic.
In 2012, Obama won 60 percent of the Latino vote, helping him win the state with only 37 percent of the white vote and 95 percent of the black vote.
As in every recent election, Florida will be hotly contested in 2016. And if the trends continue, the growing Latino population could help Democrats. Republican Sen. Marco Rubio will be up for re-election, unless he decides to run for president.
Virginia, long seen as decidedly red, has proved in the last several election cycles to be very competitive. Obama won the state twice, both times by larger margins than anticipated.
The northern part of the commonwealth, the suburbs that ring Washington, D.C., has grown rapidly in the past decade and become increasingly diverse. Like New York and Los Angeles, D.C. has also been an entry point for immigrants, including many Asians who settled in Northern Virginia. The state population is 8 percent Hispanic -- as well as 6 percent Asian, a group that receives less attention but is also going to be affected by Obama's immigration orders.
In 2012, Obama took 64 percent of the Latino vote, which made up about 5 percent of the electorate. He also took the majority of the Asian vote, which made up 3 percent of the electorate.
At the Nevada rally on Friday, Obama again challenged Congress to pass an immigration reform bill. "Pass a bill! Pass a bill!" the crowd chanted. If Republicans' only action on immigration is to denounce the president's orders and they don't, in two years, have their own legislation to point to, the party may pay a price.
FOR FREE to continue reading
✔️ Unlock the full content of International Business Times UK for free
offer available for a limited time only
✔️ Easily manage your Newsletters subscriptions and save your favourite articles
✔️ No payment method required
Already have an account?
Log in
© Copyright IBTimes 2023. All rights reserved.