Obama, Trump Comparison Photos Reveal Difference In How They Treat Their Wives
KEY POINTS
Barack Obama and Donald Trump are once again pitted against each other
Barack Obama and Donald Trump are very different
Barack Obama holds an umbrella for Michelle Obama but Donald Trump doesn't do this for his wife
Barack Obama and Donald Trump have been pitted against each other for years. And supporters of the ex-POTUS couldn't help but praise him for being a true gentleman.
Photos of the Obamas from years ago were reposted on the online forum site Quora. The snaps show how Barack shielded his wife, Michelle Obama, from the pouring rain by holding an umbrella over her head.
In another photo, the ex-president gave Michelle the umbrella after realizing that the two of them couldn't fit in it. He also extended the same gesture while walking with his daughter, Malia, under the rain.
Another snap of Barack shows him walking under the pouring rain and in front of his wife, while Michelle is being assisted by security personnel. The ex-FLOTUS is once again being protected from the harsh winds and rain by an umbrella.
The netizens then compared Barack and Michelle's photos with some photos of President Trump and Melania Trump. One of the snaps shows the POTUS hogging the umbrella while his wife and son, Barron Trump, are drenched in rainwater.
During another walkabout, the POTUS is once again holding an umbrella over his head while the FLOTUS is being rained on. But despite the insensitive gesture, the first lady still managed to smile for the reporters.
Javed Rezayee, who majored in Western Political Thought, said that the photos of the Obamas and the Trumps show the difference in their personalities. But they are also subject to political bias and manipulation.
"When in rain, human instinct is to fend for oneself. That moment also allows people to show their true colors. Would you protect your child or your suit from getting wet? That's why media is focused, though at times sensationally, on how presidents carry themselves when caught in the rain," he said.
On Twitter, netizens also praised Barack for protecting his wife. And some criticized President Trump from thinking only of himself.
"Watch CNN and see how President Barack Obama held his umbrella himself over his wife, Michelle Obama," Twitter user @kayodeyemi said.
"At this point, I'd take any president who isn't afraid of rain and knows how to use an umbrella but the bar is so, so, so low. (Obama, come back)," Twitter user @buffyspeak said.
"Hey Trump leaves his wife to walk in the rain while he takes the umbrella," Twitter user @rmanzo251 said.
"Meanwhile, Trump can't hold an umbrella over his wife's head," Twitter user @jojo120670 said.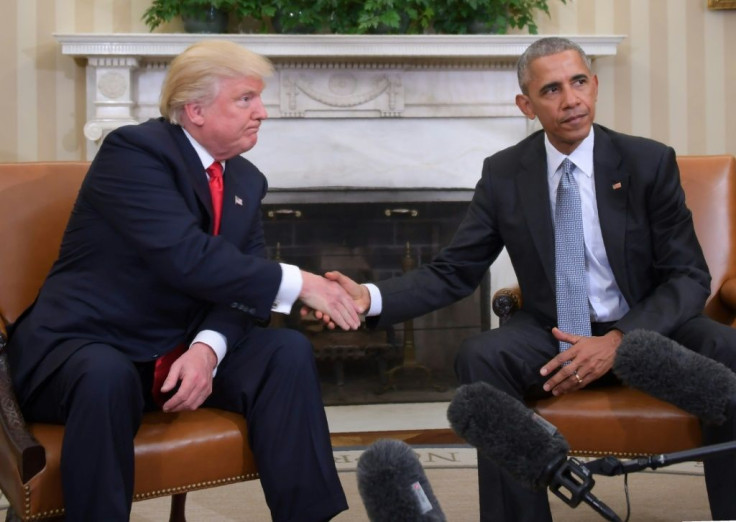 © Copyright IBTimes 2023. All rights reserved.