Obese Woman Found Covered In Maggots In Her Home, Family Arrested
The husband and son of a woman, who was found alive in her bed with her legs decomposing and covered in maggots and cockroaches Thursday, are facing felony charges of neglect of a disabled or elderly person, USA Today reported.
The woman, whose name has not been released, was found by Gwinnett County Fire & Emergency Services officials when they were dispatched to the 4600 block of Pine Tree Circle in Atlanta, Georgia, to an apartment complex.
According to the incident report, when the firefighters arrived in the premises they found the woman living in decrepit conditions, nearing death. They said that the woman's legs which were completely black showed signs of decomposition with maggots and cockroaches feasting on the flesh.
Her husband Terry Sorrell, 54, and son Christian Sorrell, 18 were reportedly the sole caretakers of the woman. The firefighters reported that about a month ago, the same crew was called in to transport the woman to a hospital from her apartment. Due to the weight of the woman, they had to use a MegaMover, a lightweight stretcher used for moving larger patients.
The crew left the stretcher at the home when they transported the woman back from the hospital last month. According to the incident report, when the firefighters arrived on March 15, the woman was still in the MegaMover which was smeared with feces and had turned completely brown and black.
"The patient was still on top of the same MegaMover they used a month ago," the incident report read.
The fire officials said the obese woman might not recover from the neglect. In a statement, the officials said they "did not believe she would live much longer and felt a moral obligation to report this."
According to the woman's son, she had been bedridden for nearly two years and was reportedly getting worse. The Gwinnett County police said, garbage was strewn across the apartment and also around the area where the woman was bedridden. The entire apartment was festering with cockroaches.
Her husband and son are currently being held at the Gwinnett County Jail in Lawrenceville, Georgia, under a $22,200 bond.
In a similar case of criminal negligence, an infant was found dead last year as maggots crawled on him in his parent's apartment in Iowa. Four-month-old Sterling Koehn's diaper was not changed for more than a week and he weighed less than 7 pounds when Chickasaw County sheriff's deputies and medics arrived at his parents' apartment on Aug. 30.
The baby's parents, Zachary Koehn, 28, and Cheyanne Harris, 20 — both methamphetamine addicts, were charged Oct. 25, with first-degree murder and child endangerment, USA Today reported.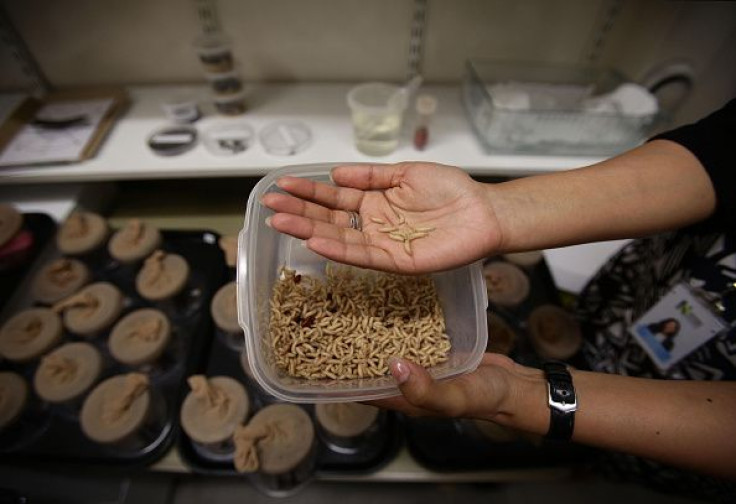 © Copyright IBTimes 2022. All rights reserved.
FOLLOW MORE IBT NEWS ON THE BELOW CHANNELS