Oculus Founder Palmer Luckey's Support For Pro-Trump Trolls Angers VR Game Developers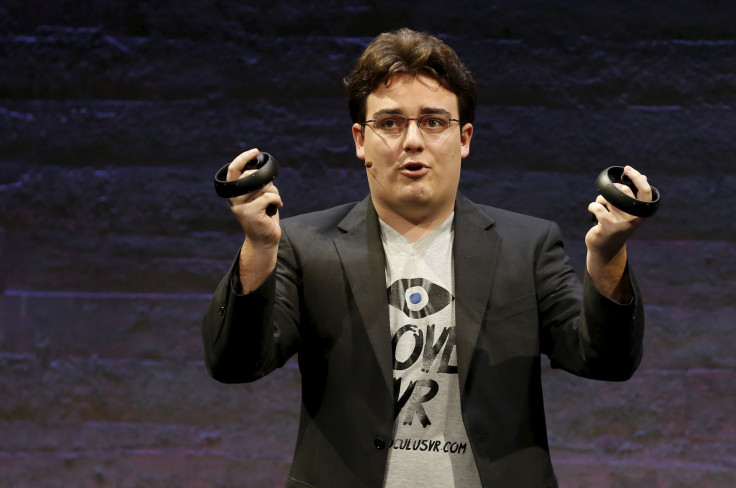 Many Silicon Valley entrepreneurs and developers haven't taken too kindly to the news that Palmer Luckey — the 24-year-old co-founder of Oculus VR and creator of Oculus Rift — has been secretly backing a pro-Donald Trump group dedicated to "shitposting" and creating viral anti-Hillary Clinton memes.
According to several media reports, Luckey's anti-Clinton stance and speculation over his possible association with the prominent alt-right spokesman Milo Yiannopoulos — who was recently banned from Twitter for allegedly inciting trolls to verbally harass "Ghostbusters" actress Leslie Jones — has led several developers to distance themselves from the VR company.
"Hey Oculus, Palmer Luckey's actions are unacceptable," Tomorrow Today Labs, a Seattle-based VR videos games company currently working on an unannounced VR game, wrote in a tweet Friday.
Scruta Games, another developer that employs VR, also voiced its discontent on Twitter, stating that it would cancel Oculus support for its games until Luckey steps down from his position at the company.
Indie developers Kokoromi and Polytron said they wouldn't provide Oculus support with their new game, SuperHyperCube.
"In a political climate as fragile and horrifying as this one, we cannot tacitly endorse these actions by supporting Luckey or his platform," the companies said in a statement.
Meanwhile, Insomniac Games — which is currently working on three games for Oculus Rift — was more restrained in its response, even as it clarified that the "behavior and sentiments reported do not reflect the values of our company."
"We are also confident that this behavior and sentiment does not reflect the values of the many Oculus employees we work with on a daily basis," the company said.
The developers' anger stems from a Daily Beast report on Friday, which revealed that Luckey, whose net worth is estimated at roughly $700 million, had funded and written for the pro-Trump group "Nimble America" under the pseudonym "NimbleRichMan." The organization, which, in a recent Reddit post said it had proven that "shitposting is powerful and meme magic is real," has, among other things, taken credit for a billboard allegedly posted near Pittsburgh, showing an enlarged image of Clinton's face next to the words, "Too Big to Jail."
"Shitposting" refers to the practice of trying to derail online conversations by posting content that is defamatory, irrelevant, misleading or offensive.
After the publication of the report — and the ensuing backlash against Luckey — the Oculus founder released a statement that contradicted the Daily Beast's story.
"I am committed to the principles of fair play and equal treatment. I did not write the 'NimbleRichMan' posts, nor did I delete the account," Luckey wrote in a Facebook post. "I contributed $10,000 to Nimble America because I thought the organization had fresh ideas on how to communicate with young voters through the use of several billboards. I am a libertarian who has publicly supported Ron Paul and Gary Johnson in the past, and I plan on voting for Gary in this election as well."
© Copyright IBTimes 2023. All rights reserved.
FOLLOW MORE IBT NEWS ON THE BELOW CHANNELS