Oklahoma Earthquakes 2017: Big Tremor Activity Now On Par With California? Man-Made Temblors Hitting State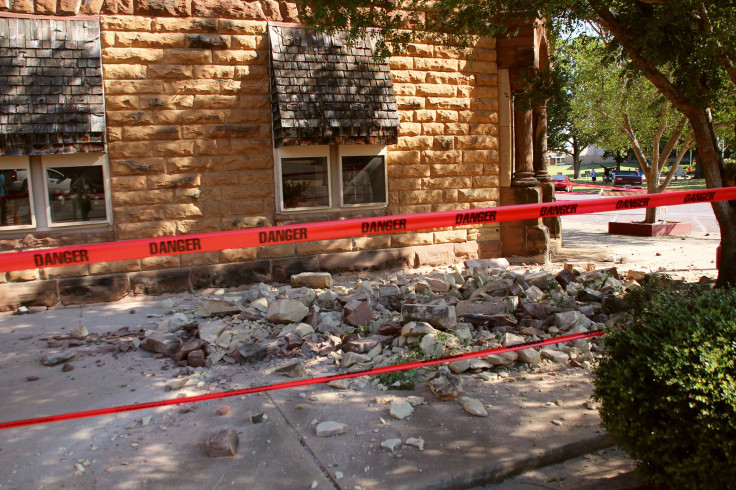 The earthquake damage risk in Oklahoma and southern Kansas is now on a par with California's, the U.S. Geological Survey forecast released Wednesday shows.
The forecast noted 2016 saw 21 earthquakes of at least a 4 magnitude and three that were at least a 5 in Oklahoma. Earthquake activity is expected to be similar this year.
Southern California sees 10,000 earthquakes a year, with 15-20 greater than a 4 magnitude, USGS said.
"Several observations of damaging ground‐shaking levels were also recorded [in 2016] in the highest hazard region of Oklahoma," the forecast said.
The USGS said the earthquake risk for the region is significant in 2017. Last year, Oklahoma suffered a number of damaging earthquakes, including a 5-magnitude tremor in November near Cushing that damaged chimneys and storefronts. The strongest quake in 2016, a 5.8-magnitude temblor, struck near Pawnee.
The disposal of wastewater from fracking is believed responsible, scientists have said, although the practice has not resulted in increased earthquake activity elsewhere, the Los Angeles Times noted.
In the two decades before 2000, Oklahoma averaged two earthquakes a year of 2.7-magnitude or greater, but the number soared to 2,500 in 2014 and 4,000 in 2015. In 2016, the number dropped back to 2,500, possibly because oil and gas extraction declined as the result of falling oil prices, decreasing the amount of wastewater being pumped underground, as much as 40 percent in some areas, the Times said.
"The 2017 forecasted seismic rates are lower in regions of induced activity due to lower rates of earthquakes in 2016 compared with 2015, which may be related to decreased wastewater injection caused by regulatory actions or by a decrease in unconventional oil and gas production. Nevertheless, the 2017 forecasted hazard is still significantly elevated in Oklahoma compared to the hazard calculated from seismicity before 2009," the forecast said.
At the same time, however, the USGS said on its FAQs site that fracking — hydraulic fracturing — generally just causes "extremely small earthquakes … almost always too small to be a safety concern."
© Copyright IBTimes 2023. All rights reserved.
FOLLOW MORE IBT NEWS ON THE BELOW CHANNELS