Oklahoma Honeymooners Set Up GoFundMe After Hurricane Ruins Their Cancun Vacation
An Oklahoma couple who were hoping to enjoy a relaxing honeymoon in Cancun after stressfully planning a wedding during the COVID-19 pandemic were once again given a hard hit by outstanding circumstances on their plans, and now, they're hoping for some help when it comes to a "redo" for their special trip.
Jessica and Hunter Biffle, who according to their wedding website are from Oklahoma, married on Oct. 3 and had headed to Cancun, Mexico for a honeymoon. However, with the impending arrival of Hurricane Delta, their trip was cut short and their hotel was evacuated after just one day—and as they tried to get back home, they were hit with high ticket prices and change fees by the airlines, ABC affiliate station KTRK reports.
The pair explained that while the resort they were at was offering shelter, it felt unsafe to them, so they tried to get back home, but as their family members were looking on the United Airlines website to get them tickets back to the United States, the price kept going up. In the end, the only seats available to get the couple into Houston, before arrival back to Oklahoma, were First Class tickets which cost $5,000 for their one-way trip. The couple said in a video posted by ABC 13 that it was wrong for the airlines to up the prices the way they did, since many were likely trying to get back to the US after Hurricane Delta rapidly strengthened from a Tropical Storm to a Category 4 Hurricane, forcing evacuations.
"I think it's kind of unfortunate for people who probably couldn't afford to get back and were stuck to have to fight the hurricane," Hunter said. "I don't think it's good to take advantage of people when they're desperately trying to get back home."
Since their arrival back in the United States, the couple has had a GoFundMe page set up by a loved one, who stated they hoped that the money raised would not just refund the pair the cost of the tickets, but give them a chance at a redo after they already struggled to have their wedding because of the COVID-19 pandemic.
"In a sad turn of events, Jessica and Hunter had to cancel their honeymoon after just one day in Mexico to escape the wrath and certain doom of Hurricane Delta. As if having a wedding during a pandemic wasn't difficult enough with many vendors cancelling and numerous obstacles along the way they have now had to abruptly flee a Category 4 (possibly Cat 5 by landfall) hurricane for safety as well as abandon their much-needed honeymoon due to this unprecedented act of nature," the page reads.
The description for the page then reveals how much was spent to get the couple from Cancun to Houston, noting that the prices of flights were severely inflated, and the cost was a lot to ask them to shoulder after they paid for their wedding. As of press time, the page had raised a total of $425.
In a statement to ABC 13, United said they were issuing a travel waiver which would allow travelers to change flights without accruing extra costs.
"For Hurricane Delta, our team is actively monitoring the situation, We've issued a travel waiver for those traveling through impacted areas, which allows customers to change their flight at no cost on our mobile app or by calling us," they said.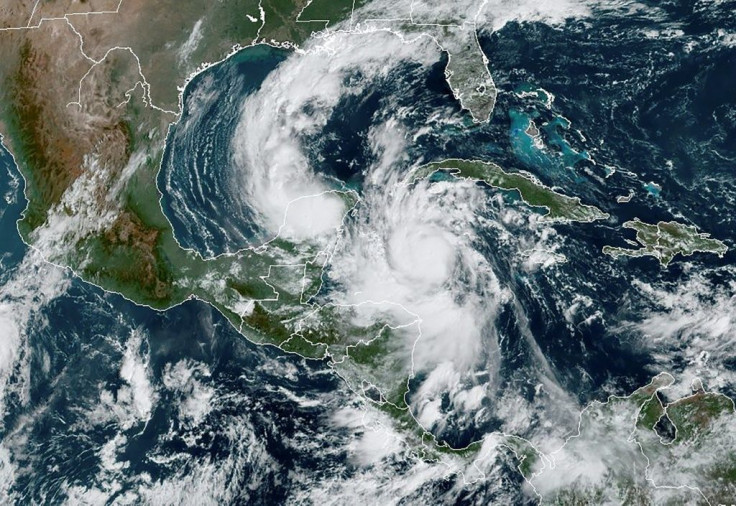 © Copyright IBTimes 2023. All rights reserved.