Oklahoma Pastors Wear Hoodies To Church To Protest Proposed Ban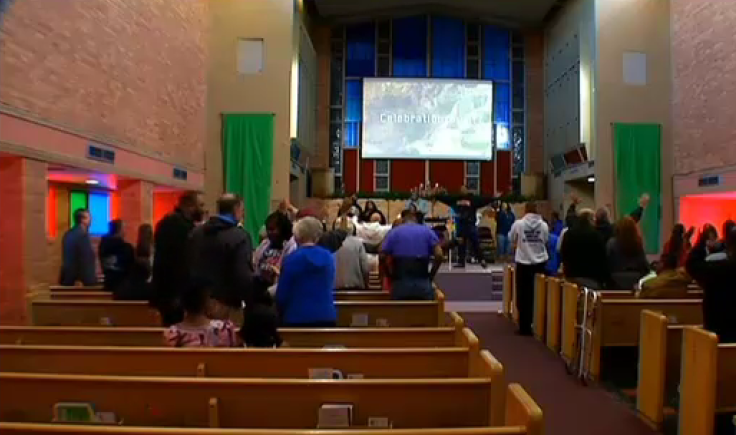 At least two church leaders in Oklahoma encouraged congregants to wear hoodies on Sunday to protest legislation that could ban the garments in public. Senate Bill 13, also known as the "hoodie ban bill," seeks to forbid individuals to wear robes, masks or hoods to conceal their identity in public.
"When I saw my 80-year-old members walk in wearing hoodies, that just got my heart," the Rev. Jesse Jackson, senior pastor of East Sixth Street Christian Church in Oklahoma City, told NewsOK.
According to Republican state Sen. Don Barrington, people would be fined up to $500 for wearing a "robe, mask or other disguise" if SB 13 is passed. Exemptions include religious garments, Halloween celebrations, costumes during parades and garments used for protection from weather. In an email to CNN, Barrington said since hoodies are used to protect from the elements, they would probably not be considered disguises under the bill.
In Oklahoma it is already a crime to wear a "robe, mask or other disguise" while committing a crime or for the purpose of coercion, intimidation or harassment. While the bill does not use the word "hoodie," the word "hoods" is used in the first section of the legislation. The bill will be taken up by Oklahoma's Legislature when it convenes in February.
"The proposal is intended to protect law-abiding citizens, not limit their rights," Barrington said in a statement. "This is simply an attempt to combat crime and make businesses and public spaces safer for everyone."
Still, leaders of at least two churches in the area said the bill could lead to discriminatory practices. In the "Wear-A-Hoodie-To-Church" campaign, dozens of congregants attended churches in hooded sweatshirts on Sunday, a day before the Martin Luther King Jr. holiday.
"For us to wear them today is for us to say that we stand as the people of God united together in solidarity with all of those who have been profiled, with all of those who've been discriminated against, to say that we believe it's wrong," Pastor Semaj Vanzant of the Christ Experience in Oklahoma City said on Sunday. More than 50 members participated by wearing hoodies to services, NewsOn6 reports.
Hoodie bans are nothing new. After the 2012 killing of Trayvon Martin, the unarmed Florida teen who was wearing a hooded sweatshirt when he was shot by neighborhood watch volunteer George Zimmerman, a "hoodie" movement took off. Many protesters, celebrities and athletes wore hoodies to stand against racial discrimination -- but several schools, businesses and malls banned them.
"If the church is not leading the struggle for change, for justice, then that means the church has been co-opted by society and not the other way around," Jackson told NewsOK. "We are standing up for folks who are being targeted by some bad legislation."
© Copyright IBTimes 2022. All rights reserved.
FOLLOW MORE IBT NEWS ON THE BELOW CHANNELS