Oklahoma Tornado Watch: Severe Weather Possible For Parts Of State, North Texas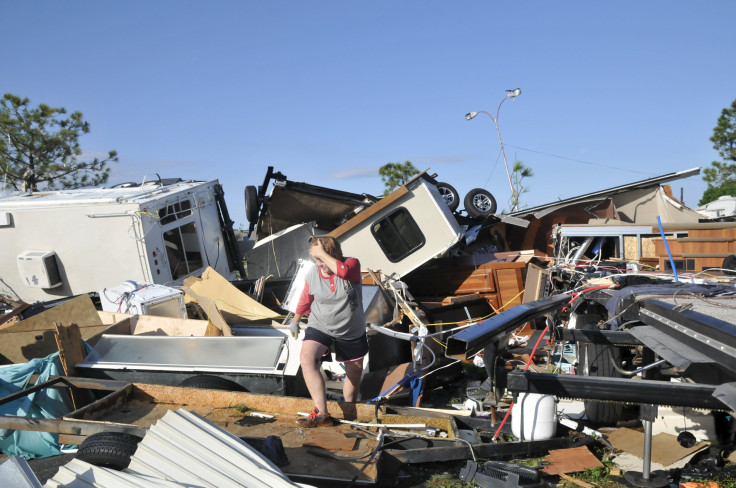 Just days after tornadoes and floods tore through parts of Oklahoma, the state could see even more severe weather. The National Weather Service's (NWS) Storm Prediction Center issued Friday a tornado watch for parts of southern and western Oklahoma along with areas in North Texas.
The NWS watch was issued at 12:50 p.m. CDT and lasts through 9:00 p.m. CDT. The watch statement said "a few tornadoes" were possible, along with widespread large hail (including isolated incidents of 3.5-inch hailstones) and damaging winds with gusts up to 75 miles-per-hour.
Supercells forming in Northwest Texas were expected to develop Friday night, perhaps producing the tornadoes, according to the NWS. At least 30 people were injured in Wednesday's damaging tornadoes and storms,
according to CNN
. Perhaps the most destructive tornado hit a mobile home park in Oklahoma City, leaving two people with serious injuries,
according to weather.com
. Oklahoma City officials had to issue a first-ever flash-flood warning after more than seven inches of rain fell in the area, CNN reported. In total, Wednesday's storms produced a whopping 39 tornadoes powerful enough to flip cars in certain areas,
reported
weather.com.
The tornadoes also caused a stir on social media when animals -- including tigers -- escaped an Tuttle, Oklahoma zoo because of the storm. It was a brief escape, as the animals were soon wrangled and returned, but an interesting storyline for Twitter users nonetheless.
Friday's storms could also not be the end of the severe weather for Oklahoma. Weather patterns suggest that large tornadoes could hit the state Saturday, according to News 9. However, the Oklahoma City TV station did point out that nothing is locked and the patterns will continue to be monitored. The effects of Friday's weather are already apparently beginning to be felt. Flights across the country have been stranded on tarmacs as the severe weather has begun to move in,
according to the Minneapolis Star Tribune
.
© Copyright IBTimes 2023. All rights reserved.