Oktoberfest In New York City 2015: Five Best Places To Celebrate The German Festival
The world's largest beer festival, Oktoberfest, kicked off Friday in Munich, where more than 7.5 million liters of beer will be on tap. Those stuck in New York City can still take part in the consumption of copious amounts of schnitzel and beer. Here's a roundup of events to attend where you eat, drink and celebrate the German tradition:
Blocktoberfest
When: 1 p.m. to 5 p.m. Saturday
Where: Waverly Avenue in Brooklyn, between Atlantic Avenue and Fulton Avenue.
Cost: Packages from $10 to $30
Breweries, restaurants and retailers have teamed together for Brooklyn's Blocktoberfest, which will be hosted by the New York City Brewers Guild. Festival-goers will be able to sample different beer and food selections at the biergarten, which will feature food trucks and craft beer. Tickets start at $10 and come with a commemorative glass. Purchase tickets here.
First Annual Family Oktoberfest
When: 1 p.m. to 6 p.m. Sept. 26
Where: Ironalde Esemble Project at 85 South Oxford St., Brooklyn.
Cost: $10 per person or $25 for a family of four
For a party that caters to the family, the Parents Association of the German School Brooklyn will host its own Oktoberfest celebration. Buy festive foods from Starwurst Bratwurst and Pelzer's Pretzels and participate in raffles, games and activities. The festival will also feature live music from bands Niko's Kids and Moona Luna. Tickets can be purchased here.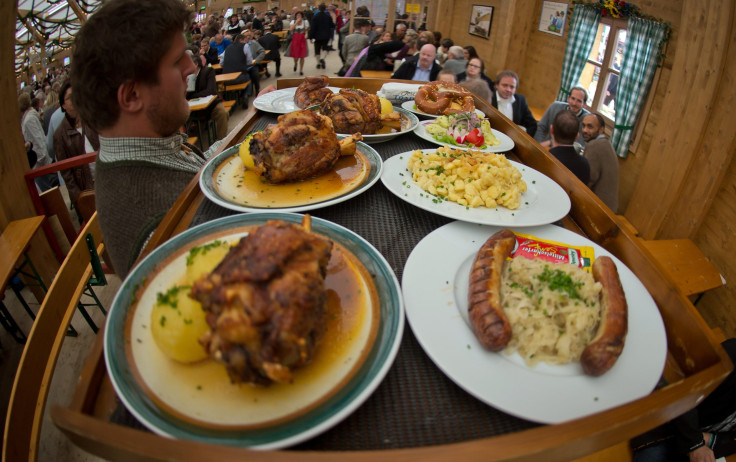 Annual Steuben Parade
When: 12 p.m. to 2 p.m. Saturday
Where: 65th Street to 86th Street on Fifth Avenue, Manhattan.
Cost: Free
Fifth Avenue will be in the Oktoberfest spirit Saturday when hundreds of organizations march in the three-hour-long parade. Organizers say the parade is one of the largest German celebrations in the United States. Since 1957, German-Americans have marched in the parade, which is named for Gen. Baron Freiherr Friedrich Wilhelm von Steuben, a Prussian-born officer in the American Revolutionary War, who is regarded as one of the most influential German-Americans.
The Standard High Line Biergarten's Oktoberfest
When: 6 p.m. Saturday - Oct. 4. Open everyday from noon to 2 a.m.
Where: 848 Washington St., Manhattan.
With staff sporting traditional dirndls and lederhosen, the Standard's biergarten has an Oktoberfest feel year-round, but especially so during the festival season. Grab a beer or sausage, and sit at one of the communal picnic tables to listen to authentic tunes from the 35-piece German Polka band.
Zum Schneider's Oktoberfest party
When: Oct. 2 to 11
Where: 107 Avenue C, Manhattan.
Cost: $25
The German restaurant and biergarten kicks off its Oktoberfest party with live music and imported Oktoberfest beers. Celebrations will feature music from German bands such as Mösl Franzi and the JaJaJa's. While you guzzle down mugs of beer, be sure to order the restaurant's giant pretzels and roast chicken.
© Copyright IBTimes 2023. All rights reserved.
FOLLOW MORE IBT NEWS ON THE BELOW CHANNELS