Olympic Athletes Who Traveled Long Distances Are More Likely To Get Ill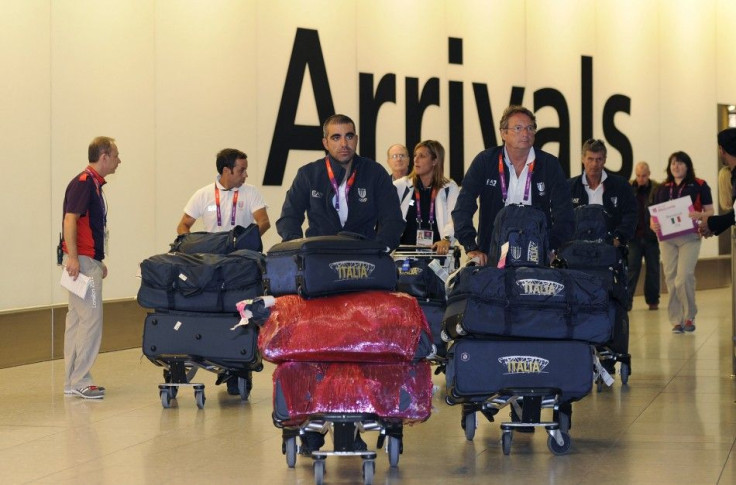 Are Olympic athletes from Australia or the Americas at a disadvantage compared to athletes from Europe, given how far they had to travel and how many time zones they crossed to get to the London Games? According to a new study from the Institute of South Africa in Cape Town, they are.
The study, published in the British Journal of Sports Medicine Wednesday, suggests that athletes who cross more than five time zones to compete double their risk of illness compared to when they play at home.
The researchers examined 259 players competing in the 2010 Super 14 rugby tournament. During the 16-week competition, 14 teams from South Africa, Australia and New Zealand traveled to venues in all three countries, which are all in time zones between two and 11 hours different from their own. The authors corresponded with the team doctors, who kept daily logs, and found that 187 of the athletes fell ill during the contest, with the illness much more likely to occur on foreign soil.
"It is a common perception that international travel increases illness -- due to organisms in airplanes," Professor Martin Schwellnus, one of the paper's authors, told the BBC. However, the study debunks that myth, explaining that increased illness is more likely due to a person's location outside of their normal environment.
"The stresses of travelling seem not to affect the players because when they return home, the risk of illness does not differ from normal," Schwellnus said. "Changes in air pollution, temperature, allergens, humidity, altitude as well as different food, germs and culture could all contribute to illness when arriving in a distant destination."
The most common illnesses found in the study were infections and respiratory problems like coughs, colds and chest infections, which made up about a third of the reported cases. Stomach bugs were the next most frequent at 27.5 percent, followed by skin and soft tissue conditions.
So, does the study prove that Great Britain's benefits extend beyond the roaring crowds?
Schwellnus says it does: "These findings could be relevant to the Olympics and might contribute to a home advantage."
Anecdotally, the results are in tune with the experiences of some athletes at the 2012 Olympic Games. Several elite athletes for both Australia and Canada fell ill following travel to England for pre-Olympic training.
The director of the Health Protection Agency in the Athletes' Village has said that every day "a few" athletes and team officials come in with rashes, vomiting or diarrhea. She added, however, that this was to be expected.
Schwellnus and his co-authors are quick to note that their study was limited by its focus group and does not necessarily apply to sports other than Rugby, recreational or business travelers. Nevertheless, it brings up an interesting argument that is supported by similar studies conducted on athletes participating in the 2009 FIFA Confederations Cup and the 2010 Vancouver Olympics.
© Copyright IBTimes 2023. All rights reserved.