Omicron 'Spreading Like Wildfire,' Alabama Health Official Rings Alarm
KEY POINTS
Omicron is spreading fast across Alabama, with the level of community transmission high in all counties
The positivity rate in COVID-19 testing in Alabama is currently at 38.5%
The state has also recorded more than 16,400 deaths linked to COVID-19
At least 32% of hospitalized patients had been fully vaccinated
Alabama's state health officer has warned that the COVID-19 Omicron variant is "spreading like wildfire" as the state has been experiencing daily highs in new coronavirus cases.
Speaking to reporters Tuesday, Alabama State Health Officer Scott Harris said the Omicron variant "is just spreading like wildfire," adding that the variant "will infect a very large number of people in Alabama before it finally subsides," Associated Press reported. Harris further noted that the state is "unfortunately not in a real good place right now. We are seeing the highest daily case numbers we have seen since the pandemic began."
Harris said Alabamans should do "the single most important thing they can do," which is to get fully vaccinated. He also urged vaccinated individuals to get their booster shots when appropriate.
Harris further revealed that 41 people died from COVID-19 on Monday. "We don't have that with the flu. We don't have that with common colds. It's just not the same thing," he pointed out.
Data from the state's department of health noted that the overall level of community transmission in all Alabama counties is high. The positivity rate in COVID-19 testing in the state is currently at 38.5%. Furthermore, the state logged more than 8,000 new confirmed coronavirus cases on Dec. 30 and again on Dec. 31, raising concerns about the high level of transmission in the state.
As of Tuesday, the state recorded more than 1,249 COVID-19 admissions across state hospitals.
The government data also revealed that there are 2,226,786 Alabamans who have been fully vaccinated against the virus. Of the 5,467,662 total doses administered, more than 2,735,000 individuals have received one or more doses.
Dr. Donald Williamson, President of the Alabama Hospital Association, said Monday that while there is evidence of the Omicron being less severe than delta, "there remains an enormous need for concern and avoiding infection," AL.com reported. He added that even if the Omicron variant appears to have less severe symptoms than the Delta, "you can still get more hospitalizations than Delta."
Williamson said about 32% of the hospitalized patients had been fully vaccinated. The numbers do not include data on booster jabs.
Alabama has logged a total of 921,175 confirmed COVID-19 cases since the pandemic started. The state has also recorded more than 16,400 deaths linked to the disease. Citing researchers at Johns Hopkins University, AP reported that the state has the nation's third-highest death rate from COVID-19.
The Omicron variant was declared a variant of concern by the World Health Organization after it was first detected in South Africa on Nov. 24.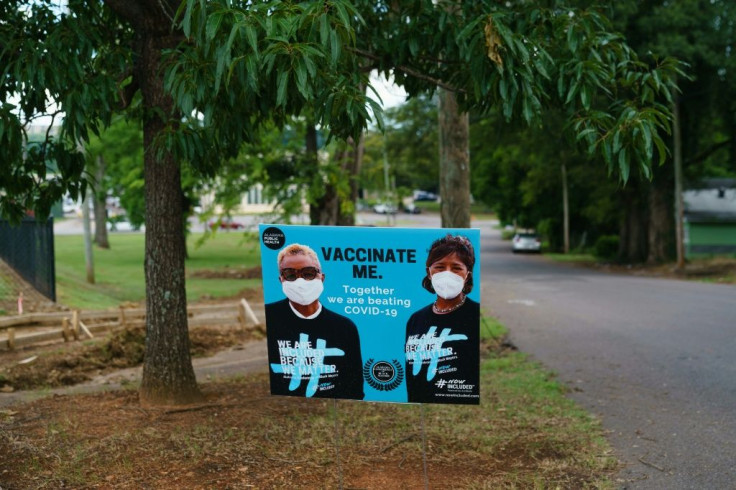 © Copyright IBTimes 2023. All rights reserved.