One Direction, Justin Bieber Twitter Emojis Dominate American Music Awards, Despite Lower TV Ratings For ABC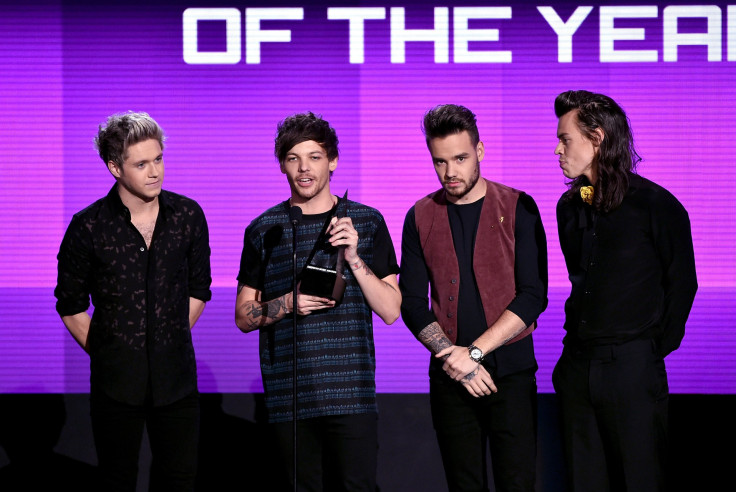 Just over 11 million Americans watched the American Music Awards on ABC Sunday night. About 4.4 million of those viewers fell into the advertiser-coveted 18-49 demographic, down from 4.8 million last year and 5.7 million in 2013.
Meanwhile, according to exclusive data from Twitter, 6.8 million tweets about the show were sent during the broadcast, plus four of the surrounding hours, using one of 20 (yes, 20) special hashtags that corresponded to the show and various musicians who were either performing or nominated for awards. The hashtags automatically appended a particular custom emoji to their tweets, depending on the tag used -- #AMAs1D, for massively popular group One Direction, was followed by cutouts of the four members' heads; #BieberonAMAs, the blond Biebs with his head bowed.
This is hardly the first TV event to use custom Twitter emojis – their first major appearance was in the 2014 World Cup, with country flags appended to match tags. In August, MTV's VMAs added its own mini Moonman (a throwback to the days of MTV that most tweeters probably never saw) to tweets using "#VMAs." Fox's "Empire" has used a new custom hashtag emoji for every new episode, as has ABC with its "Thank God It's Thursday" lineup of Shonda Rhimes shows.
The goal of these custom emojis, according to Andrew Adashek, Twitter's Head of TV, is to promote "engagement" -- more tweets, seen by more people, for a longer amount of time. The more tweets non-watchers see, the more likely they are to become watchers, or so the common wisdom goes, and networks like to see healthy conversation around their programming, particularly with big events a la the AMAs.
Twitter calls its AMAs emoji experiment a rousing success, and it is -- for them. In order to drum up buzz, Twitter made it so that each musician's emoji could only be "unlocked" after the hashtag had been used a certain number of times in the month leading up to the AMAs, stirring up a frenzy among fans of the respective artists. A whopping 24.4 million tweets using one of those hashtags were sent during that time period.

What TV networks and their shows actually get out of this arrangement with Twitter TV is a little harder to pin down, since no money changes hands between the two parties. (Twitter does provide back-end support for these digital marketing campaigns.) Live ratings for the AMAs, "Empire," and all three Shonda shows are down from last season. So why go through the effort?
The plus side for the networks is being able to use this kind of awareness campaign to lure in advertisers looking to piggyback off social media surges -- and, unlike with Twitter TV, money does change hands in these cases. "Brands do see value in being part of that kind of conversation," Adashek says.
And for the actual production companies like the AMAs' dick clark productions, the custom emojis are another way of building bonds with talent and fans around the globe, since, while American in origin, the AMAs do air internationally as well. "The return on investment is uniting people," says Jeremy Lowe, dick clark productions' Brand, Marketing and Digital Strategy coordinator. It's a sweet sentiment that ordinarily wouldn't be relevant to a business discussion, but the AMAs also rely on fan votes to dole out awards, and so awareness does count in this case.
The AMAs emojis have been deactivated now, evaporated into the ether(net) like so many 1s and 0s, but the hashtags and idea behind them remain.
FOR FREE to continue reading
✔️ Unlock the full content of International Business Times UK for free
offer available for a limited time only
✔️ Easily manage your Newsletters subscriptions and save your favourite articles
✔️ No payment method required
Already have an account? Log in
© Copyright IBTimes 2023. All rights reserved.