One-Sqm-House: Sleep Around Berlin For 1 Euro A Day In World's 'Smallest House'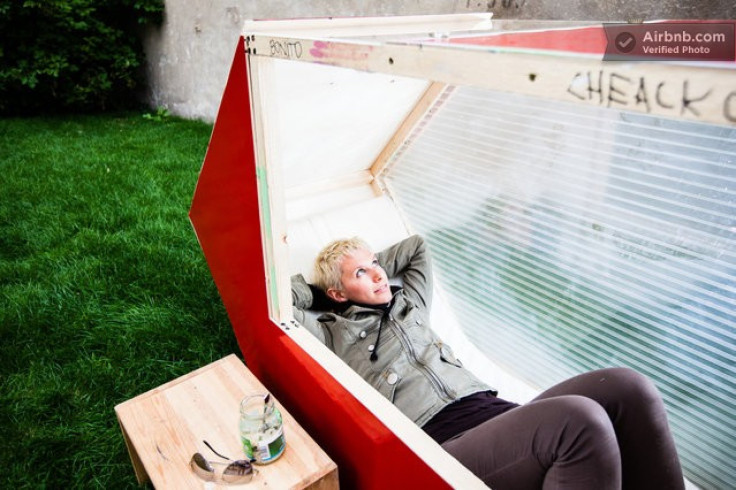 Need a place to crash in Berlin this summer? Strapped for cash? Here's an idea: Stay in the smallest house in the world, One-Sqm-House, for just 1 euro per night.
One-Sqm-House, which bears a striking resemblance to Snoopy's dog house, is the brainchild of Berlin-based architect Van Bo Le-Mentzel. The Laos native fled his home country as a refugee and has spent his entire life exploring the concept of home. His new project emerged from the desire to have at least one square meter of space to call his own.
The teensy-weensy home aficionado teamed up with EastSeven Hostel and Corinne Rose of Berlin's BMW Guggenheim LAB, an open-air festival of design and innovation, to bring his idea to fruition. He also invited Berliners to help build as many One-Sqm-Houses as possible, offering to cover the cost of materials and return the structures at the end of July.
A collection of the wooden and waterproof One-Sqm abodes is now available on Airbnb =, and each can be rolled around Berlin to new destinations daily. As the name implies, each hobbit-like house occupies just 1 square meter and comes complete with a chair and mattress.
It's perfect for people up to 1.75 m (5 feet 7 inches), the Airbnb listing boasts, adding artists, rebellists, occupy activists, adventurers, students, poor and homeless people would also enjoy the art-meets-accommodation project.
The house is on rolls, and it fits through doors, elevators and even the Berlin Metro Car [U-Bahn], the listing continues. So you can move to your favorite spot in Berlin without a car. ... Wherever you want to go, this house will always give you privacy and shelter.
If pushing the micromotel onto public transport sounds a bit cumbersome, if downright illegal, the listing adds, We don't take any responsibility, because officially it is not allowed.
What is allowed is the use of EastSeven Hostel next to the BMW Guggenheim LAB. As home base, visitors can store luggage, use the kitchen and take showers. The hostel's garden can also be used as a place of refuge from a storm.
The lab ends its Berlin run at the end of July, but the project is anything but over. The 1-square-meter revolution will roll out of Germany to Mumbai and New York City, among other destinations, on a six-year tour of the overcrowded world.
© Copyright IBTimes 2022. All rights reserved.
FOLLOW MORE IBT NEWS ON THE BELOW CHANNELS