Operation American Spring Falls Far Short Of 10 Million Strong Goal [PHOTOS/VIDEOS]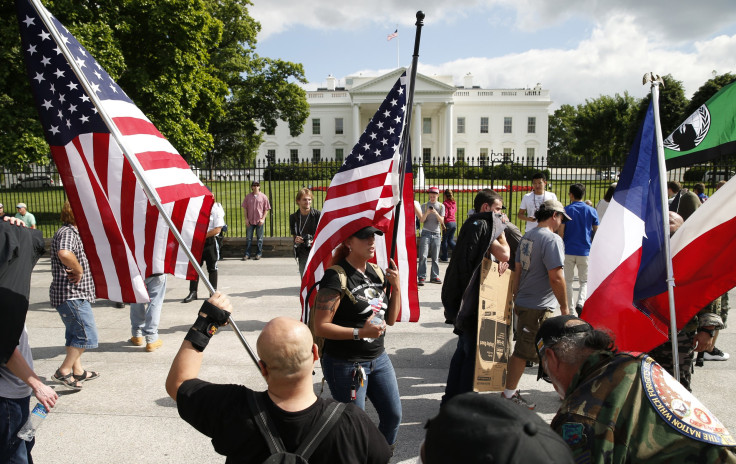 You may or likely may have not heard about a little rally called Operation American Spring (OAS) that was supposed to bring 10 million to 30 million "patriots" to Washington D.C. to overthrow the "elected Republican and Democrat usurpers and despots," at the nation's capitol.
Despite the lofty goals, Operation American Spring has fallen a little short of expectations.
The rally started Friday but organizers vowed to "remain [in Washington D.C.] until acceptable solutions are gained." What are some of these solutions? The main goal of Operation American Spring is the "restoration of our Ninth and Tenth Amendment laws to full force."
A second goal is to oust President Obama, Vice President Joe Biden, Senate Majority Leader Harry Reid, Senate Minority Leader Mitch McConnell, Speaker of the House John Boehner, House Minority Leader Nancy Pelosi and Attorney General Eric Holder from their offices. Seems the American Springers aimed a little high with their goals and projections.
Oepration American Spring was started by retired Army Colonel Harry Riley, who also runs the far-right wing website PatriotsForAmerica.com. He claimed one million "militia members" committed to the rally but so far only a few have been seen. Some have reportedly split to Bunkerville to support Cliven Bundy's continuing campaign against the federal government.
So far crowds have numbered, at most, around 300 to 400 people. Jackie Milton, head of the Texas group of Operation American Spring, said bad weather had something to do with it, but the numbers are still disappointing.
"Now it's a nice sunny day," said Milton. "But this is a very poor turnout. It ain't no millions. And it ain't looking like there's going to be millions. Hundreds is more like it."
Watch a live stream of Operation American Spring:
Live streaming video by Ustream
No, we didn't say "around 10 mill people"... we said "10 people mill around" #AmericanSpringExcuses
So what was supposed to be at least forty times this:
Looks more like this:
As The Wire pointed out, Occupy Wall Street started with only a few hundred protesters when it first started, so who knows, maybe we're just witnessing the start of the revolution. Or not. Maybe it was the weather, or the lofty goals and projects set by organizers. Either way, Operation American Spring is looking less like Tahrir Square and more like a minor inconvenience to tourists hoping to get a nice photo of the Lincoln Memorial.
You can view a video of an Operation American Spring chant below and more videos taken yesterday here.
© Copyright IBTimes 2023. All rights reserved.