International Business Times offers links to items to help our readers find interesting products. When you buy through links on our site, we may earn an affiliate commission. Here are our
T&C
. For licensing please
click here
.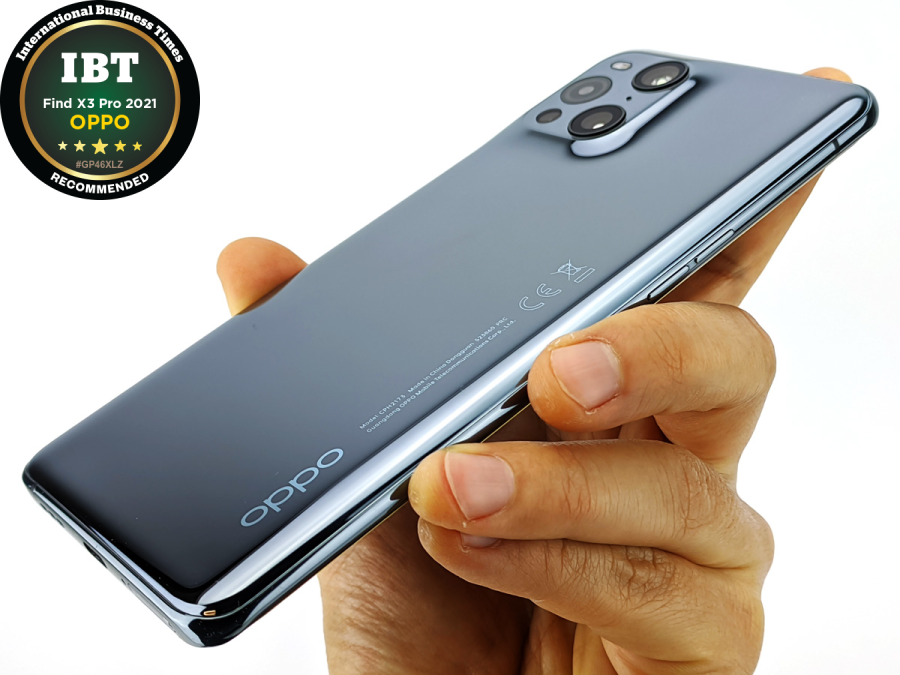 Unlike Apple iOS users who can choose any phone - as long as it's an iPhone, Android users actually have choices from a vast range of phones. However, when you think of a 'Premium Android phone', only a handful of brands come to mind, and for many a Samsung Galaxy phone would sit in the top position. OPPO however is challenging the throne with its own premium flagship model: the Find X3 Pro, promising a flair of its own in both hardware and software.
We went hands-on to see how far OPPO has come in raising itself in the ranks of premium smartphones, let's dive in to see how well it fared.
Cutting edge design and fabrication
Since the multi camera array has become a staple for almost all cameras, the rear camera bump has become a recent point to differentiate themselves from competitors. Although these rear bumps come in various shapes and sizes, the OPPO Find X3 Pro has one of the sleekest and most unique phone backs to date.
The streamline bump is incorporated into the unibody glass back, reportedly made of a complicated 40+ hour process that's summarized as 'hot glass forging'. The result is an iconic design that sets it apart from others phones on the market. Furthermore, with the entire back in a pure mirror finish, you end up with one of the most recognizable designs.
With the smooth contours, wrap around edges and slim profile, the OPPO Find X3 Pro is a phone that's mesmerizing and addictive to hold in the hand.
Fluid interface with Snapdragon 888 CPU and 120 Hz Screen
The 'fluidity' of the body of the Find X3 Pro is aptly matched with a very fluid user interface. The OPPO flagship runs on ColorOS 11.2 based on Android 11, together with the Snapdragon 888 Chipset, 12 Gb of RAM, and the 120 Hz AMOLED screen, resulting in an extremely responsive experience.
Coming from a 60 Hz to a 120 Hz phone display, the difference is clearly perceivable. Not only is the speed of gesture control on another level, the response time for taps seems much faster as well. This is apparent as I find myself typing faster on the Find X3 Pro, the phone has no problem keeping up with my well-trained thumbs. If you're a gamer, this will also play into your performance, the short response time will make it an almost unfair advantage over competing players.
Five camera array backed with custom software
The Find X3 Pro is equipped with an impressive array of cameras, making it a very powerful tool in the hands of content creators. It's equipped with not one, but two 50 megapixel Sony IMX 766 sensors, in wide and ultra wide optic configurations.
There's also a 13 megapixel telephoto camera that allows for 2X upto 5X hybrid optic zoom. Perhaps the most surprising is the fourth back facing camera: a microlens that provides 30X or 60X magnification. The microlens has a miniature ring flash around the lens so that whatever micro photography subject you're shooting can be adequately lit up for the extreme close up.
The last but not least is the front facing hole punch camera that has a 32 megapixel sensor, discreetly in the upper left corner of the screen.
On paper, only the wide-angle camera has Optical Image Stabilization (OIS), but in actual operation I found that in whatever mode of shooting I'm in, there is always some sort of stabilization - perhaps a mix of OIS and EIS (Electronic Image Stabilization). The steady shot function is so effect, that I am able to hand-held the camera even for 20X zoom-in shots.
In video recording, there is especially an impressive 'Ultra Steady' mode using the OIS on the wide-angle, and an 'Ultra Stead Pro' mode using the ultra wide-angle, both providing gimbal-like stability to video shots. Coupling this with a portable shotgun microphone like the Sennheiser MKE 400, you get an amazing production camera that will give content creators professional results.
Class leading recharge speed: both wired and wireless
The powerful Find X3 Pro hardware is backed by a class leading battery system, despite how slim the device is. Though it doesn't pack the largest battery in the market (Find X3's 4500 mAh is slightly less than S21 Ultra's 5000 mAh) it has one of the most powerful chargers out of the box: a 65W adapter. As a comparison, the S21 Ultra fast charge is 25W, while iPhone 12 Pro Max's fast charge is at 20W. The Find X3 Pro can be charged from 0-40% in a mere 10 minutes, minimizing downtime.
What's more, it also has a powerful wireless capability. The 30W fast wireless charging is twice as powerful as the Galaxy S21 Ultra and iPhone 12 Pro Max is capable of, and recharges even faster than many phones with a cable.
Like the Pixel 5, the Find X3 Pro is also able to reverse wirelessly charge other devices. At 10W, it charges my wireless earbuds as fast as my desktop wireless charge pad, which is again, an impressive feat considering how slim the phone is.
Stereo speakers for media consumption
A surprisingly good feature of the Find X3 Pro is it's stereo speakers, which is quite a stealthy ability. The stereo speakers utilize the earpiece on the top of the screen as a second speaker, but instead of only using it to project treble (As some phones resort to do), both speakers output the full range of frequencies. The result is a true stereo sound experience, good enough for gaming that requires directional sound awareness (PUBG for example), as well as music and movie playback.
Final Verdict
Once you experience the OPPO Find X3 Pro, there won't be any doubt that the 17 year old mobile maker's ability to create class leading premium mobile phones. From its hardware: the extraordinary curved glass back, the 5 camera array, 120 Hz AMOLED screen and the super fast battery recharge capability; to the software: ColorOS 11.2 custom skin that runs as smooth as butter, as well as powerful AI assisted camera - the Find X3 Pro is in every category representing the best of Android phones.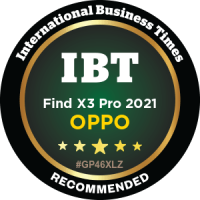 After using the OPPO Find X3 Pro for an extended period of time, it's a phone that I wholeheartedly recommend, and we're awarding it with the IBTimes Recommended badge.
David is a tech enthusiast/writer who is often on the move and is on a mission to explore ways to make his overhaul flights more enjoyable. This is a contribution to an ongoing IBTimes review series on gadgets for Business Travelers.