Oprah's Favorite Things Under $30: The Cheapest Gift Ideas From Winfrey's List
Oprah Winfrey has introduced her list of Favorite Things for 2020, listing 72 items that she loved throughout the year. The full list of items is featured in the December issue of Winfrey's magazine, "O," which will hit newsstands on Nov. 17.
For this year's list, Winfrey selected most of the products from Black-owned or Black-led companies.
"Because so many people want to support Black lives any way they can, we've found dozens of absolutely gorgeous gifts from Black-owned businesses that deserve to be celebrated, because we believe Black lives—and Black businesses—matter," Winfrey said about the list.
While many of the gifts that Winfrey selected range in price upwards of $3,500 for the Terrace TV, we've picked the cheapest gift ideas from her list that are priced under $30. Here's some of the most affordable gifts from Winfrey's Favorite Things 2020 collection, which can all be purchased on Amazon.
Ryan Simkhai "Loulou" Reading Glasses
Priced at $29, Winfrey picked these reading glasses as her "number one accessory." She said the readers "come in great colors and flattering shapes, with scratch-resistant lenses for those of us who tend to leave theirs facedown on the nightstand."
Corkicicle Mugs
These Corkicicle mugs start at $27.95, depending on style, and come in a range of colors. Winfrey picked the mugs because she said she first fell in love with their stemless wineglasses and wondered what the company would come up with next. The answer? "A stainless steel, no-slip, triple-insulated mug that keeps your latte or lemon tea toasty for up to three hours, of course!" Winfrey said.
Pat's Rib Place BBQ Sauce Gift Set
With a $24 price tag, this BBQ sauce gift set is ideal for the barbecue lover. Winfrey said she chose the sauces because they are from an original family recipe. Pat's Rib Place restaurant, which is owned by Winfrey's niece in Wisconsin and was named after the former talk show host's mother, makes the sauces that have a sweet molasses-based flavor and a tangy red barbecue flavor.
Jam lovers will want to get their hands on this spicy gift priced at $20. The jam set features a strawberry jalapeno and peach-raspberry habanero jam, which Winfrey said is "perfect for people who like a hot breakfast."
Stella and Haas Pearl Earring Set
Even jewelry made it on the under $30 list. These pearl earrings sell for $29.97 and come in a three pair set, which Winfrey said was ideal for gifting and keeping a pair or two for yourself. The earrings have freshwater pearls and are hypoallergenic.
The Wrap Life Self-Tie Headbands
For only $16, shoppers can get their hands on a headband recommended by Winfrey as a Favorite Thing for 2020. Winfrey learned how to fashion this headband into a work of art during quarantine. The headband can be fashioned into a thin tie-up style, a wide-knotted band, and a full-on head wrap. The headband is made of ribbed jersey fabric and comes in an array of Pantone colors. It also comes in a turbanette headband, which Winfrey also picked as a Favorite Thing, selling for between $19 and $21.
Puzzle Huddle Future Scientist Children's Puzzle
Winfrey even picked gifts for kids with a series of puzzles designed for the future scientist. These puzzles sell for under $20, depending on the number of pieces. Winfrey said the puzzles "aim to inspire children of color to see themselves as everything from chemists to astronauts."
Emmanuel Acho's "Uncomfortable Conversations With A Black Man" Book
As a book lover, it is no surprise the Winfrey included books on her list of Favorite Things for 2020. This book sells for $18.58 and is suggested for everyone's shopping list. The book is from former NFL linebacker Emmanuel Acho, who talks about race and racism. Winfrey said the book is a "must-read."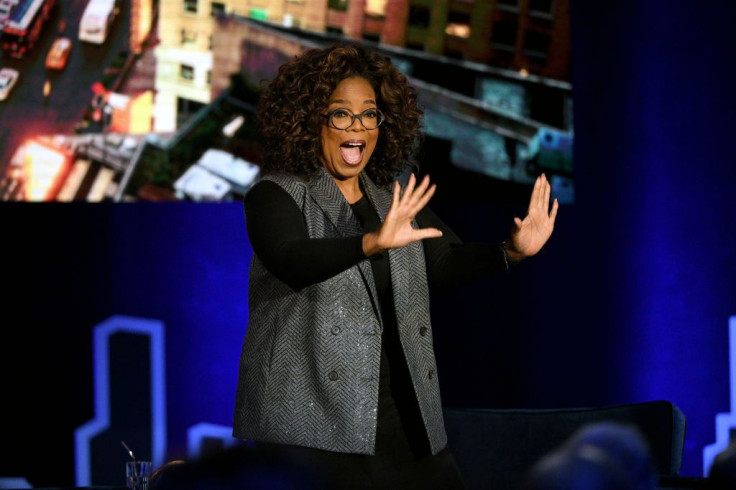 © Copyright IBTimes 2023. All rights reserved.