'Orange Is The New Black' Season 3 Sex Scene Injured This Key Actress With A Somewhat Bloody Scratch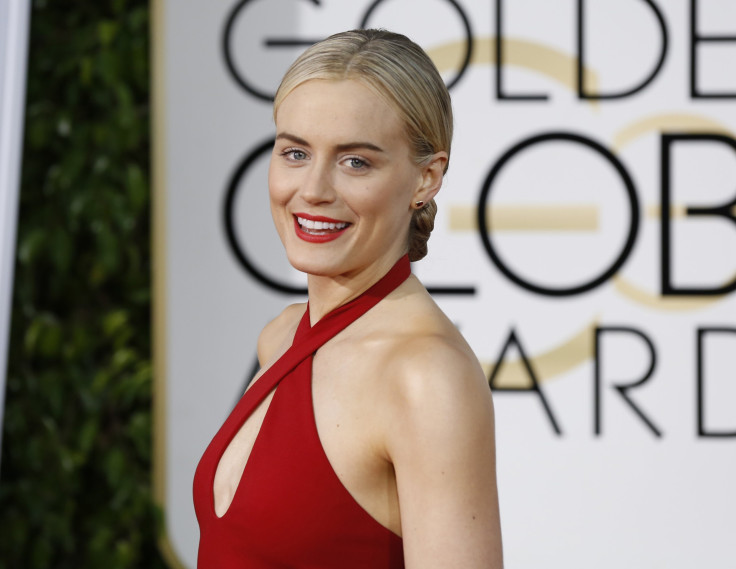 As if it weren't clear enough on-screen, the cast of Netflix's "Orange Is the New Black" is going all-out in those intense sex scenes, and one actress has the battle scars to prove it. During a late-night talk-show appearance, a key performer on the show revealed she injured herself while doing a particularly steamy scene.
Piper Chapman herself, Taylor Schilling, went on "Late Night with Seth Meyers" to promote her new film "The Overnight," which has its own fair share of raunchy sex scenes. While the guest and the host were talking, the conversation inevitably turned to her starring role on Netflix's hit prison dramedy. Schilling confessed she cut her face while removing her shirt to do a sex scene for Season 3.
"I got very excited, I took my shirt off, and I scratched myself with my little prison name tag. I had, like, a gash on my face," Schilling said. "We had to take an hourlong pause because there was blood."
Although the 30-year-old actress didn't specify exactly which scene led to her little face scratch, the safe money is on that very heated library scene between her character and Alex Vause (Laura Prepon) in Episode 2. Unfortunately, there's just no way to know for sure. But, fortunately for fans, the cut healed nicely and wasn't even noticable.
While this was hardly the first sex scene that Schilling had done in her career, or even on "Orange Is the New Black," People magazine noted it's still not something she finds either commonplace or easy to do.
"I've needed some hand-holding," the actress told a crowd at the Academy of Television Arts and Sciences in May. "But what it always comes back to -- and why I think those conversations are so valuable -- is that we get to the truth of the scene and there's never anything gratuitous on this show."
All 13 episodes of "Orange Is the New Black" Season 3 are available for watching on Netflix. And you can check out Schilling's appearance on "Late Night with Seth Meyers" below. Comment afterward or tweet your thoughts on Season 3 to @TylerMcCarthy.
© Copyright IBTimes 2023. All rights reserved.