'Orange Is The New Black' Season 3 Spoilers: Pornstache's Mother Pays Litchfield A Visit In Episode 2 [RECAP]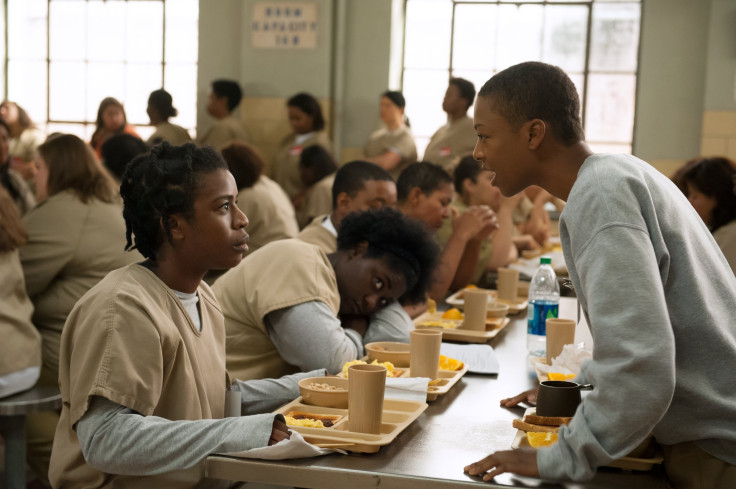 As if Litchfield Penitentiary didn't have enough problems, now the New York-based prison is forced to face the wrath of new, tiny, irritating inmates in episode 2 of "Orange Is the New Black": bedbugs.
"They don't live on you. Just in your sheets and clothes and s---," Flaca (Jackie Cruz) explains to her friends, before the blame game begins. While some prisoners blame the infestation on Flaca, the itchy inmate pins the plague on Daya's (Dascha Polanco) mini-me.
"There were no problems until pocket Daya snuck in last night to follow in the family footsteps," she says of the incident that occurred in the Season 3 premiere.
But Piper (Taylor Schilling) has bigger things to worry about other than parasitic insects sucking on her blood. Red (Kate Mulgrew) is back from her slocking accident -- and she's not happy with the blonde haired prisoner for lying to her about her "booming" business (which has actually gone under).
"I'm sorry. I thought that I was doing the right thing," Piper says of why she lied.
"You wanted me to like you. Now I like you less," Red scoffs at her bunkmate.
Piper isn't the only one confronting the lies she told. Bennett (Matt McGorry), too, is forced to face truth when Pornstache's (Pablo Schreiber) mother, Delia (Mary Steenburgen), comes to pay Daya's mom a visit. But momma Pornstache is nothing like her menacing son. She's light, cordial and seriously funny.
"My son, he used to work here. George Mendez. His father, my first husband, is Cuban. I never could resist an accent. Guess that runs in the family," she quipped, realizing her distasteful joke. "I'm sorry. That was a coping mechanism."
Another way Delia attempts to cope with her son's monstrous ways of getting an inmate pregnant is by reaching out to the family affected by the rape.
"I want to adopt the child," she tells Aleida (Elizabeth Rodriguez), explaining that she can provide the baby with love and a certain lifestyle. That sparks Aleida's interest, to which the conversation involving finances begins.
"Of course I would want to help the mother of my grandchild in any way I could. Perhaps on a monthly basis," Delia says, agreeing to Aledia's extortion.
Delia's debut freaks Bennett out to the point where he visits Daya, a direct violation of Caputo's (Nick Sandow) order that requires the correctional officer to stay away from the pregnant prisoner. The soon-to-be-parents then organize a chat with the matriarch to discuss her secret meeting with Lady Pornstache.
After Aleida explains the benefits of Delia adopting the child, Daya starts to come around to the idea of her baby living a lavish life.
"It kind of makes sense," Daya agrees with her mother's plan of letting the well-off woman raise her child. However, Aledia neglects to tell her daughter that the reason she's pro-adoption is because of the financial plan she worked out with Mendez's mom.
Deceit seems to be the theme of episode 2 because Piper is still keeping the truth about how Alex ended up back in prison under wraps -- that is, until Alex learns what happened between her prison wife and Red.
Piper explains to Alex why she lied to Red about her business. "Delusion can be very comforting," Alex says, adding that although that may be true in some cases, it's not how she feels about her relationship with Piper.
"Resilience, the human spirit and all of that, so much better than ignorance," Alex states, which prompts Piper to tell Alex the truth.
"You called my probation officer?" Alex questions Piper.
"But now all of our s--- is all out on the table and we can decide to like each other. And you can stop blaming yourself for being in here," Piper says, hoping Alex can forgive her. But Alex is fuming and storms away from her "manipulative" friend. And it's that very anger that leads to a seriously steamy scene between the two inmates, which ends up taking place in a bed bug-infested/muffin crumb-riddled library.
After Bennett watches Daya contemplate handing his baby over to Pornstache's mother, he decides to step up to the plate and prove his commitment to their growing family by proposing to the prisoner in the yard -- with a ring made out of gum wrappers. "The ring is temporary," he says to his glowing girlfriend, who accepts his proposal. During his proposal, Bennett says that although they may never be wealthy, their family will be rich with love. But that fairytale of an idea flew out the window when Bennett went to pay Cesar (Berto Colon) a visit.
During Bennett's time with Daya's family, he learns that Cesar is cheating on Aledia -- and has a secret child with his secret "side piece." But that's not all Bennett witnesses. He also watches the temperamental patriarch scolding the children and even pull out a gun on a boy after he refuses to eat his microwaved french fries.
Ultimately it's Bennett's unsettling trip to Cesar's home that causes him to get cold feet. Leaving the baby crib on the side of the road, Bennett drives off into oblivion, ditching his responsibilities and leaving Daya behind. Viewers got a taste of Bennett's coward behavior when he opted to leap for safety in flashback from his military days instead of jumping on an explosive to protect his brothers.
It's also revealed in episode 2, "Bed Bugs and Beyond," that Litchfield is being closed. Caputo learns the bad news after speaking to a financial counselor about purchasing new mattresses for the inmates.
"We're not going to replace hundreds of mattresses only to get rid of them in 2 months," he explains to Caputo.
"That's the reason for the early releases," Caputo says, shocked he didn't figure it out sooner.
What did you think of the Season 3, episode 2 of "Orange Is the New Black"?
© Copyright IBTimes 2023. All rights reserved.