Orlando Shooting: City Releases Victims' Names As New York's Stonewall Inn Holds Vigil In Honor Of The Deceased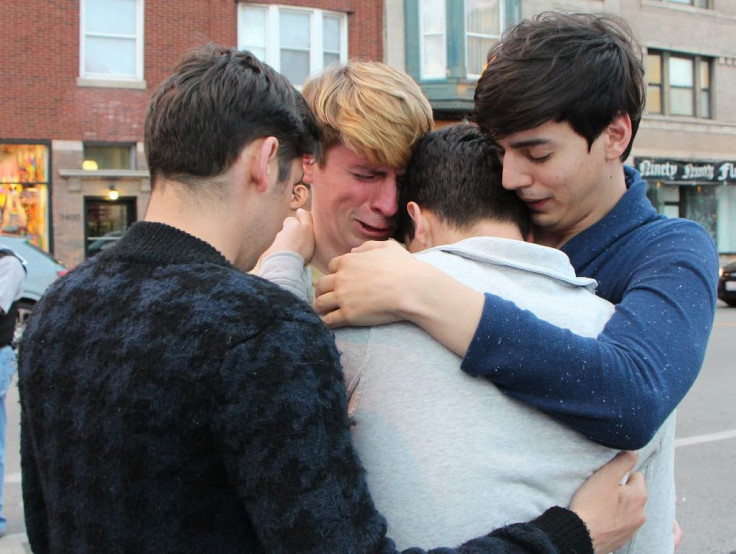 The Stonewall Inn, a gay bar and recreational tavern on Christopher Street in the West Village, New York, was witness to hundreds of people gathering in front of its red brick wall on Sunday evening to mourn the deaths of at least 50 people, who were shot at Pulse nightclub in Orlando, Florida earlier that day.
The attack on Pulse nightclub occurred early Sunday morning when a lone gunman, identified as 29-year-old Omar Mateen, started shooting people with an assault rifle till SWAT teams stormed into the place and gunned him down.
The bar, which saw celebrations last year after the Supreme Court legalized same-sex marriage, reportedly witnessed hundreds of people raising slogans like "No Hate!" and "Orlando, we got your back!" at around 6 p.m. on Sunday.
Ken Kidd, an organizer with LGBT activist organization Queer Nation, yelled over the chanting crowd, "We come today for the past. We come today for the present. And we come today because we are a community that will never be silent again!"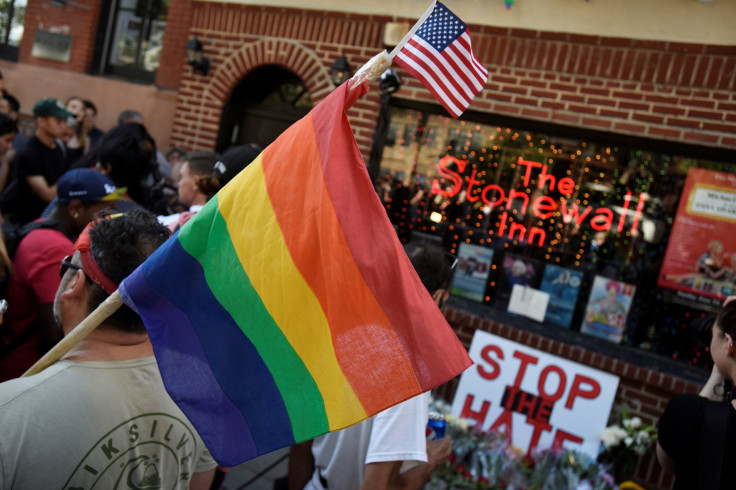 On Monday evening, an official candlelight vigil is scheduled to take place at The Stonewall Inn, which will feature clergy and elected officials.
In June, 1969, the New York Police clashed with gay, lesbian, bisexual and transgender patrons of Stonewall, sparking the Stonewall Riots and turned the gay bar, which calls itself "the birthplace of the modern Gay rights movement," into an iconic monument in the fight for LGBT rights in the U.S.
Meanwhile, the city of Orlando is also releasing the names and ages of the victims once their families have been notified. So far, 24 names have been released and the list is being periodically updated on its website. No other information regarding the victims has been shared.
The deceased include Edward Sotomayor Jr. (34), Stanley Almodovar III (23), Luis Omar Ocasio-Capo (20), Juan Ramon Guerrero (22), Eric Ivan Ortiz-Rivera (36), Peter O. Gonzalez-Cruz (22), Luis S. Vielma (22), Kimberly Morris (37), Eddie Jamoldroy Justice (30), Darryl Roman Burt II (29), Deonka Deidra Drayton (32), Alejandro Barrios Martinez (21), Anthony Luis Laureanodisla (25), Jean Carlos Mendez Perez (35), Franky Jimmy Dejesus Velazquez (50), Amanda Alvear (25), Martin Benitez Torres (33), Luis Daniel Wilson-Leon (37), Mercedez Marisol Flores (26), Xavier Emmanuel Serrano Rosado (35), Gilberto Ramon Silva Menendez (25), Simon Adrian Carrillo Fernandez (31), Oscar A Aracena-Montero (26) and Enrique L. Rios, Jr. (25)
Across social media, supporters of the Islamic State group, also known as ISIS, are rejoicing over the attack while calling for more such attacks in the West, reports say. Supporters are referencing the extremist group's appeal to its supporters around the world to step up on attacks wherever they were if they were unable to travel to ISIS' base in the Middle East.
Mateen had pledged his allegiance to the terrorist organization in a 911-call before starting on his shooting spree. On Monday, the Islamic State radio called Mateen "one of the soldiers of the caliphate," the Associated Press reported.
On Sunday, U.S. President Barack Obama addressed the nation saying, "Today as Americans we grieve the brutal murder and horrific massacre of dozens of innocent people. We know enough to say that this was an act of terror and an act of hate."
Vice President Joe Biden also called the attack "an act of pure hate and unspeakable terror," while praising police and first respondents for putting their own lives in danger to save victims trapped in the nightclub.
Presumptive Republican presidential nominee Donald Trump said, "If we do not get tough and smart real fast, we are not going to have a country anymore. I am trying to save lives and prevent the next terrorist attack. We can't afford to be politically correct anymore."
Trump also promised to deliver a speech focusing on the attack while addressing immigration and national security at the Institute of Politics at St. Anselm's College in New Hampshire at 2:30 p.m. ET on Monday.
Democratic hopeful Hillary Clinton released a statement saying, "To the LGBT community: please know that you have millions of allies across our country. I am one of them. This is the deadliest mass shooting in the history of the United States and it reminds us once more that weapons of war have no place on our streets."
According to Al Jazeera, Mateen first came to the notice of the FBI in 2013, when he made "inflammatory comments" to co-workers alleging possible "terrorist ties". The FBI had interviewed him twice in addition to physical surveillance, checks on his record and interviews with other witnesses.
"Ultimately, we were unable to verify the substance of his comments, and the investigation was closed," Ron Hopper, the head of the FBI in Orlando, said.
Mateen was reportedly picked up once again in 2014 for his contact with an American suicide bomber, Moner Mohammad Abusalha, who appeared in a Jabhat al-Nusra video in Syria. However, the FBI found that Mateen's contact with Abusalha was minimal and they closed both investigations at the time.
Mateen was born in Orlando to parents who came from Afghanistan. His father Seddique Mateen told NBC News that "this [the attack] had nothing to do with religion."
Authorities are investigating whether the attack was an act of terrorism, a hate crime, or both.
© Copyright IBTimes 2023. All rights reserved.