Oscar Movies Online & In Theaters: How To Watch 'Moonlight,' 'La La Land,' Other 2017 Award Winners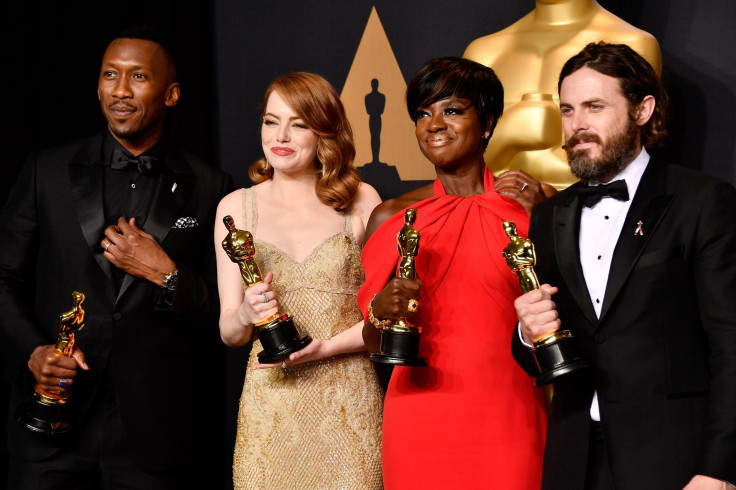 Fifteen different movies were awarded at the 89th Annual Academy Awards Sunday night in Hollywood, California. If you're looking to catch up on the 2017 Oscar winners, most of the films can be seen online or in the theaters.
Entering the night with a record-tying 14 nominations, "La La Land" won six awards, including best actress and best director. The film was released nearly three months ago, but it's still out in theaters.
The same goes for "Moonlight," which unexpectedly and in dramatic fashion upset "La La Land" for best picture. In addition to closing the Oscars with the night's biggest award, "Moonlight" opened the show with Mahershala Ali's win for best supporting actor. The movie also won for best adapted screenplay, finishing second with three victories on the night.
Of the four other best picture nominees that took home awards in other categories, three are still in theaters in some capacity. You can still buy a ticket to see "Arrival," "Fences" and "Manchester by the Sea." "Hacksaw Ridge," which won for best film editing, isn't in theaters nearly six months after its release, but it can be rented or bought online with Amazon Video.
"The Salesman," which won best foreign language film, is still in theaters. "Suicide Squad" can be bought or rented with Amazon video.
A few Oscar winners that are no longer in theaters are available online with Netflix. Best visual effects winner "The Jungle Book" and best animated feature film winner "Zootopia" can be seen with the subscription service. Winner for best documentary short subject, "The White Helmets," is also on Netflix streaming.
The winner for best documentary feature had an unconventional release in 2016. "O.J. Made in America" was a five-part series on ESPN, and it has been replayed often on TV. Now, it can be seen on Hulu.
"Piper," the six-minute film that won best animated short film, can be seen for free with Vimeo.
© Copyright IBTimes 2023. All rights reserved.