Oscar Pistorius Sentencing: Contradictory Defense Testimonies And A Call For House Arrest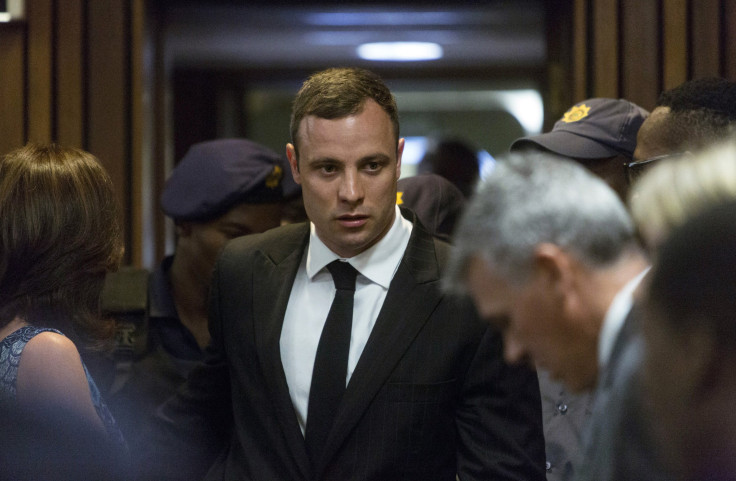 The sentencing hearing of South African Olympian Oscar Pistorius, who was convicted of culpable homicide in September, began Monday at the North Gauteng high court in Pretoria.
During the day in court, Judge Thokozile Masipa heard arguments from defense witnesses, which will be followed by prosecution witnesses taking the stand. Their testimonies will help the judge determine the fate of the 27-year-old Paralympic track star for the shooting death of his girlfriend Reeva Steenkamp on Feb. 14, 2013.
The testimony of the first defense witness, Dr. Lore Hartzenberg, who has been Pistorius' personal psychologist since the shooting, was contradicted by the second witness Joel Maringa, a social worker in the Department of Correctional Services.
Hartzenberg who testified Monday that Pistorius was a "broken man" who was "unlikely to fully recover" also said that Pistorius never expressed any desire to pursue an athletic career after the trial. However, Maringa testified that Pistorius had told him that he wanted to continue with his athletic career. Hartzenberg's testimony had been criticized by prosecution lawyer Gerrie Nel during cross-examination, who raised questions about her view that Pistorius had been suffering from trauma as a result of the shooting and its legal aftermath.
Maringa, the second defense witness, also read out a report stating suitable reasons to punish Pistorius with house arrest, instead of a prison sentence. "The accused will benefit from correctional supervision," Maringa said, adding that Pistorius could also undertake community service at local museums and hospitals. During cross-examination, Maringa also suggested that three years of house arrest would be suitable for Pistorius, when asked about a recommended house arrest period.
The third defense witness on the stand was Peet van Zyl, who has been Pistorius' long-time manager. Zyl told the court about Pistorius' charity work and also the status of his career as an athlete.
The defense and prosecution teams both anticipate that the hearing could conclude within a week. The defense is likely to call four witnesses, while the prosecution will call at least two.
Pistorius, who was acquitted of a more serious charge of premeditated murder, could face up to a maximum of 15 years in jail for culpable homicide.
The double-amputee was also found guilty of one charge of discharging a firearm in public, for which he could face up to five years in prison, but he could also get away with paying a fine or losing his gun license. Pistorius was also acquitted of the charge of illegal possession of ammunition, as well as another count of discharging a firearm in public.
© Copyright IBTimes 2023. All rights reserved.