Oscar Speeches Ranked By Narcissism: Whose Acceptance Speech Was The Most Self-Absorbed?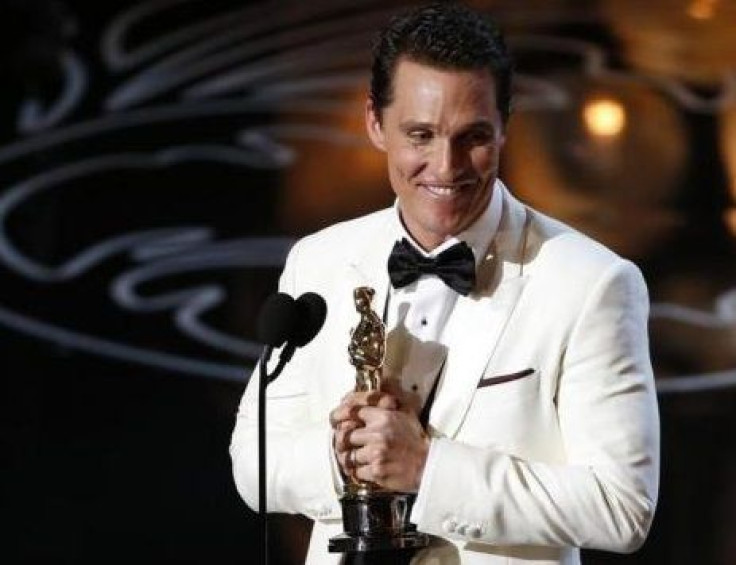 This just in: Hollywood is full of itself.
Of course, we already knew this, but never is this pathological self-satisfaction more apparent each year than on the night the film industry celebrates itself. And while this year's Academy Awards host Ellen DeGeneres tried to prevent the ceremony from taking itself too seriously, even the jokes aimed at the absurdity of celebrity and the xenophobia of the Academy only reinforced the bubble that most top entertainers live in. Just because you make fun of the fact that Hollywood and the Oscars are racist doesn't make them any less racist, and it doesn't make racism cute. And pretending to take a collection from the overpaid actors, producers and directors in the front rows to pay the pizza delivery man was far from relatable; instead, its jokiness served as a harsh reminder of the enormous economic disparity between those inside the Dolby Theater and those who were watching at home.
But there was sincere humility among some of the award recipients. We've ranked the most memorable speeches from the least to the most narcissistic, giving each recipient a narcissism score from a low of 1 to a high of 10.
Alfonso Cuaron, Best Director, "Gravity"
Score: 1/10
Cuaron won two Oscars, one for editing and one for Best Director. By the time he got to the podium for the editing win (which he shared with another editor who spoke first,) the get-off-the-stage music had started to play, and Cuaron didn't fight it, saying simply, "Bye."
He made up for it later when he accepted his Best Director Oscar -- without overdoing it. "Like any other human endeavor, making a film is a transformative experience," said, later adding, "which is good, because it took so long that otherwise it would have been a waste of time. The thing that sucks is that for a lot of these people, that transformation was wisdom; for me it was just the color of my hair."
I still think "Gravity" was largely overrated, but I'm forever a fan of Cuaron's.
Spike Jonze, Best Original Screenplay, "Her"
Score: 2/10
There's not too much to remember about Jonze's very short speech -- he said that he only had 42 seconds to deliver it (and, oddly, it's impossible to find it online). What I recall is that he fumbled adorably (a sign that he was genuinely nervous and/or didn't expect to win) before issuing lots of sincere thank-you's, seemingly unaware that every single heterosexual woman of childbearing age watching the Oscar telecast was fantasizing about becoming his second wife.
Lupita Nyong'o, Best Supporting Actress, "12 Years A Slave"
Score: 3/10*
*Disclaimer: Lupita would have had a lower narcissism score if it weren't for her somewhat self-satisfied interviews before and after the show: On the red carpet, the head-turning actress freely admitted to having practiced the walk to the stage, and was eager to mention her Independent Spirit Award win the night before. In the post-show press room, Nyong'o reportedly said "the credit goes to me" when asked who deserved credit for her Best Supporting Actress Oscar.
Nyong'o's speech itself was the best of the night; it was so wonderful that we can forgive how carefully crafted it was -- especially since you can't rehearse that kind of ecstatic emotional response. We wish more honorees who owed their Oscar success to true stories and real people had taken Lupita's cue in acknowledging that another person's suffering was behind their success. As Spencer Kornhaber wrote for the Atlantic, "Lots of Oscar winners try to project humility, but usually that professed humility is in relation to others in the film industry -- not in relation to all of American history."
And she closed out her speech with an original spin on a tired trope that made it instantly inspirational: "No matter where you're from, your dreams are valid."
Cate Blanchett, Best Actress, "Blue Jasmine"
Score: 4/10
"As random and subjective as this award is, it means a great deal," the always-elegant Blanchett said in her speech. She then acknowledged all of the actresses who were nominated along with her, though her praise for Sandra Bullock also came with what seemed like a bit of a dig: "Sandra, I could watch that performance until the end of time, and I sort of felt like I had." She later championed for more female-driven stories, insisting that "audiences want to see them, and in fact, they earn money.
"The world is round people!" Blanchett shouted over a cheering crowd, before thanking just about everyone under the sun. Bravo.
Jared Leto, Best Supporting Actor, "Dallas Buyers Club"
Score: 5/10
We didn't dislike Leto's speech: He tried mightily to make up for his disastrous Golden Globe acceptance speech, and we really do appreciate the effort. His tribute to his mother was adorable (and wow, do we know where his good looks came from), but the good intentions were undercut by solipsism and what appeared to be a rather shallow understanding of the plight of those less fortunate.
"To all the dreamers out there in the world watching this tonight, in places like the Ukraine and Venezuela, I want to say that we are here," Leto said, after talking about himself a bit and thanking his "Dallas Buyers Club" co-workers. "And as you struggle to make your dreams happen; to live the impossible, we're thinking of you tonight." Okay, fine, he wanted to acknowledge the international crises dominating the headlines right now, but it was a bit silly and inappropriate to assume that people living with dramatic political upheaval that threatens their daily survival were watching the Oscars telecast.
Later, in the press room, Leto appeared to congratulate himself on the selflessness of his speech and his enlightened worldview, telling reporters that, as an award winner, "you have an opportunity when you stand on this stage. You can make it about yourself or you can hold up a mirror and shine a light and that's what I chose to do tonight. I mean, because of Thirty Seconds to Mars, because I'm in a band, how many people are here from outside of the -- of the USA? Quite a few of you. Okay. Good. I'm at home then. But I feel at home all over the world. And you know, for me, these global issues impact us in a really direct way."
If the acceptance speech wasn't all about Jared Leto, the postscript certainly was.
Steve McQueen, Best Picture; John Ridley, Best Adapted Screenplay, "12 Years a Slave"
Score: 6/10
Both McQueen and Ridley landed on the wrong side of our narcissism list because neither one of them took the high road in regard to the apparent feud they are having and thanked the other for their work. If it's true that the dispute is because Ridley declined McQueen's request for a co-writer credit, then that is just childish and selfish: Whatever bad blood is between the two must have tainted the celebration for everyone else, including Nyong'o, who worked on "12 Years A Slave."
While Ridley was otherwise generous with his thanks, his delivery was a bit heavy -- like he took himself just a bit too seriously. Still, his acceptance speech at the Independent Spirit Awards was reportedly much more emotional and heartfelt, so maybe the pressure of the Oscars and the stress of the rift with his director got to him. McQueen's speech was unremarkable, but a bit more winning: He was charmingly nervous in his speech, simultaneously apologizing for stumbling through it and asking for a bit more time to finish. After he was done, he jumped up and down in excitement and appeared to hug almost everyone on stage except for Ridley.
Matthew McConaughey, Best Actor
Score: 9/10
The New York Times' Alessandra Stanley said it best: "When he accepted the best actor award, Mr. McConaughey praised God, his family and himself, but didn't mention the people with AIDS" -- an omission that seems particularly egregious when compared to Nyong'o's speech. Even Leto, who in many ways appears to be nearly as self-absorbed as his co-star, made a (somewhat perfunctory) reference to the "36 million people who have lost the battle to AIDS," and those "who ever felt injustice for who you are and who you love" at the end of his speech.
But McConaughey didn't address the subject matter of his film at all; he preferred instead to share some insight into his heroes -- which throughout his life have been future versions of himself. But he did admit that he never lived up to his own expectations: "My hero is always ten years away."
Self-love aside, we agree that McConaughey is a talented and entertaining man: The hour of the Oscars I resented the most was the one that kept me from watching "True Detective."
© Copyright IBTimes 2023. All rights reserved.